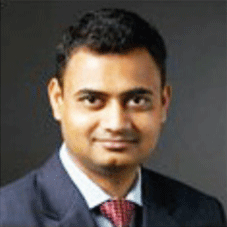 They say leaders are born and not made! Just like empires, companies can come and go with the times. However, there are some that last for ages, and great leadership is the secret. Great leaders have the ability to motivate employees, help others see and believe in a vision, and lead innovation in the company. Having a great leader at the helm is something that all stakeholders including investors, consumers, and employees want. A testimony to such successful leadership is the story of Jayant Karve, Founder, Director & CEO of RCupe Lifesciences. The power and intellect behind RCupe Lifesciences, Jayant leads a multidisciplinary team at RCupe Lifesciences which is exploring new market opportunities and developing innovative solutions for the same.Jayant's clinical excellence coupled with product development and implementation skills has successfully helped him to implement various innovations not only in local markets but also in global markets. In an exclusive conversation with CEO Insights, Jayant speaks about his professional journey along with his company's excellence in the pharma & life sciences industry.
Brief us about your educational background.
I have a Bachelors degree in Mechanical Engineering from Government College of Engineering Pune and a Masters degree in Product Design from Indian Institute of Science Bangalore. I have successfully completed a Stanford India Biodesign Fellowship- a joint program between Stanford University (CA), All India Institute of Medical Sciences, New Delhi and IIT Delhi, an Executive Management program at IIM Bangalore and a Science, Innovation and Policy Leadership Program at Saïd Business School, Oxford University(UK).
Shed some light on your professional expertise. Share some of the milestones you have achieved so far.
I have more than fifteen years of experience in industry in the domain of medical devices. I have been instrumental in driving various innovations in global markets as being a part of multinational medical device companies, national and international academia. Recently, I have led explorations in Gastroenterology/Endoscopy Procedures to identify unmet clinical needs and business opportunities for global markets at Boston Scientific. I have also explored opportunity for "A Mobile Rad system for the Indian market" as a part of GE Healthcare initiative "In India for India".
We are a multidisciplinary team, small but with over 100+ years of industry experience in implementing the new products, technologies and innovations to address clinical needs in local and global markets
Besides this, I have been an inventor and co-investigator for novel "CPR device for patients with Sudden Cardiac Arrest". This project is a part of initiative "Affordable Healthcare for India". It is funded by Wellcome Trust (UK) and is a joint collaboration between All India Institute of Medical Sciences, New Delhi and Biotech Consortium India Ltd. My patented invention 'OzynDTM' has received award from British Medical Journal India- for Novel Technology Innovation. I have filed multiple patents (both granted and in process) globally and published clinical papers in international journals.
What are the various services you offer?
As a biomedical device start-up, we are more centered towards developing and commercializing solutions for unmet clinical needs in emerging and global markets. Presently, we are offering indigenous devices for pre-hospital and hospital critical care in
resuscitation of patients with cardiac arrest, trauma, burns, obstetrics and other medical emergencies. Our focus is on intellectual property driven innovations and we have patented technologies. We are also looking into providing affordable technologies which can be deployed in large-scale and resource-poor settings.

How do you ensure safety, quality & sustainability of your products?
We are an ISO 13485 compliant facility adhering to best of the quality process to serve our customers better. All our products adhere to local and international regulatory requirements. We have international collaborations as well. Besides this, we have our state-of the-art innovations lab which has in house prototyping capabilities, benchtop tests and early concept evaluation.

Tell us about the dexterous team. How well do you collaborate to meet ends?
We are a multidisciplinary team, small but with over 100+ years of industry experience in implementing the new products, innovations in local and global markets. We constantly strive to understand unmet clinical needs and build solutions to serve the patients, physicians and hospitals better. We invest significant time on understanding the requirements, innovating consistently and building value to the patients and patient care. We work very closely with the clinical experts, patients and hospitals.

What message do you have for the budding leaders in the pharma & life sciences segment?
Our vision is to be a role model in Medical Device Research & Development to provide affordable solutions to save lives. As the healthcare landscape is constantly evolving, we need to keep on understanding the unmet needs and build quality solutions which are market appropriate to address the same.

Jayant Sitaram Karve, Founder, Director & CEO, RCupe Lifesciences
An expert with over 15 years of industry experience in the domain of medical devices and automotive components, Jayant has been instrumental in driving various innovations in global markets

Office: Bangalore