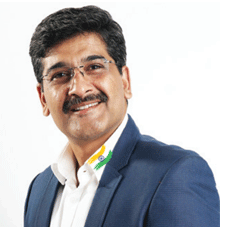 "You can become a leader only if you are a good human being with character; else, you are just a manager!" quotes K K Bhagchandani (KK). Outclassing as the most successful business leader across Asia and Pacific geography, KK believes that a leader ought to think beyond the frontiers of mere technologies and focus more on encouraging every individual to soar high in the organization. He relentlessly stresses on the aspect that every individual has unique talent and skills and he/she deserves to hold an appropriate position in the organization to excel with flying colors. This unique trait of being a people leader all through 28 years of his professional journey in Life Sciences & Pharma industry places KK an edge above his peers in the industry.
Since day one of his career, he has undertaken diverse roles, learned & experienced about the deepest nuances in each department of a business, and explored new things with no inhibitions. Besides, KK is ingrained with many other traits that have helped him in guiding, establishing and expanding multi-national technology companies and their businesses, and eventually generating phenomenal RoI for them. No wonder, he is the proud recipient of awards such as 'Glory of India', 'Bharat Udyog Ratan', 'International Achiever Gold Star', and 'International Sales Entrepreneur (Pharma)'.
In an exclusive colloquy with CEO Insights, KK has passionately elucidated about his journey as a business leader so far.
Brief us on your educational and professional background.
It is simple; I did my MBA in Marketing & IT, PGD in Clinical Trials Management, and Bachelor's in Physics, Chemistry and Maths. My professional journey began with Ranbaxy Labs Ltd, and then I moved to Pfizer, Accelrys, and then ACD/Labs. Currently, I am actively working within the executive teams for developing new businesses to serve Pharma & Life Sciences industry; and helping them sort their sales & marketing processes and
strategy. During the weekends, I am coaching CEOs for enhancing their impact in the market and internally. The solutions I am focusing are in the space of knowledge management, manufacturing automation, cloud consulting and Artificial Intelligence.

I had 16-years of endearing journey at ACD/ Labs, where we focused on drug & formulation development, API research, analytical R&Ds, and other verticals. Leading as their Senior Director - Asia & Pacific, I created and drove four functional areas, i.e. sales & business, people with domain/scientific expertise, people in tech-support function, and product development. I was driving the chromatography product line as the 'Business Manager (Global)', where I was tasked to create a solution for 'Quality by Design' in Method Development.

What innovations are you focused on at your current firm?
In the wake of the Covid-19 situation, companies are focusing on new drug/vaccine development, drug-repurposing, new delivery system, new hygiene products and alternative therapies. Hence, there are varied areas where we can enable the Pharma & Life Sciences industry. My endeavor is to support this process, and hence I am focusing in two major areas.

First, at Laurus Infosystem as their CBO, where we are enabling digitization at R&D and manufacturing for Pharma companies, so that they can become faster, efficient, compliant (regulatory) and paperless. We have created a comprehensive E-Lab Notebook which will enable them to record their work and collaborate across different teams to produce faster results. Uniquely, we have also enabled configurability of the system. We have created a Manufacturing Execution system which is natively designed for Pharma manufacturing processes and is helping companies in enhancing their productivity and quality standards, in addition to making them compliant with regulations.

In another project, I am helping axcess.io for creating a solution to solve the industry-challenge of data heterogeneity and its integration for enabling decision making. We are creating a Data-Lake with tools for analytics for facilitating customer's journey to artificial intelligence. The company has the expertise in cloud transformation, site reliability and compliance advisory!

How do you enable your team to stay energized?
I let my team find a way to achieve our common goal! Only when they don't, we train them on bridging the
gaps in their capabilities. I respect every individual for who they are, value them for their ideas, and break their inhibitions to outshine. By emphasizing that their inhibition is a challenge that can be solved by all of us together, they not only overcome the inhibition, but also become best at it.

Being a busy professional, how do you find time for your family?
At home, I am a father, a husband, and a son! I prefer to share love and wisdom with my kids, teach them the right approach to solve all kinds of problems, and what personality to carry. In fact, I have no words to thank my family, especially my wife, for the kind of support they have always extended to me. My parents have given more support to me than vice versa!

How do you stay abreast of the Pharma & Life Sciences industry?
My core interest areas are Informatics, Automation, AI, and Analytics. I attend a lot of conferences to learn a great deal from other presenters, while I share my industry insights. Importantly, customers have always enlightened me by sharing their challenges, for which I had to learn and design solutions. During most of the seminars I gave (300+), my endeavor was to create & share awareness among people about new solutions for industry-problems. Actually and mostly, big problems have small solutions and vice versa.

Do you have any suggestions for India to become a developed nation?
I believe the time has come for India to shine. We must leave behind the old habit of compromising on our belief system for a small benefit and prove the world that we are much stronger, faster, and smarter than before. This is the right time to do it, instead of just talking.

K K Bhagchandani, Chief Business Officer, Laurus Infosystems (India) Pvt. Ltd
K K Bhagchandani is an adept people leader and persuasive orator who has overcome complicated challenges in developing a wide range of businesses right from startups to global behemoths.

Favorites:
• Hobbies: Singing /music, and playing cricket, squash & golf
• Cuisine: Any good food, especially Biryani and Kebab

To The Budding Leaders: Be a kind human being before you become a leader. Look beyond what is visible. Communicate, listen more than you talk, and find the best way to help your team in solving industry-problems.