Dr. Renuka Prasad: Guiding His Organization Towards Sustained Success In The Indian Healthcare Realm

"The purpose of life is not just to be happy, it is to be useful, to be honorable, to be compassionate, to have it make some difference that you have lived and lived well." These wise words by Ralph Waldo Emerson perfectly resemble the life of Dr. Renuka Prasad. As a doctor by profession and an expert nephrologist, he has always set out to make difference in the Indian healthcare scenario, which is muddled with several problems.

The most serious healthcare issue faced by Indians is affordability. According to WHO, "The enjoyment of the highest attainable standard of health is one of the fundamental rights of every human being without distinction of race, religion, political belief, economic, or social condition". However, the scenario, in reality, is nowhere close to the aforementioned quote. The costs are not evenly distributed and quality medical care is not even reaching the borders of the rural population. For people living in poverty, going to the doctor is more often a huge ordeal and an incredibly stressful experience. This situation was observed by Dr. Renuka Prasad. This man of compassion and societal commitment aspired to do something about making the best healthcare reach people in remote areas. With all his dreams in place to multiply and expand the quality care at an affordable price, he ventured Prolife MultiSpeciality Hospital.

He is almost superhuman in his ability to communicate an inspiring vision of promoting organ donation. Throughout his professional life, he has been designing effective strategies to spread awareness among people about organ donation. His idea of finding the right donor for the needy at the right time is inspirational.

The impressive story of this industry maven takes us through a ride where he showcases the importance of healthcare reaching the remote population and the need for organ donation. The valuable nuggets from him reap a positive mindset on being a donor. With the values put together, he has made Prolife Multispeciality Hospital exceptional in quality, affordability, integrity, intellect, drive, and emotional intelligence. To know more, kindly peruse the following excerpt of an exclusive conversation between Dr. Renuka Prasad and CEO Insights.
Brief us on interesting facts about Prolife Multispeciality Hospital.
With various specialties under one roof, Prolife Multispeciality Hospital is one of the best destinations for all medical problems. It is offering corporate and world-class care with state-of-the-art infrastructure and techniques while keeping it affordable and Pocket Friendly. We strive to address all our patient's concerns with a broad smile and a personal humane touch. Our emphasis is on all-around wellness and preventive medicine, therefore, we provide various preventive and promotive health programs. We further contribute to the medical field by training young health professionals and engaging in pioneering research activities. Our purpose is to save lives and increase the quality of life through clinical excellence.
Dr. Renuka Prasad envisions to expand his centres into many remote locations and looks forward to get associated with social investors to drive rural healthcare
Tell us about your background. Highlight your contribution to the industry?
I have my specialization in nephrology. I am an expert in kidney science, dialysis, and transplantation. Over the course of my journey in this medical area, I have understood that undergoing dialysis is not just a physical trauma but also a mental, social trauma, and economical trauma. The situation is still worst considering the people from remote parts of the country. Firstly, many do not have access to quality healthcare and have to travel to cities for treatment. Secondly, people cannot afford the cost of treatment.
With that said, I am trying to bring a positive difference out of all vulnerabilities in the industry. My idea is to deliver quality dialysis at an affordable price in rural and tier 2 areas. All I am striving is to bypass the troubles in people having to travel to cities from villages for proper dialysis or any treatment.
Throw some light on the problems in the industry.
Dialysis is not the solution for all kidney-related issues. It is just a method to prolong life but with a poor quality of living. The only permanent solution is transplantation. However, transplantations seem hard to be achieved as we lack donors. There is a need to spread awareness among people to donate as it can save lives and truly insist on the concept of life after death.
How are you trying to mitigate the problems concerning organ donation?
There are several factors to consider before choosing a donor like blood group and many others. It is important to find the right donor for a specific patient. Therefore, I am planning to have a registry easing the process of finding a suitable donor. This will make the process quick. However, it has to be done with the coordination of the government.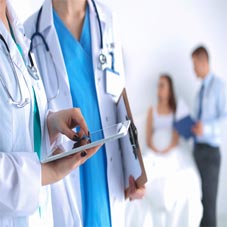 Moreover, I also have a few strategies in place to make the cadaver transplant program active in Karnataka. I feel that there is no appropriate awareness among people. They should understand that it is a noble way of giving second life to people with organs that are going to be wasted otherwise.
Interesting Facts
• Recently established two dialysis center in Chikkabalapur and Chintamani, Karnataka.
• Worked as consultant in multiple government hospitals of metros and remote areas.
• Performed around 250 kidney transplantation over multiple procedure.
• Capable of handling high risk cases including geriatric transplantation.
• Has performed cross blood group transplantation
• With rural dialysis centre, he has ensured perfect balance of quality and affordability
• Offers treatment with single use dialyser at low cost compared to other centres in the domain