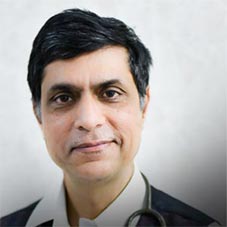 He is one of the best doctors in the country and a well-known veteran in the niche of Otolaryngology. Right from the time he was pursuing MBBS at Armed Forces Medical College (AFMC), Pune in 1982, leadership & mettle was deep routed within him. This ardent Major served the Indian army for 15 years and got associated as the Head of ENT department in hospitals like Artemis Health Institute, Columbia Asia Hospitals, and Manipal Hospital (Dwarka). He also worked as Senior Consultant at the Max Hospital and the Sitaram Bhartia Institute of Science and Research, after the retirement from the defence. Today, Dr Bhardwaj is outshining as a well-versed business leader by conceptualizing his centre for ENT medical services.
Dr (Major) Bhardwaj achieved his MBBS, MS - ENT, DNB – ENT, Otorhinolaryngology (DLO), and has put together an overall experience in the healthcare industry as an Otorhinolaryngologist. He was opportuned to serve in the largest and busiest hospitals of the armed forces including Command Hospitals at Pune and Chan digarh and the Army Hospital (R&R), Delhi Cantt. Apart from working with several other hospitals, he also served as a health consultant at ABP News (Formerly Star News) and TV Today (Aaj Tak).
While serving the Indian Armed Forces, Dr (Major) Bhardwaj was one of the first medical officers to be posted to Siachen Glacier. He earned Siachen Glacier Medal for his long stint there in 1984. In what was known as arguably the most challenging mission for the Indian diplomatic engagements, Dr (Major) Bhardwaj also served at Jaffna (Sri Lanka) during the peacekeeping mission and was in charge of the battle casualty ward amidst the raging violence. After serving for a significant duration on field, in 1997, he ventured into the private sector and set up his clinic along with wife, Ritu Bhardwaj. The objective was to leverage his experience to now serve the citizens within the border. The couple called it MedFirst ENT Centre, and set it up in Vasant Vihar, New Delhi.
The clinic is a comprehensive ENT
Centre for medical care at the diagnostic and therapeutic level. It has a full range of services from ENT Consultation to a well-equipped Audiology Department, Vertigo testing Lab, an in house Dispensary, and world-class Lab facilities.
Every service offered is in alliance with business leaders of respective technologies. To name a few, the audiology department is tied up with Amplifon, which is the world's largest hearing aid provider. Vertigo testing lab is in collaboration with a company that offers state-of-art testing equipment and infrastructure for backend operations combining cloud computing and AI algorithm. Detailed reports were delivered in 12 hours while the inbuilt app guides the patient on how to treat their vertigo and imbalance on their own.
Dr (major) Bhardwaj collaborates closely with the telemedicine society of India for enabling patients to access ENT services remote
Delivering Seamless Care
MedFirst ENT Centre is setting benchmarks with its ease of access and a seamless experience. Market studies show that patients have turned away from physical visits to the doctor. From trying to find parking, waiting in long queues for registration, followed by the long interminable wait for the doctor, and knocking on various departments of the hospital for getting tested; such tedious pursuits are not what a patient would enjoy. More so, queue at the dispensary for picking up medicines adds to the dilemma. MedFirst works toward making this process as easy and seamless as possible.
At the centre, continuity of care is ensured by having the same doctor available on all days of the week.
MedFirst ENT Centre incorporates advanced technologies and state-of-the-art equipment for testing and treatment. The clinic has deployed an in built, customized & dedicated ENT Treatment Unit, temperature controlled water irrigation system, dedicated ENT Suction, attached world Class Telescopes (Storz), Camera (Storz) and Monitors (Stryker). "Our staff is well trained and our partnership is always with the best in the market. Most importantly, to us always the patient comes first. Our company tagline is -Where caring comes first", says Dr (Major) Rajesh Bhardwaj, Founder, MedFirst ENT Centre.
Patients often struggle following up after the first visit, which usually becomes the prime reason for the discontinuation of the visits. Eventually, this leads to improper care or incomplete treatment. Communication is one of the key practices at MedFirst. From reminder calls to attending to them without rushing, to follow up calls seeking their response to treatment and whether they are better, MedFirst ensures the patients get what they come for-Cure.
The Two Wheels of MedFirst's Success
Rajesh and Ritu Bhardwaj are equal partners in the journey. The couple are the directors of MedFirst. Mrs.
Bhardwaj looks over the administration, management, finance, vendor agreement, and more. Her husband administers the professional ENT and medical marketing part. Giving due credit to his better half, Dr (Major) Bhardwaj says, "The role that my wife played in bringing our organization and me into prominence, the countless hours of work and effort, is immense and more than mine". One of the most noteworthy accomplishments of the Founding couple of MedFirst, was that in their journey for success they never neglected family requirements including their responsibility as parents. Ritu Bhardwaj continued to be an active parent while both spent a lot of time with their children. It was always like family first and business next. The Doctor cherishes his decisions to have done something right.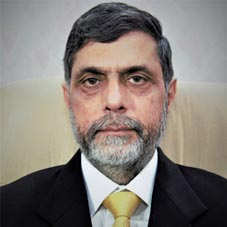 When the World Needed
When the world succumbed to the hard realities of the pandemic, MedFirst was an early responder during the Covid-19 outbreak. While clinics and hospitals were shut down, MedFirst sailed against the wind as it made no sense for a medical establishment to shut down during a Pandemic- a time when the patients needed them the most.
MedFirst, as an establishment, took its time to understand the virus, how it behaves and how to keep the Facility, the Patients and the Staff safe. The clinic used a four layered safety and sterilization protocolHydrogen Peroxide, Sodium Hypochlorite, Spirit and Ethyl alcohol. When it was understood that the virus mainly transmits through the air, additional protection of sterilizing the air using UV C filtration was also deployed. MedFirst facilitated Strict Appointment scheduling, careful physical distancing, compulsory use of masks while in the facility, mandatory temperature checks and hand sanitization for all visitors.
"We are proud to say that we did not SHUT DOWN EVEN FOR A DAY during the entire period and that everyone has been safe. This, in spite of being an ENT clinic – where risk of catching an infection is very high!" adds Dr (Major) Bhardwaj.
Dr (Major) Bhardwaj is a philanthropist at core and has a very simple vision for the future, 'Today should be better and bigger than yesterday'.
Awards & Accolades
• Became the President of the Delhi Branch of the ENT Association in 2004.
• Became Senior Vice President of the Delhi Medical Association, South Delhi Branch in 2018.
• Given Distinguished Doctor's award by the Association.
• Rated amongst the top 3 ENT specialists of Delhi 2019.
• Awarded Best ENT Specialist of Delhi 2020 by Asia Today Awards.