Dr. Georgie Kurien Muthoot: Guiding His Organization Towards Sustained Success In The Indian Healthcare Realm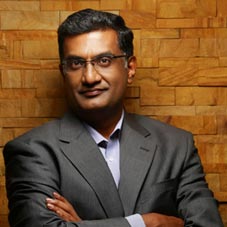 The Indian healthcare realm has witnessed multiple paradigm shifts over the course of the last couple of decades. The increasing implementation of technology has drastically improved the ability of healthcare providers to offer better healthcare services to the patients. A pioneering name in the Indian healthcare realm is Muthoot Healthcare. Headed by Dr. Georgie Kurien Muthoot, Muthoot Healthcare has been able to offer best-in-class patientcare for people from all walks of life.
In an exclusive interview with CEO INISHGTS, Dr. Georgie sheds light on his professional journey and his thoughts on the Indian healthcare stratum and its future.
What was a significant challenge that you encountered during your professional journey and how did you manage to overcome it?
As a healthcare professional and leader, the 15th of August 2018 will forever be etched in my memory as it was on that day that due to unusually high rainfall Kerala bore witness to the worst flooding in nearly a century. As the floodwaters started to rise, almost 8,87,000 people were displaced from their homes and forced to take refuge in camps. The district of Pathanamthitta was one of the heaviest hit regions in the state due to its proximity to rivers and dams. Pathanamthitta is also a region where Muthoot Healthcare has two multi-speciality hospitals and a state-of-the-art cancer centre which started reeling under the effects of the floods.
As one of the leading healthcare providers in the region, we welcomed the opportunity to shoulder the responsibility for our patients, staff and community. With the gravity of the situation assessed a core team was created to address issues that did and may arise out of a natural disaster of this scale such
as medical, food, physiological welfare, sterilization & communication.
One of my key priorities was to do what we do best and ensure the wellbeing of those who trusted us with their care and thanks to the quick thinking of my team we have forever cemented a place in our community's heart as their neighbourhood healthcare provider.
India's healthcare scenario seems to be at crossroads, where there are some positive achievements on the health indicator but suffers some serious shortcomings in healthcare delivery
What are the challenges that are faced by the healthcare industry in India?
India's healthcare scenario seems to be at crossroads, where there are some positive achievements on the health indicator but suffers some serious shortcomings in healthcare delivery. The country has been successful in eradicating polio, reducing epidemics caused by tropical diseases and controlled HIV to a large extent. In order to strengthen health care delivery and improve business prospects, policymakers, healthcare providers, business leaders, technology providers and pharma companies will have to devise strategies that transform a spark into a sustainable fire. Some of these include the inadequate reach of basic healthcare services, shortage of medical personnel, quality assurance, the inadequate outlay for health and more importantly insufficient impetus to research. The key is to get the private sector to participate, while the govt. continues to invest and enable.
Looking at the current pandemic and its long-lasting impact, how are you preparing your hospital to deal with it? What technology changes are you adopting for serving better?
Prevention and treatment services for non-communicable diseases (NCDs) have been severely disrupted since the COVID-19 pandemic began, according to a WHO survey released earlier this year. At Muthoot Healthcare we have been working towards increasing access to healthcare by amalgamating internet technology
into customer interaction. With a goal to open up effective channels of communication and remove barriers to access our teams have been offering teleconsultations as well as digitizing our outreach to bring the latest verified health information to a community under lockdown.

Our team has embraced the digital trend and is pioneering in the usage of WhatsApp for Business and social media through the introduction of customer interaction, enquiries and booking services enhancing the ease of communication. Post the integration and implementation of our digital customer Initiative we have seen a rise in the number of online consultations which has helped significantly reduce the risk associated with walk-ins while ensuring continuity of care for our community.

What are your thoughts on the present and future scenarios of the healthcare space In India?
The year 2020 has been a difficult phase for India's healthcare sector. We saw some private healthcare businesses struggling to stay afloat as organisations battled to balance cost and profitability. The industry is growing as always, but with increased innovation and improvements in technology in the last few years, I see the industry to be growing faster in the coming years.

Do you have any advices/suggestions on your mind for the budding entrepreneurs in the same segment?
The future of the healthcare industry needs to believe in "we" always more than "me"! This can only be accomplished with an energetic work environment and a goal-oriented culture, which cannot be carried out individually but done with a united team. Researching Market Niches, balancing profitability vs. social responsibility and fundamentally knowing how to build a vigorous and sustainable business model will help entrepreneurs turn their passion into a profession.

Dr. Georgie Kurien Muthoot, Medical & Managing Director, Muthoot Healthcare
With over 20 years of experience in healthcare with 15 years in General Medicine and General Practice in the National Health Services, UK, he took over as Executive Director of Muthoot Healthcare in 2010 and has worked towards placing Muthoot Healthcare on the Healthcare map of India.