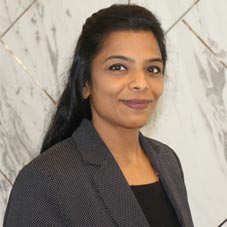 Quantum Corphealth has been setting new standards in the Indian corporate healthcare segment and the quality and efficiency of their patientcare have helped them to develop into one of the most preferred healthcare providers in the country. Quantum Corphealth is headed by industry stalwart Dr. Bhavya Vankar who has been able to guide them towards greater heights. Her passion for her profession and her commitment to constantly improve herself has been the hallmark behind her success.
In an exclusive interview with CEO INSIGHTS, Dr. Bhavya talks in detail about her professional journey and the operations of Quantum Corphealth Pvt Ltd.
Kindly highlight about your personal and professional experiences that help you to place your centre as one of the most promising organization in the medical industry?
I am an entrepreneur and a medical professional at the helm of Quantum family of Quantum CorpHealth Pvt Ltd, Quantum Health Manager Pvt Ltd & Quantum Smart Health LLP. Humanizing health care for the Corporates is my passion and focus and with an experience of more than 10 years in health care sector, I have helped some of the best organizations in uplifting the health and well-being of their employees. These companies include Tata group, Aditya Birla group, GVK and GMR Group, IKEA, SAMSUNG Constructions, and L&T to name a few. Now after a decade, I amstill working diligently on making healthcare delivery more optimum and impactful, by integrating detailed analysis of the historic data, vital insights and complex healthcare delivery system.
Having vast experience in medical practice has been a great help to understand the issues and the lacunae in the health care industry. Quantum is a place where wellness is at the core of every service and convenience at the core of every offering for the Corporates. We believe that preventing health problems is the best way to stay healthy and active, which is why we provide preventive healthcare
through a wide range of health check-up packages and patient care initiatives. This helps in timely intervention and further medical treatment if need be. We have also one of the largest teams of Doctors and highly qualified Hospital Professionals to take care of health care needs which help us achieve a healthy organization.
Explain in brief about the healthcare services that you are offering through Quantum Corphealth Pvt Ltd?
Quantum Corphealth Pvt Ltd provides various services including, Annual Health Check-Up, Pre-Employment Health Check-Up, Corporate Health Audit, Occupational Health Center (In-House Doctors & Paramedics), Pre-Policy Health Check-Up for the Insurance Sector, Tele & Video FMR for the Insurance Sector, Covid-19 testing, Online Doctor Consultation, Women Health -Menstrual Pain Management, Hospitalization & Discounted Diagnostic Services, Mind Wellness Quantum APP, as well as Discounted Pharmacy.
Our strategy is to incorporate maximum automation and taking help of digital platform to provide the best service and customer experience
We would also be glad to introduce our new company Quantum Health Manager Pvt Ltd (QHM), which is an initiative for parental health care, for the parents of individuals who have settled abroad or apart from their parents. The need for such service was felt long back, but the organized and competent services were none. Generally old age homes, relatives and family physicians try to fill this gap. Most parents don't wish to go to the old age homes. For a busy physician, they aren't a priority. Distant relatives see them as a liability. Serving old people, need trained and sensitive health care partner who has the ability to move things quickly in a situation of emergency. At QHM we take all the preventive care responsibility of parent health. Individual can totally rely on QHM regarding all the medical support for their parents, from preventive to post-operative needs.
In your journey over the years, which are the milestones that bestowed you utmost satisfaction - both as an individual and as a leader?
Association with Mumbai International Airport Limited (MIAL), GVK whereby we were entrusted to provide 24/7 medical emergency
back up at the Mumbai International Airport, both for International and Domestic travellers is an important achievement for usit helped us scale up our offerings/services and also made us further ready to tackle any medical emergency on site as well as remotely.

Tell us more about your role within the organization. What are your long- and short-term goals you have devised for Quantum Corphealth Pvt Ltd? Also, how do you encourage innovation and constant learning within the organization?
I head the Patient Experience and the Business Development arm at Quantum. We don't believe in short term goals and have set high standards for our longterm goals. Our long-term goal is to make health care affordable and fully automated with end-to-end encryption with data security to match the HIPPA standards followed by the US. Innovation has been always a key at QUANTUM and we have introduced various smart health devices in the Indian market to create a futuristic healthcare. We have also started QMW which addresses various verticals like stress, anxiety and relationship issues.

What strategies are you devising for developing Quantum Corphealth Pvt Ltd to a much stronger position in the medical and healthcare space? Also, what are your future plans for yourself and also for your organization?
Our strategy is to incorporate maximum automation and taking help of digital platform to provide the best service and customer experience. We have also collaborated with International Health Care Medical Device companies like INOVYTECH and iPULSE to bring in latest health care technology across the globe to the ever-growing Indian Health Care Industry.

Future plans are fulfilment of our goals and standing apart in creating holistic approach towards healthcare. We want to make the organization one of the most trusted in the healthcare sector of India, by providing the best of service and technology, with a focus on customer's well-being and satisfaction- all stemming from the foundation of an extremely transparent and ethical root that defines the culture of the organization.

Dr. Bhavya Vankar, Director/CEO, Quantum Corphealth
She has got vast experience working in the Indian healthcare segment. Her industry knowledge and clinical expertise have helped her to guide Quantum Corphealth towards sustained success in the industry.