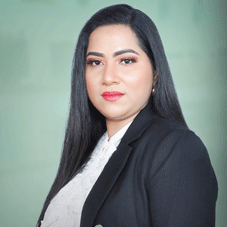 Ayurvedic food & cosmeceuticals, which date back to Indus Valley civilization, have made a huge comeback. The word Ayurveda has gained a strong reputation in the Indian FMCG and OTC markets, wherein more than 75 percent of households nowadays use Ayurvedic products. In a bid to enter this faster growing segment, many major cosmetic brands from the west have started introducing 'natural' variants of their existing brands. Even WHO demonstrates traditional medicine as being the primary system of healthcare, as the side effects derived from harmful chemical ingredients in commercial cosmetics pose several health risks.
In the case of Dr. Sheeba Karthick (Founder, MD & CEO, Liara), it was the daily usage of chemical eyeliner, mascara & kajal containing harmful carcinogenic preservatives that led to the complete vision loss in her left eye. Having a permanent eye disorder usually may reduce the self-confidence of most women, but Dr. Sheeba was no ordinary woman. Instead, this incident set her on the path to start a new business to establish her revolutionary idea of eradicating cancer and other deadly diseases & disorders caused by such harmful chemical ingredients in commercial cosmetics & personal care products.
"Today Dr. Sheeba stands tall and proud among all major ayurvedic cosmetic brand owners in the world, with highly commendable achievements in the field of Ayurvedic cosmetology and Beauty therapy"
Today she stands tall and proud among all major ayurvedic cosmetic brand owners in the world, with highly commendable achievements in the field of Ayurvedic cosmetology and Beauty therapy through her edication and perseverance. In fact, she is the one and only woman CEO in the Indian cosmetic & food industry with the highest level of relevant qualifications & awards. And her brainchild Liara ranks first in this sector, considering that the India based ayurvedic cosmetic & food manufacturing companies don't offer 100 percent organically pure, natural, handmade, vegan, cruelty free, unisex & ayurvedic skin & hair care solutions, lacking in one or more credentials the company holds.
Amazing Results at Affordable Prices
As Ayurveda and other Indian medical system advocate the need of both internal & external treatments to cure any type of skin & hair problems, Liara encompasses all aspects of skin care & hair care by presenting more than 100 unique cosmetics & dietary products that have ayurvedic therapeutic values. The company has six exclusive franchised outlets in Tamil Nadu, Puducherry & Bengaluru, which houses a wide array of cent percent natural, unisex & vegan skin & hair care solutions that are customised for every different body types. The certified aestheticians in Liara's showrooms examine & analyse every client's body composition (prakruti & vikruti) and prescribe suitable solutions to improve their body health with dietary, lifestyle changes, yoga and snehana with Liara products.
Undeniably, quality & authenticity are the paramount ingredients that make all the difference when it comes to food & cosmetics. Understanding this, Dr. Sheeba travels all over the world to source the raw materials from their native lands and bring the top-quality herbs and other required plant based elements in their original form to India with all legalities & certifications. As a cherry on top, the company uses 100 percent biodegradable & recyclable packaging materials to present its products that are handmade using traditional methods suggested in the ayurvedic scriptures.
On the Path to Glory
Having been raised up as a multitasker since childhood, Dr. Sheeba always had a strong passion for medical science & scientific inventions. Her research activities have won more than 50 national & international awards in the field of science, arts, design, finance, management, business development, education and
scientific inventions from top personalities institutions governments and major organizations. Though her first job was in the Finance sector she parallelly continued pursuing education in many fields (Physics, Ayurvedic medicine, Cosmetology, Herbalism and many others) that were of interest to her. During her 11-year stint at the world's leading financial institutions in India & overseas, she was honoured with several awards & accolades for her unique management skills & exemplary performances.
Good time planning, self-motivation & commit- ment are the secrets of my success today
In 2016, when she was living in Dubai, she suddenly identified changes in her left eye along with faltering vision and some abnormality inside her eye. Rapidly within a span of few months, she lost vision completely in the left eye and could not lead a normal life. When she was examined by the ophthalmology experts in one of the top eye hospitals in India, she was diagnosed with malignancy in her left eye which was found to have occurred due to daily usage of chemical eye makeup. "I never imagined that makeup could cost my life one day and can become fatal too," recalls Dr. Sheeba. It took almost two years for her to recover from this ailment with all necessary treatments done. Unfortunately, she was left with a permanent disorder in her left eye.
This made her think deeply about other potential side effects of common chemical ingredients in the cosmetics available globally in different forms such as moisturisers, shampoo, face creams, make up products, fragrances, soaps and many more. Even the so called herbal cosmetics & personal care products from many leading brands were found to have a considerable amount of harmful chemical preservatives. Literally there was no 100 percent pure herbal cosmetics found in Indian market until that time.
This had a deep impact on Dr. Sheeba's mind and she spent several hours finding ways & methods along with the guidance and help of fellow Ayurvedic doctors to make 100 percent natural cosmetics, makeup products & personal care products, which has become a daily necessity of every woman in present days. Consequently, in a major professional gearshift, she quit her job as AVP from a reputed Indian bank and founded Liara in March 2018 in a pursuit to replace all chemical cosmetics with 100 percent natural & vegan cosmetics that are free from all types of harmful chemicals such as artificial fragrances, preservatives, colours, flavours and so forth.
As Dr. Sheeba preferred to bootstrap the company by liquidating all her assets, increase Liara's profits gradually and to re-invest the same repeatedly to avoid any liabilities to third parties, the initial days were a great struggle for her, until a solid base was established during the end of 2018. She overcame the lack of sufficient manpower in the initial days with her multitasking ability. "My strong knowledge in Ayurveda, cosmetology & herbalism helped me to invent, develop & market India's first 100 percent natural, vegan, unisex,authentic ayurvedic cosmetics and superfoods by involving ancient medical sciences & modern cutting-edge technologies in manufacturing," asserts Dr. Sheeba. Similarly, with her expertise in marketing & business administration, she places the end products at the right market that is in dire need of herbal cosmetics & dietary solutions.
Today, Liara's signature products body butters, serums, natural cold pressed oils, herbal cleansers for skin & hair, ayurvedic superfoods and face packs are ruling the shelves of major outlets in several top countries, since their results are found to be amazing at affordable prices. Liara's products are offered only in limited supply (since they have limited shelf due to the absence of preservatives) to maintain quality & purity. Yet, the demand had increased manifold within one year of the commencement, as they are authentic, pure and economical to all classes of people. This has given Dr. Sheeba the confidence to launch 100 more new products within the first quarter of 2020 to replace almost all types of chemical cosmetics in the market, so that our people can live in peace without panicking about the health hazards posed by them.
Attributing much of her success to her parents, Dr. Sheeba says, "Since my birth, I was raised as a go-getter by my parents, who made all my wishes come true and facilitated me to get the required educational qualification to reach where I am today. Having tied the wedding knot at a very early age, she almost grew up in her husband's (also Liara's co-founder) hands from being an innocent college girl to a strongest & powerful woman CEO today. "He supports & encourages me to achieve all my dreams without a second thought. He motivates me to reach more heights without wasting my inborn talents," she adjoins. She spends her late evenings in helping her daughter do her homework and learn extra curricular activities. "Good time planning, self motivation & commitment are the secrets of my success today," reveals Sheeba.

Leading Charge
People are still charmed by the attractive advertisements made by chemical cosmetic marketers and think that herbal cosmetics may have many side effects than chemical ones and some perceive it as a religious science. The effort taken by Liara was substantial vis-à-vis other brands in creating awareness & educating masses about the importance of avoiding chemical cosmetics & switching to traditional body care methods as well as its unbiased state towards religions. Likewise the continuous supply of authentic ayurvedic herbs is being a great challenge mainly due to climatic changes and lack of awareness among farmers about the importance of cultivating medicinal herbs & crops. Addressing this, Liara conducts awareness campaigns across South India to motivate native farmers to grow medicinal plants and increase the yield with the support of government & private support organizations. Moreover,Liara participates in Government organized SME conferences regularly to share its industry insights & potential opportunities to peers.

Being a part of a huge worldwide network of scientific researchers, doctors & medical professionals, who actively contribute towards the development of natural sciences & complementary medical therapies, keeps Dr. Sheeba up-to-date with all relevant information & data required to be competent in this field. Known for delivering speeches on increasing social responsibilities of every Indian company, Dr. Sheeba is also a philanthropist who promotes employment opportunities for destitute women and transgender refugees in Indian companies. "The present Indian Government is offering innumerable benefits schemes for startups in this field and hence the future seems bright to us, as we have so many new ideas that could be supported by the government. Liara will be the future of Indian Cosmetics & food industry!"concludes a confident Dr.Sheeba.

Key Management:
Dr. Sheeba Karthick, Founder, MD & CEO
Dr. Sheeba possesses a laundry list of degrees including MCMA Ayurveda (CMA-London), MBA, M.Sc-Physics, MFA and seven PG Diplomas (Cosmetology, Herbalism & Medicine Making and more) as well as certifications such as REBT Mindset Coach, Life Happiness Coach (The Transformation Academy USA), Financial Planning, Vocal Carnatic Music and Indian Classical Dance teacher. At Liara she adeptly orchestrates top-level management, product invention, R&D, international marketing, business strategy planning and expansion with numerous awards like The Centre of Excellence World's Inspiration(2019) to speak for her.

Locations:Six exclusive franchised outlets in Tamil Nadu, Puducherry & Bengaluru

Offerings: Body Butters, Serums, Natural Cold Pressed Oils, Herbal Cleansers for Skin & Hair, Ayurvedic Superfoods and Face Packs among others

Favourites:
•Hobbies: Reading vedas, singing, dancing, travel, food and spiritual experiences such as reiki & meditating at temples
•Travel Destinations:
East Asian countries and the mountains of South India

Words of Wisdom for Budding Entrepreneurs
"Be single minded and focus on your goals without getting demotivated by temporary setbacks you face during initial days. Travel, ask, research, study & learn everything about entrepreneurship and garner end-to-end domain knowledge to avoid getting misguided by veterans. Relying on someone else's qualification & skills to run your business will make you only an investor but not the complete owner."