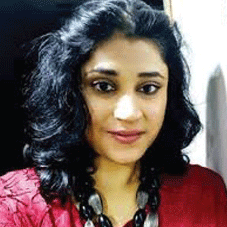 'Happiness is homemade' It may sound clichéd, but our love for home cooked food is a true embodiment of this phrase. Be it the authentic Rava Upma or Vegetable Poha for breakfast, Andhra styled Tamarind Rice or Rajma Chawal for lunch/dinner we, Indians, can never say no to home cooked meals. Imagine relishing them whenever you crave, with just eight minutes of menial preparation! Well you can now jump out of your imaginations.
Thanks to Shuchi Jain(Founder, Tiffin To Go), a food & travel enthusiast, for cooking and freezing your dreams into delicious boxes. You read it right! Shuchi's brainchild 'Tiffin To Go' has been making great strides in the food industry by presenting a wide range of freeze dried ready-to-eat vegetarian meals, which are extremely healthy, organic and nutritious with no trace of preservatives. She currently outclasses as a doyen in this niche segment of the food industry, while her entrepreneurial story further echoes the unparalleled expertise she holds.
Wait no further and delve into the following excerpts of an exclusive colloquy between Shuchi and CEO Insights wherein she describes at length about her life as well as Tiffin To Go's.
What triggered you to plunge into this niche segment of frozen ready-to-eat meals?
The reasons are plenty. Being a business professional and a travel enthusiast, I always longed for healthy, home cooked food when I was on the go. Not just me, but many people, for instance, busy professionals, students, travellers, campers, weigh watchers, senior citizens and even people waiting for long hours at the airport were facing the same problem. Healthy food is extremely important because falling sick for even a day would impact a great deal on our work, besides exploring a good restaurant is quite tedious.
Three years back, the food industry was brimming with multiple brands
of cup noodles, but not a single brand that produced healthy vegetarian meals to these people. That's when I decided to plunge into this segment! I replicated the same concept of preparing cup noodles mixing hot water into the packed content but with whole lot of nutrition into the content. I decided to come-up with traditional Indian vegetarian meals like Tamarind Rice, Dal Chawal, Rajma Chawal and many more, which most people would go home and look forward to every day.
Shuchi outclasses as a doyen in the food industry, while her entrepreneurial story further echoes the unparalleled expertise she holds
Brief us on your educational & professional background.
I pursued B.A. in Corporate Secretary, Business Management at INSEAD and many business management courses in food processing & nutrition. My professional journey started with being the Co-Founder & Promoter at Capricorn Food Products, India's second largest manufacturer of purees and concentrates, almost 15 years back. At this firm, I wore diverse hats and held multiple responsibilities. Later on, I also co-founded Shuchi Beverages Limited and unveiled 'Tiffin To Go' as a brand under this company. Since the brand was a byproduct of my passion for food and travel, I had to build it from grassroots level with strong emphasis on people. Currently, I focus on expanding the business as well as exporting our products to other countries.
How do you ensure to keep-up with your brand's tagline 'Every bite takes you home' across each box your produce?
Let me narrate our story so far! We started the brand with three flavours and currently offer up to 15 flavours under three categories Breakfast, Lunch/Dinner & Weight Watcher. Some of our products are Masala Idiyappam, Millet Khichdi, Chipotle Coriander Lemon Rice, Punjabi Dal Chawal, Vegetable Biryani, and Vegetable Dalia. Now, we take pride in standing at an unbeatable position with great appreciation from customers because we never compromised on sourcing good food ingredients. I believe that not many brands under this segment actually focused on the health of end consumers, unlike us.
All it takes to have this healthy box of vegetarian meal is just a cup of hot boiling water, eight minutes of time and voila! Even the formula that we follow at the backend is very simple. Once our experienced chefs cook the dishes as per the traditional recipes, the dishes are frozen, dehydrated (up to 90 percent), packed into oxygen-proof packages, and sealed with nitrogen. This method of freeze-drying guarantees our products a shelf life of close to a year, while retaining its original characteristics. They also undergo stringent quality checks and are produced across laboratories with NABL, FSSC 22000, Halal, Star-K Kosher and many other certifications.

What were the major challenges that you faced as an entrepreneur?
Most of the people were comparing our products with instant cup noodles. It was really hard to make them understand that our products contained real good food ingredients and can't be compared to that of a junk food priced at Rs.40. Yet, we managed to soar high with 100 percent growth YoY during the last three years. I also look forward to associating with strategic investors for my brand and take its vision forward in the coming years.

Tell us about your family's support in your career so far.
Since me and my husband Rahul Jain were promoters of Capricorn, we were together for most of the time. We always had a strong personal relationship, while our unique strengths never overlapped. Both of our families have been extremely supportive all the time. Also, my son Rishabh has been very positive from the beginning& he felt great and proud of me about my contribution to the food industry which helped me emotionally to contribute more toward the development of business.

Key Management:
Shuchi Jain, Founder
With extensive expertise in finance, banking, HR, administration, operations & other domains, Shuchi is taking 'Tiffin To Go' to newer heights across the food industry of India.

Favourites:
•Hobbies: Reading, Singing, Dancing & Travelling
•Cuisine: Anything that is Healthy & Vegetarian

For the Budding Entrepreneurs:
"Deep rooted knowledge, hard work, and passion with consistence can take you closer to living your dreams."