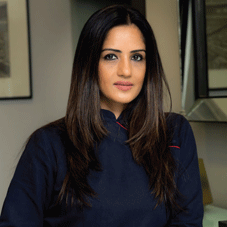 It was the year 2014. The summer was at its peak in New York, and so were the summer collection fashion shows. A graduate from FIT, New York, Vasavdatta (Vasu) Gandhi is a mother of two beautiful daughters, and it's a busy season for the professional in her as well. In one of those days, it finally hit her that the hard water in New York coupled with a tiring amount of time spent on road for the trunk shows, is increasing her and her daughters' hair fall with every passing day; not to mention the overlooked skin needs. Having married to the family of the erstwhile promoters of the heritage pharmaceuticals company, Lyka Labs (Est. 1976), her father-in-law, H.I Gandhi, who with more than four decades of experience in pharma with 20 years of focus in the Ayurveda & Herbal space, sent her a pack of hair shampoos, conditioners & oils developed using his own formula. It did magic to the mother & daughters hair. Vasu was intrigued by the results and it developed wings to her entrepreneurial dreams.
In 2018 with a vision to provide the same authentic experience to the hair & skin care market in the country, along with her niece Sneha J. Jhaveri, who ran the luxury hair salon Vous in Mumbai, Vasu co-founded SOVACARE. In this journey of a mother and two daughters, the unconditional support offered by the grandfather (Gandhi) has played a pivotal role as well. CEO Insights interviews Vasu to know more about her exciting journey with SOVACARE.
What makes SOVACARE so special?
With today's lifestyles, including anxiety, excessive digital use and negative environmental changes, we all entail some thing beyond
Ayurveda. That's how we started seeing beyond the norm Ayurvedic products and backed them up with years of research. This enabled us to offer innovative combinations like rose & jatamansi for a hair shampoo, an anti frizz serum that amalgamates violet and Kashmiri walnut. We use the (exotic) Baobab plant (Adansonia digitata) in our products.
Our products draw deep inspiration from Ayurveda and are manufactured in a world class state-of-the-art factory, which helps us standardize the products
We source only the A-grade ingredients, regardless of how expensive they are. All of our ingredients are sourced from the best whether it is Indian or imported. Our products draw deep inspiration from Ayurveda and are manufactured in a world class state-of-the-art factory, which helps us standardize the products. Be it today or a few batches later, the product you buy from our brand will have the same look, feel, smell and results.
Only Sova gives the consumer efficacious natural products supported by innovative technology without damaging her hair and skin. The products are packed with do good ingredients that do not cause any side effects and deliver the results she desires!
What were the initial challenges that you faced while building a brand in such a sensitive market?
Our biggest challenge was to arrive at our final formulations, which went through intensive realworld testing on hundreds of women with different hair types and to keep tweaking the formulation based on feedback. The next challenge was the MOQ requirement from the cGMP factories and the world class ingredient suppliers who only wanted large quantity. Spreading the word about the brand is always a challenge, but we got lucky with early word of mouth.
Apart from being a busy entrepreneur, you are a mother of two children as well. How do you find enough time to spend with them?
We, Indian women have always been like the goddess Durga. We other than working, cook, maintain our home, love and look after kids and husband, workout and do many more things in a single day, while also wanting to look amazing. I actually speak for the major wedge of women population in the country. Like them, I wake up early, start my day with a compulsory meditation & chanting and then plan menus for each person in my family. I think meditation really sets the tone for the day. I make sure that I go back home by 4.30; that's when the kids come back home. That way, I get to spend quality time with them.

Getting to spend that much time with the family has long become a luxury for entrepreneurs. How do you manage that?
For me, it's of paramount importance to be organized with everything I do. I plan my day as soon as I wake up. Above all, I have a hardworking team that makes my life way easier.

You have built an all-women team. Was it a conscious effort?
Yes, it was a conscious effort to build an all women team to give woman like me an opportunity. Plus they understand our target audience much better. We do have a few men employees, but we strive to keep it as women centric as possible. We have also partnered with a charitable organization, which too is founded by a woman. It works towards empowering women, skilling them and helping them earn income.

Key Management:
Vasavdatta(Vasu) Gandhi, Co-Founder
A graduate from FIT, Vasu is a passionate entrepreneur. She did her bachelor's in design & merchandising and boasts of her 15 years of design experience under her own label VG and knowing people's minds & requirements closer and faster.

Favorites:
•Hobbies: A music and dance lover (trained Indian classical dancer)
•Cuisines: Japanese & Greek and Thai
•Travel Destinations: Turkey & Japan