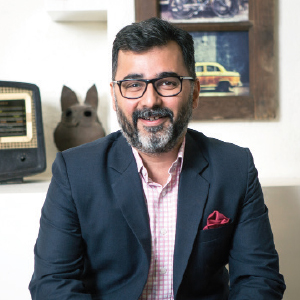 The surge of digital innovations across the healthcare sector have stimulated a tectonic rise in the investments made by tech giants like Google, Amazon, Apple and many others towards health-tech. Clearly, the advent of technologies such as Blockchain, Machine Learning(ML), Artificial Intelligence(AI), predictive analysis and many others is not just expediting the medical treatment and research process but creating umpteen opportunities right from hospital administration management to healthcare financing and more.
Wielding the power of AI by blending medical understanding with analytics, EBH.Life, arguably,one of India's first and largest online healthcare services aggregator, is on a mission to aggregate One Million individuals and their Health Data within the next twenty-four months. It aims to then use AI & Data Sciences to find patterns in this Health Data, that results in better Healthcare Management for those individuals.'Can we help them live to a 100?' is a driving agenda for the EBH Team.
Voluntary, Verifiable and Valid Health Data is the cornerstone of what EBH is attempting and in this pursuit, it is lazer focused on delivering 'value' to these One Million individuals. It started by partnering with 669+ Healthcare Service Providers (HSPs) such as diagnostic centres, clinics and hospitals across 11,000+ locations in India, and securing a 'best price guarantee' from these. The Consumers find 'never seen before' pricing on healthcare services that range from Preventive Healthcare Management Services, to planned Hospitalisation procedures. That coupled with some seriously AI Driven Health Dashboard analytics has helped EBH quickly acquire over 60,000 individuals and they are well on their way to cross the 100,000 mark by Jan 2019.
Overseen by Gagan Kapur(Co-Founder & CEO),a Healthcare and
Insurance industry veteran, EBH is driven by a vision to become the World's most Trusted, Consumer-Health-centric Company. In an exclusive conversation with CEO Insights, Gagan has in fact shared great insights about EBH as well as his prowess that is significantly fortifying the firm. Here, are the excerpts!

"We empower 'un-insured' Indians with the best and widest choice of services in a simple, transparent and easily accessible manner, thereby securing quality healthcare for the Indian populace"

What has been your professional experience prior to laying the foundation forEBH.Life?
As an MBA graduate, I started my professional journey in the M&A and Private Equity practice of Ernst & Young leading to establishing and managing Ernst & Young's Private Equity & Financial Supports Group in India; wherein I also authored 'Conducting Successful Transactions in India', a highly-rated thought leadership publication. Later, I moved on to set up the India office for Argonaut Private Equity wherein we invested and managed over $250 million in funds, private and public companies of India. Also, I was instrumental in expanding the presence of Medicare Group, one of the oldest Health Insurance TPAs in India, across many countries globally, while building its technology division,'Track Four Infotec.' Track Four Infotec, develops software for Billion Dollar Insurance companies like UAP Old Mutual. While also developing the software for the State of West Bengal's.'Swastha Sathi' Scheme.

I am also a member of NatHealth among other leading industry associations.

Kindly cast some light on your services and also on your team at EBH.
Besides offering services across preventive healthcare, wellness & lifestyle, chronic care and hospitalisation, we are the tip of the spear in providing aggregated health services at great value by leveraging the best of health data and making the lives of people better. Being India's first comprehensive health aggregator that offers one-window access to diverse healthcare services, we empower 'uninsured' Indians with the best and widest choice of services in a simple, transparent and easily accessible manner, thereby securing quality healthcare for the Indian populace.

Moreover, our high-end and secure tech platform built primarily for our
HR, consumer and health service partners essentially solves issues pertaining to dearth in health predictability, genuine personal health records and transparency in healthcare system. Empanelled across this platform, our team of HSPs holding latest technology, systems and medical equipment always give much preference to new partners who have IT integration, own laboratories and the shortest turnaround time. In fact, we at EBH provide an easy-to-use EBH Dashboard that allows our HSPs to easily track and validate appointments besides seamlessly integrating with their systems.

Despite hailing from different areas, we are a smart bunch of people who uniquely fit together like Lego Blocks and work like comman does with a culture of brutal honesty and speed of execution.

What is the role of EBH in imparting innovations across the health tech domain? Also, what are your plans for thefuture?
Deploying the best of AI, we plan an outcome-based approach to manage consumers' health outcomes and also generate a simple to understand and visually attractive graphical analysis of their health status in a diagnostic report across our platform. Outcome-based approach, for instance, can guide our users on what tests they must be doing based on their age, gender, type of work and family history. While my team focuses on creating sensible and easy to understand data-driven design for the users, I assure that these designs and solutions reach out to happy users on time.

With aspirations of opening our medical tourism practice area, we have set our goal for 2018 to serve more than one million individuals and also expand into other service categories including wellness & lifestyle, chronic care and hospitalization.

Key Management:
Gagan Kapur, Co-Founder & CEO
Investing 20+ years of accumulated experience across diverse geographies and domains, Gagan has laid a solid foundation for Easy Buy Health (EBH.Life)with comprehensive insights on the intricacies of the Indian healthcare sector.

Office: Mumbai
Offerings:
•Preventive Healthcare
•Wellness & Lifestyle
•Chronic Care
•Hospitalization