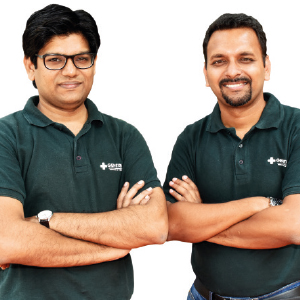 With the advent of internet and mobile technology, all pharmacies have equipped their stores with advanced pharmacy management systems for medication stockpiling, labeling, ordering, recording and dispensing. Availability of secured web-based platforms has enhanced pharmaceutical servicing and helped in simplifying medication prescription tracking. Adducing to the need for better management systems through technological integration, Mumbai-based Generico(a reputed chain of retail pharmacies) developed 'Reap App' as a real-time tech application for in-house supply chain management that allows curated analysis for Generico based on geography, product, therapeutic categories and many more. Having pharma-centric application model, the app aims at making the store staff's working methodology easier.
The brainchild of stellar IIT alumnus, Siddharth Gadia & Girish Agarwal (Co-Founders), Generico today outshines competitive zone by ascertaining that prescriptions coming to their counters never bounce back. As the duo explains that 7-8 prescriptions of every 100 prescriptions have products that are not easily sourced due to fragmented pharma distribution system. In such situations, Reap App helps in-house staff to find the product and place orders to distributors over call, hence simplifying procurement process. The app has all the stores' systems connected to a central unit and distributors through a technology enabled platform for real time ordering and information on all drugs and their bioequivalent substitutes
In an exclusive conversation with CEO Insights, Siddharth & Girish explicates how Generico is evolving into a tech-oriented pharmacy chain and becoming a more visible platform by integrating Reap App advantages into its management system.
How is your education & richexperience instrumental in Generico's inception?
Back in our graduation days at IIT Bombay, we bonded over our mutual interest in cricket and entrepreneurial endeavours. However, post-graduation, we chased our individual aspirations. While Siddharth bagged a position at Electrometals(an Australian patented metal refining technology company) to overlook its international business in Asian countries & European market and later established his own hardware technology firm for media delivery without internet, I worked closely with a bootstrapped educational robotics startup in my initial years of professional journey. After delivering exemplary operational results for P&G, I started my own project management and construction service firm for industrial projects. But we both knew something eccentric yet socially driven was waiting to sail us through entrepreneurial ocean.

"Unlike other healthcare/pharma applications, our app aims at solving problems for Generico stores by helping them improve their topline, which is a primary requirement"

It was in 2015 that our paths crossed again, and we decided to follow our entrepreneurial dream of establishing an organization that epitomizes social undertaking. Starting with technology products in pharma supply-chain gave us a glimpse of how pharma industry is poised to its biggest change in the coming decade, which gave birth to Generico in 2017.

What is Reap App's key differentiating factor that makes it employee-centric & store-friendly?
What makes Generico's business model unique is Reap tech. Unlike other healthcare/pharma applications, our app aims at solving problems for Generico stores by helping them improve their topline, which is a primary requirement. Additionally, it offers one-of-its-kind benefits such as distributor discovery assistance and opportunities to get queries answered by thousands of fraternity colleagues. While machine learning algorithms facilitates continuous and automatic database upgradations, high-end integrated analysis creates room for personalized feeds at each Generico store.

For us, our internal customers (employees and store staff) re just as important as the patrons visiting our stores. To maintain efficiency,
we take all internal feedback seriously and a special tech team takes charge of addressing various feedbacks and queries whilst continuously providing assistance through an internal help chat portal. As a result, we have been able to deliver maximum app improvements through active engagement with our internal customers.

How are you instilling innovative strategies in Generico's framework to escalate its growth graph synonymous to social servicing?
Presently, we are working on an extremely efficient, cost effective, cloud-based and user friendly mobile based POS which is to be launched in both mobile and web format. It will help Generico's staff in solving complex operational problems with respect to billing, inventory management, procurement, accounts, financial & statutory compliances, and many more, thereby, saving time and cost for all customers and strengthening their trust in Generico for all their medical needs in line with our mission statement – 'Think Medicine, Think Generico'.

Since Generico is an employee-centric company, we believe in creating a freedom-oriented, innovative culture wherein the team of 150+ professionals work with a single point agenda of problem-solving for customers. Hence, the team is extremely focused on customer experience and ensures dispensing of quality medicines at affordable pricing. At Generico, the entire team aligns with the company's vision, culture and core values to build an environment focused on quality healthcare driven by strong social sense.

Key Management:
Siddharth Gadia, Co-Founder
A technology enthusiast by heart, Siddharth is determined to ace pharma industry with revolutionary technological solutions and gratifies his social ambitions by giving back to the community through Generico.

Girish Agarwal, Co-Founder
Chasing his entrepreneurial endeavours with passion, Girish is a wayfarer who excels in building strategic business models and unparalleled master plans for Generico's growth.

Headquarter: Mumbai
Offerings: Vast Portfolio of Generic Medicines from Reputed Pharma Companies(WHO/GMP Certified Manufacturers) at upto 80 percent lesser costs to the consumers & Advanced Technological Platform for Optimal Supply Chain Management