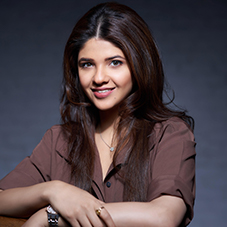 Lately, India has witnessed tremendous growth in OTT consumption. Transcending the soci-economic barrier, entertainment in the form of OTT has found a place in every household. Upon returning from the States, having acquired a degree in Urban Planning from UCL, London & Business, Columbia University, Akanksha Chaturvedi observed this widespread engagement of the country's youth with OTT platforms. She was enlightened with a groundbreaking realization that if digitization can democratize entertainment, education can be too. Given that education is the central pillar of any country's development and that access to quality education should not be limited to a child's socio economic background, at a strikingly young age, Akanksha set out on a journey to introduce a much-needed change in the way education is propagated in India. Thus, Eduauraacame into existence.
In the following excerpt of a conversation with CEO Insights, Akanksha gives a brief account of her journey, the inspiration, and the approach & operations of Eduauraa as an eLearning revolution.
Throw some light on the journey of your company since its inception. Ever since I returned to India, I am on a quest to bring about a change in the education scenario in India. I founded Eduauraa to provide high-quality education at an affordable cost.
I have studied Urban planning from UCL, London & Business from Columbia University, USA. After I returned from the US, I was surprised to see how many people were hooked on watching content on OTT platforms across different socio economic classes on their smartphones. Just looking at that, I started to wonder how if digitization can democratize entertainment, then why not education. With Eduauraa, I strive to achieve what multiple OTT platforms have done for movies and drive an education revolution in the nation by creating a self-sustaining entity that proliferates with time.
Being a youthful and an energetic pioneer with a vision to change the manner of training imparted to the nation, what was the idea behind
the establishment of Eduauraa?
When I looked at the numbers, I realized that 85% of people earn under INR 8 lakhs per annum in India yet private school expenses of a single child have risen from INR 55,000 in 2005 to INR 1,25,000 in 2015, an increase of over 150 percent. Limited access to good education in India has led to a surge in tuition culture and about 11-12% of the average family income is dedicated to tuition.
I was also disheartened to see that India, a country with so much potential ranks 112th out of 188 countries on the Global Education Index. Therefore, I decided to partner with a leading OTT platform and launch Eduauraa at extremely economical pricing 2 years ago with a small team of 8 people. Today, 6 months after our platform has launched, we stand strong with 330 employees and 10 lakh subscribers.
a mission to revolutionize education via the use of cutting-edge technology, giving premier academic excellence to every part of India at a reasonable price
Tell us in detail about the primary features and course packages offered by Eduauraa.
Primary features of Eduauraa includes customized syllabus for ICSE, CBSE and 7 other State boards comprising Maharashtra, Tamil Nadu, Rajasthan, Uttar Pradesh, Bihar, Madhya Pradesh and Chhattisgarh. It has a convenient user interface with a built-in navigation system, aided by a voice search feature. The Content is designed as such to include Video lectures with 2D/3D & alpha animations, images and real-life examples. Other Value-added services include mind-maps for diagrammatic representation and revision, MCQ's, e-books, passed papers, objective & subjective test papers.
Eduauraa Proffciency Quotient to analyze a student's progress and Eduauraa Assistant for easy study scheduling are two quintessential features to assess student's progress. In fact, Eduauraa's immersive learning experience is built in a way such that every student in India has access to the best education at any time. The application is available on Android, iOS and also accessible via web browser for students to access as per their convenience.
Eduauraa offers 3 levels of subscription packages. Base video pack subscription is priced at INR 999/- per year (introductory offer).
This includes annual subscription to Eduauraa and Zee5 premium, 6000+ hours of video content made by India's top teachers (download enabled), 2D/3D & alpha animations in each video and the Eduauraa Assistant.

VAS pack subscription is priced at INR 1999/- per year which includes all Value-Added Services materials like- e-books, test papers, mind maps and past papers, Eduauraa Proffciency Quotient (EPQ), and Eduauraa Assistant.

We also offer an all-inclusive subscription - INR 2499/ - per year (introductory offer) with access to all Eduauraa content, Zee5 premium, and VAS services.

What strategies do you follow to meet every kid's requirements while ascertaining maximum output of your programme?
We have the in-built EPQ for self-evaluation in the app. Eduauraa uses technology for evaluation analytics thereby offering students detailed insights into learner's progress during the course.

We have in place a feature called Adaptive tests, wherein the difficulty of the test is determined by the
students' performance such that it will get harder or easier following a correct or incorrect answer respectively. In Knowledge tests, Eduauraa's AI engine uses answers to assess user knowledge levels on a specific topic, making provision for active and engaging participation.

Our contribution is that we're playing an integral role in making education available in every nook and corner in India at a reasonable price for different state boards in English and in Hindi.

How does Eduauraa make a differentiated impact in the approach to education?
The price parameter is making a lot of difference in bringing education to the masses. Unlike the general market quotes amounting to the figures of lakh, we have set a definite value of the range INR 999 to 2499. More so, given our mutual association with zee5, subscribers get automatic access to Eduauraa and vice versa. The content is prepared in Hindi & English languages, by the faculty members of the top 10 Schools in India aligned with the 9 major boards.

What's the future roadmap you have designed for Eduauraa?
We are working towards expanding our content base progressively across streams and languages. We are currently curating content for the 11th and 12th grades followed by IIT, JEE and NEET catering to India's largest engineering and medical exams. Additionally, we will also be adding materials and devise course packages for civil services/IAS exams.