Ken Institute Of Executive Learning: Providing A Unique Learning Experience For Working Professionals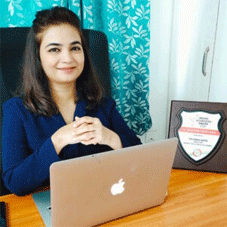 The rise of cloud computing will have a significant impact on India's online education business. eLearning organizations in India may preserve a substantial amount of data, content, and information on a single platform, thanks to cloud technology. Data storage makes it easier for consumers and suppliers to manage, buy, process, and access data from any location. The increased popularity of big data and learning analytics is another important eLearning market trend. By 2022, India's eLearning market is expected to be valued at more than $18 billion.
Ken Institute of Executive Learning is an online education platform that offers premier Occupational Health, Safety & Environmental Training courses, as well as un-compromising industry-relevant programs planned and taught by world-class instructors. We provide a unique learning experience for working professionals using the latest technology, techniques, and industry knowledge. CEO Insights interviewed Priyanka Gupta (Founder & CEO) of Ken Institute of Executive Learning, where she discussed the institute's distinct characteristics as well as the innovative approaches used.
Give us a brief detail about your professional background. What was the idea behind the establishment of the Ken Institute of Executive learning E-learning Platform?
I am from Amaravati, a small town in Maharashtra, where I grew up in a family of 19 people. When we all live under one roof, the first thing we learn is management, which has always been in my blood, because managing a large family in one kitchen and one home is a difficult job. After graduation, I decided to pursue an MBA since I had always wanted to be an entrepreneur since my child-hood.
Later, with over 15 years I gathered experience working in the online education industry, I decided that rather than investing myself directly into establishing a business, I would rather learn from the established bodies who are already in the
market, so that I could learn more about the need of society when it is about education and innovate a professional and flexible way of serving. After years of hard work, I established Ken Institute of Executive Learning Private Limited, a Telangana state government-registered company, in 2019. Our headquarter are in Hyderabad, and we now have students from 42 countries.
Ken holds institutional membership from UK bodies (BSC & RoSPA), Institute of Engineers and National Safety Council and proudly serving international standard education to students from 36 different nationalities
Enlighten us on various programmes and courses offered by Ken Institute of Executive Learning with key emphasis on flag-ship offering.
In India, Ken Institute is the only institute that offers an international title courses. For example, in India, we have academic qualifications such as diploma, graduate, post-graduation, and master's degrees; but, when we travel outside of India, education is defined in terms of levels. We have various well-known conventional titles in occupational health, safety, and the environment, such as HSE Excellence ­ General Level (Level 2, 3), HSE Excellence ­ Advance Level (Level 5), International Diploma (Level 6), Graduation or Expert Level (Level 7) and Masters or Chartered Level (Level 8) titles.
Apart from that, there is one more factor that is novel for India: 'Membership'. This is a highly original notion in the outside market membership is nothing more than a designation given to a professional after undergoing through proper assessment process. This isn't a certificate or a degree; it's simply a designation. This approach is prevalent in European and American countries; nonetheless, the Ken Institute is the first institute in India to offer Graduate and Chartered Memberships to professionals. And, very soon, we are expecting to sign a Memorandum of Understanding with India's one and only governmental body in Occupational Health, Safety and Environment education and training, the National Safety Council, under which we will serve as their exclusive promotional
and marketing partner for one of the courses, Safety Champions.

What are the innovative training methods that you follow to ensure the best learning outcomes for the clients?
When it comes to creative learning methodologies, we at Ken Institute engage students in two-way conversation rather than relying on one-sided information from instructors. We have a mentor and mentee concept, in which Alumni serve as mentors to students from subsequent batches. Tasks are allocated to them, and the project report that students present must be a real-time study from their firm, from the industry, in which they work, and it must be cross-checked by their superiors and, eventually, by our mentors. Besides, even after students have passed from Ken Institute, they will be involved in case study forums, knowledge forums, and other discussion forums to ensure that their CPD is maintained (Continuous Professional Development) and learning should be a continuous process.

What is the future roadmap set for Ken Institute of Executive Learning?
We currently have a presence in 42 countries, and our goal is to have students from every country in the world within five years down the line. Aside from that, when it comes to future goals, Indian education has a very long-term, sustainable future aim. When some-one considers pursuing higher education abroad, the first two or three countries that comes in mind are the US, UK and Canada; however, individuals rarely consider India for earning international level of education. I am glad that, our honorable Prime Minister Narendra Modi sir has set a vision: Made in India, following the same notion, I am aiming to establish a quality benchmark for education in the Occupational Health, Safety and environment domain which should be provided from India through the platform of Ken Institute and should be given top priority on a global scale.

Priyanka Gupta, Founder & CEO, Ken Institute of Executive Learning
Priyanka has a B Tech degree and an MBA from ICFAI in Hyderabad. Priyanka has a natural ability to work hard, have an influential personality, and have uncontrolled passion. Her astuteness allowed her to touch the ambitious goals of the promotions she had worked on. To build and deliver the courses, Priyanka enlists the help of highly qualified top global entities. Ken Institute is a for-profit venture. It is dedicated to developing the most competitive, productive, and talented employees in all areas.