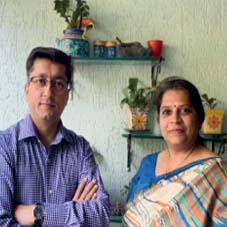 People are the most valued assets of any business today. The right grooming of people on a regular basis will not only enhance their image both professionally & personally, but fetch phenomenal RoI to the organization. Especially, grooming them in soft skills (people skills) is the dire need of the hour which image management focuses on, along with training them on external as-pects like appearance, dressing and others. As per the India Skills Report 2020 by Wheebox, only 46 percent graduates across India are employable, majority facing challenges in soft skills.
Hence, to address this vast dearth in soft skills among the talent pool (existing & emerging) of India and forge a remarkable change, Praful Gajare & Gowri Yogananda (Founders & Managing Partners) together established Espléndido Soft Skills & Image Consultants. A beautiful fruition of their dreams, Espléndido has been seamlessly helping clients – be it a corporate, individual, educational institution or NGO, by enhancing the soft skills of their team members, and in the process, building close connections with them.
Most importantly, the duo takes pride in the way they work with clients by making them feel comfortable in a short span of time, get to the core of the challenges faced, and design highly customized solutions providing exemplary benefits for longer duration.
This way, they are realizing their mission of 'A Splendid You' and eventually building 'A Splendid India'! Praful and Gowri have passionately shared more details about their brainchild and its excellence in image management during an exclusive colloquy with CEO Insights.
Hailing from diverse backgrounds, what kindled you both to foray into this niche segment of soft skills management?
Praful: Besides working in domains like Sales & Marketing, Data Processing and Customer Service, I have been engaged in the training industry since last 14 years, initially while working in the BPO industry and later as Espléndido. It was during this journey I witnessed a huge gap in soft skills among the talent pool as opposed to technical skills.

Gowri: On a similar note, during my 25+ years of journey as a Teacher and Recruitment Consul-tant, I realized that as a team, there is a need to improve on people skills like teamwork, interper-sonal communication, and stress management, to name a few. With a common yet unswerving passion for soft skills training and a good camaraderie, we forayed into this segment through our brainchild – Espléndido. Both of us are well-versed soft skills trainers with International Certificate for Professional Soft Skills Training and Train the Trainer Certificate acquired through accredited courses from Scottish Qualifications Authority and National Accreditation Board for Education & Training.

How has the journey of Espléndido been so far?
It has indeed been a long walk with many ups & downs! Creating the right awareness among MSMEs and individuals on the significance of soft skills, which is now considered as Core Skills has truly been challenging for us. Besides, encouraging them to break out of their cocoons of prefixed budgets and willingly leverage on our training modules has been a tiresome process.

Today, due to our continual efforts, we are proud to have turned clients who were unaware of the importance of Soft Skills into our repeat clients by presenting them tangible and consistent results, while presenting a whole new dimension of soft skills training through Espléndido. In our growth journey so far, clients like Bombay Stock Exchange, Schneeberger, Madhavbaug Ayur-vedic Cardiac Center and Capchem Electricals, to name a few, have benefited from multiple ses-sions conducted on-site and off-site for their team members.

Throw some light on the various services in your portfolio.
We offer services including Soft Skills, Image Enhancement and Personal Consultation. The most common requirements across all our clients have been skills like Communication Skills (written & verbal), Sales, The 5S System to enhance productivity, Team Building
Skills, Leader-ship Skills and Time Management Skills, to name a few. Besides, we cover various other aspects of Soft Skills like empathy, psychology-oriented topics like emotional intelligence, transactional analysis and many more.
All our training modules are designed and developed based on a customer-centric methodology, wherein we firstly understand their core requirements
Brief us on the training methodology that you adhere to.
All our training modules are designed and developed based on a customer-centric methodology, wherein we firstly understand their core requirements. In fact, we conduct an in-depth Training Needs Analysis (TNA) to garner correct and sufficient information about the client and its people. Post this, developing content becomes quite easy, as we know what exactly they require. We believe in the adage 'Tell me and I'll forget; Teach me and I'll remember; Involve me and I'll learn" – Benjamin Franklin.
Hence, our sessions are a good mix of presentations, group dis-cussions, activities and interactions. Depending on the client requirement, we conduct pre and post assessments of the target audience. This helps in evaluation and implementation of the learnings. The assessment also becomes the base for the future sessions. This is a cyclic process until we are sure that the learners have mastered the skills.
What is your future roadmap?
We aspire to plunge into online soft skills training, enabling accessibility at affordable rates to MSMEs and students from College and higher levels. We foresee humungous opportunities in soft skills training across industries in the years to come.
Praful Gajare & Gowri Yogananda, Founders & Managing Partners
With varied experiences yet a common dream, Praful and Gowri are certified & experienced soft skills trainers, and are passionately taking Espléndido to splendid heights.
Office:
Thane
Services:
Soft Skills, Image Enhancement, and Personal Consultation.