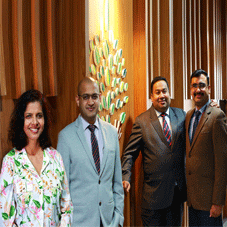 The private wealth management industry in India is flourishing at a healthy pace, as an increasing number of UHNWIs (Ultra High Net Worth Individuals) and HNWIs (High Net Worth Individuals) are broadening their investment channels to include more effective asset classes like private equity and hedge funds. Leaving it to the experts, many wealthy Indians nowadays seek the services of Family Offices, tremendous credit to their improving awareness on the immense benefits they can derive by professionalising the family practice. By adhering to stringent laid-down processes, Family Offices can remove ambiguity, avoid disputes, and help an HNWI to achieve various financial as well as non-financial goals. Globally, Multi Client Family Offices (MFOs) have demonstrated superior customised solutions for large families while maintaining confidentiality and professionalism. Lately, the same trend is gaining immense popularity in India too.
In today's market scenario, a typical advisor/relationship manager in this industry gets sandwiched between his employer's targets versus the expectations of his clients from him, which makes it difficult for the advisor to remain true to himself and his advisory. The need of the hour is to have an open and transparent dialogue with clients and agree on milestone-based reward mechanism something which augurs well for both the clients and the advisor. Having garnered decades of advisory& leadership expertise, the founders of Fintrust Advisors realised that this model was fair and aligned with the client's interest and follow a Performance-Driven Reward Approach.
In this partnership approach a large part of returns is dependent on clients investment exceeding the set objectives, unlike the 'Asset under Management' approach prevalent in the industry, where an advisor makes money irrespective of whether the client has achieved the investment objective or not.
The company has built its forte in offering advisory to family offices and catering to their requirements across the full spectrum of services in the family office domain with the aim of governing, managing and furthering the family's inheritance and legacy. Determined to give its best to make its offerings a class apart from the rest, Fintrust utilizes several analytical & business tools & platforms for serving its clients' requirements and in the process provides them with cutting-edge research that keeps them ahead of the curve in their journey towards financial excellence. "We are continuously on the lookout for emerging investment trends & opportunities, tools & technologies and identifying niche business/investment opportunities that can add value to our clients," proclaims Anurag Jhanwar, Partner, Fintrust Advisors.
But what makes Fintrust the favourite choice of Ultra HNIs is the immense emphasis it vests on understanding its client's requirements and then providing them with tailor-made solutions. The company is widely appreciated by its clients for its thorough due diligence and proactive approach to bring best-in-class investment products & offerings to them. Furthermore, the excellent relationship Fintrust has been maintaining with the fund managers enables it to bring their direct involvement in addressing its clients' queries directly.
Overarching Service Provider
One needs to have a thorough understanding of all the family assets & liabilities to work in a coordinated manner towards an integrated, multidisciplinary strategy instead of having a piecemeal approach. While many firms call themselves MFOs, very few can provide everything under one umbrella, and that's where Fintrust comes in. Renowned for offering informed and neutral opinion, the company takes pride in positioning itself as a single point of reference for all the wealth & advisory needs of family offices and Ultra HNIs.
As the market is over crowded with players, each claiming to have superior & unique offering/specialisation, HNIs end-up entering into multiple partnerships without understanding the complete offering. Such a lack of service coordination amidst multiple advisors only elevates the issue and leads to confusion. A typical diversified multiasset portfolio may have multiple managers and third
parties, with each having their reporting format, and this makes consolidation and reports standardisation at the family level an extraordinarily complicated and time-consuming task.
We do our thorough research on the history, background and track-record of the products, promoters and investment managers before recommending them to any of our clients
Addressing this, Fintrust has adopted a completely open architecture philosophy to integrate the offerings of old/existing advisors, thereby making the portfolio reporting seamless. "Families usually engage us where full time professional management is required or could be beneficial. We offer informed and unbiased advice through a dedicated team of professionals who evaluate, oversee and manage the whole financial affairs of the client & his family and provide recommendations that are best suited to the family's interests," adjoins Vikas Khaitan, Partner, Fintrust Advisors.
In India, many wealthy families have got into complicated issues by avoiding succession planning. There are instances where family members have disputed rights and entitlement in court, thereby jeopardising/compromising the peace & security of the entire family. Forming a Family Trust is not just an excellent tool for succession planning, but is equally handy for segregation of business & personal assets, maintaining confidentially, tax planning, managing & protecting assets, and for providing for specific contingencies for the family members and legal hires. Utilising Family Trust prudently, Fintrust offers a framework for building capabilities & independence and reduces family disputes, leading to overall family well-being.
The financial services industry is a highly regulated sector with numerous regulatory bodies like AMFI, SEBI, RBI, IRDA and others. Fintrust ensures that all of its products & services are in full compliance with all these related regulatory bodies. "We do our thorough research on the history, background and track record of the products, promoters and investment managers before recommending them to any of our clients," remarks Prashant Joshi, Partner, Fintrust Advisors. Fintrust is very particular when it comes to onboarding any product, service or fund manager and believes that it augurs well for its clients and Fintrust. Similarly, all asset classes have their own set of regulations and due diligence requirements like real estate, company laws, trust & succession planning, Private Equity, startups and distressed assets, to name a few. Each of this being an industry in itself, Fintrust has its partners & alliances who bring the industry expertise and help its clients throughout the conclusion of any such requirements.
A synergy of Diversified Skillsets
The cornerstone of Fintrust was laid in 2017 by four like-minded professionals (Prashant, Vikas, Anurag & Suneetha) on the bedrock principles of Trust, Transparency and Knowledge. All the partners are qualified professionals with a management degree in finance and grew up the professional ladder in their respective corporate journey. Having gained around two decades of experience in leading corporates in various avatars (where they have won several awards across client delivery & excellence), they decided to quit their cushy jobs and step out of their comfort zone to pursue their passion.
"We saw synergies in our skill sets, experiences & vision and decided to join hands. That gave birth to Fintrust Advisors, where we help the clients make informed decisions and walk the path with them," recalls Prashant. It's these unique & diversified skillsets they bring to the table that makes Fintrust one of the most dynamic and client centric multi-client family office in the country. The fact that this two year old firm is actively managing over 30 Ultra HNIs & Family Offices countrywide stands as a testimony to the organisation's efficiency and expertise.
With more than 200 years of cumulative experience, the Fintrust team comprises of seasoned Investment Advisors, Real Estate professionals, Investment Bankers, Private Equity professionals, Distressed Asset Advisors, Chartered Accounts and Lawyers who are well versed in providing tailor-made solutions according to client-specific requirements. "We leverage our internal expertise along with strategic alliances to ensure that the domain experts in the industry handle specific and critical needs of our clients," affirms Suneetha Patnaik, Partner, Fintrust Advisors.
Road Ahead
Presently operating out of three cities (Hyderabad, Mumbai & Delhi), Fintrust is in the process of opening an office in Bangalore & Pune very soon and strengthening its team on the research & advisory side. The company is very cautious and particular about the alignment of its objectives with the client's requirements. "Multifamily office as a concept is new and it works well when there is complete alignment for long-term value creation. If there is a lack of compatibility in any particular relationship, we believe it is better to exit the relationship than do a suboptimum job," concludes Anurag. Given the stellar expertise & dedication of the company's partners, it is only a matter of time that Fintrust will become the topmost player in the industry.

Key Management:
Vikas Khaitan, Co-Founder & Partner
Vikas started his career in corporate treasury 15 years back and later worked his way into private wealth management and has managed AUM of over $400 million across various asset classes.

Prashant Joshi, Co-Founder & Partner
Prashant brings to the table his 15+ years of experience in stocks & private wealth management (wealth advisory, trust & succession planning) and has worked with Indian as well as foreign firms.

Suneetha Patnaik, Co-Founder & Partner
A practising Lawyer in the past, Suneetha has worked in banking & insurance space with domestic firms and MNCs. She has advised over $100 million assets across the private wealth spectrum.

Anurag Jhanwar,Co-Founder & Partner
Recognized as a thought leader in the Real Estate & Startup Advisory domain, Anurag adds another dimension to Fintrust's expertise & offerings, as he spearheads real estate advisory, Private Equity and Startup advisory at Fintrust.

Offices: Hyderabad, Mumbai & Delhi.
Services: A single window service provider that works closely with its clients on their requirements ranging from Trust & Succession Planning, Investment Advisory across asset classes, Real Estate Advisory, Distressed Assets advisory, Treasury Management, Corporate General Insurance, Fundraising, Startup Advisory, Private Equity, Investment Banking and CFO Advisory services.

Client Testimonial
Fintrust has been my advisor from the day Fintrust Advisors was born. I am impressed with the rapid progress that this young, energetic and creative team has made over a short period. They are always working-out new ways and approaches to solve the mysteries of financial markets to improve the quality of advice for their clients. I wish them all the very best in coming days, with a strong expectation that they will maintain nimbleness of small organisation as they grow, which they will!

–Kapil Mehan, Strategic Advisor – Agri Business (Ex Group CEO – Zuari Agri Chemicals, Ex MD – Coromandel International)

Although I am a relatively recent client, I have had substantial interaction with Fintrust in a short period and I have growing confidence that the skill sets and work ethic that I was hoping to find in them are there in spades. Most firms are focused on investment management. While that is also key for Fintrust, their understanding and assistance in the stressed asset deals and structured deals on real estate where they provide expert advice are high on my list.

–Vikram Kailas, MD, Mytrah Energy

I have known the founding members of team Fintrust since long. Being a part of the family office ecosystem, I am happy to see Fintrust filling the much needed void. They are highly knowledgeable, thoroughly prepared, very professional and ethical. Through their Investment Office, Real Estate, Stressed Asset and Private Equity teams, they deliver multidisciplinary advice one needs while keeping my interest at the heart of their services.

–Amit Mehta - LN Bangur Group

We were looking for succession planning, however weren't exactly sure about the succession roadmap. We needed somebody who could work with our family to understand our requirements, and help us understand the nitty-gritty better. They seem to make a lot of things uncomplicated. They came-out with a clear and comprehensive succession plan, which we implemented.
Their assistance in the formation of family trust and the distribution plan for our wealth is high on my list of wins. Fintrust has worked with us to build a comprehensive strategy for our family and our wealth, including investments, tax, insurance, estate planning, private equity and family development.

–Dr. Parekh - Client since Inception