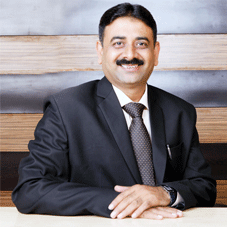 Wealth creation is not a destination but a long journey that requires sound judgment and discipline. However, it can be daunting for a layman to traversing through the various complexities of investing and managing wealth. With free financial advice coming from every corner of the room it is necessary for individuals & families to shift through the clutter and rely on trustworthy professionals. Haardik Nayak Wealth Management is actively helping families build wealth and invest in the right insurance solutions since 1994. Committed to forwarding the concept of 'Healthy Wealthy family', the firm undertakes a needbased, customer centric approach to financial advisory.
Founded by Haardik Nayak, a seasoned finance expert, the Navsari headquartered firm was one of the first wealth management firms in South Gujarat to create awareness about SIP across thousands of families. Under Haardik's thorough guidance, the firm has been managing assets worth over Rs.300 crore and has helped over 5,000 families realize & achieve their financial goals. The Haardik Nayak Wealth Management team comprises of three certified financial planner, Four CAs and qualified MBAs. Other than on-boarding the right talent and having well defined roles in place, the firm's clear process & system ensure a high retention ratio. In an exhaustive conversation with CEO Insights, Haardik speaks about the various factors that make his firm stand out in the market.
Can you throw some light on the various financial management services provided by Haardik Nayak Wealth Management? Also, tell us about the USP of your organization?
We offer financial advisory based on risk bearing ability of an individual client. Our investment product basket contains PMS, MF, Asset Allocation & as far as insurance offerings are concerned, by focusing intimately on Life Insurance & Health Insurance we have secured Human Lives worth sum assured value of Over 250 Crores.
Additionally, our firm's 'Healthy Wealthy family'plan carries a deeper
value to create goal oriented wealth and it assures the goal safety too. For our UHNI clientele, we have created a separate 'family office' service that educates and executes estate planning for future generation.
We see technology playing a vital role in the future, which if acquired at present may turn out to be biggest weapon for us to acquire & serve future and current clients
We have created a separated platform called "CertiProp" that exclusively focuses on REAL ESTATE as other value added service to execute real estate assets, which tends to be tricky at times. We ensure that each of our wealth advisors is equipped with necessary advisory skills to assist families in understating safety and prosperity through linked investment with peculiar goals thus creating value of 'trust'among each other.
Wealth creation is said to be a long journey which requires judicious decision making and discipline. How do you enable your clients to have the right attitude towards investmentand wealth creation?
Every individual along with their family are often faced with constant distractions to liquidate investments due to unprecedented source of liabilities & assets at the same time which makes wealth creation for clients a rather challenging activity. We since last 25 years have conducted well over 500 Investor Awareness Programs educating more than 10,000 individuals across South Gujarat. We constantly focus on helping clients maintain a Zen like discipline during the bear stage to avoid financially unhealthy calls and to calm clients' overzealous nature at the bull stage. This is where our goal mapping technique comes into play. We are also equipped with the right team that functions on a singular vision of keeping client first, which has helped us to successfully retain clients and investments even at the most treacherous stages.
The Indian financial services market is constantly in a state of flux. What opportunities do you foresee arising in the years to come and how are you aligning your organization's strategies to keep pace with these changes?
India's Mutual Funds industry is largely underpenetrated, especially when compared to other developed nations, and holds huge potential for growth. We see technology playing a vital role in the future, which if
acquired at present may turn out to be biggest weapon for us to acquire & serve future and current clients with enhanced accuracy & swift pace.

We are therefore constantly upskilling our workforce to leverage this opportunity and become ready for what the future holds. We have created an in house training program to equip all of the 20 Wealth Advisors with right set of tools by understanding their inner talent. With a robust team of 20 strongly ethical Financial Advisors, we are moving in the direction of targeting tier 3 cities and small towns reaching each family and making them aware about their Investment options & encourage them to enroll on Technological Platform for paperless transactions.

Our firm has made giant leaps technologically and we have implemented centralized CRM & other technology tools to avoid as many as loop holes for customer first approach. We with clear understanding of human development factor playing a bigger part, have created inhouse psychological & performance counseling under registered psychologist & mentors.

What is in store for the future of Haardik Nayak Wealth Management?
We are committed to help our clients grow and succeed in every sphere of life, therefore we are focused towards developing various platforms such as real estate assistance, family office, skill assessments & mentoring for youth & parents among others. This evolution will foster overall development of families and thus the society at large. Our other objective is to spread maximum awareness about human development through wealth management, skill development and other such vision oriented activities. In future, we shall be adding more and more platforms to fulfill our vision of an aware and able society.

KEY MANAGEMENT
Haardik Nayak, Founder
A renowned financial expert, Haardik's skill is backed by over two decades of strong industry experience of advising HNIs and affluent families in terms of wealth creation. Known for his exceptional leadership skills & staunch work ethic, he has built an organization that spans various verticals and is dedicatedly working towards a common goal' Creating Wealth for all stakeholders'.

Offerings: Financial planning, wealth management and portfolio review

Offices: Navsari, Surat, Bardoli, Bilimora, and Vapi