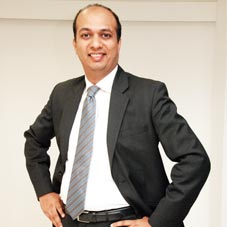 During the past few years, a swarm of management consulting firms have come into existence in India and promised to deliver growth advisory services for clients to enhance their businesses. Yet, most of the consulting recommendations remain unimplemented, either due to a paucity of time with the entrepreneurs or simply being impractical. To proactively address this huge gap between recommendation and implementation, Gurgaon-based Firestorm was established in 2015 by Piyush Patodia (Managing Director). Firestorm is a boutique advisory firm that seamlessly helps entrepreneurs in unlocking disruptive growth for their organizations through implementation of the advices via direct or indirect interventions. With an enhanced engagement pattern by providing CXO services to their clients, the firm has helped more than150 companies through 300+ diverse interventions since its inception.
In an exclusive colloquy between Piyush and CEO Insights, he has elucidated a great deal about his firm and its journey so far. Here are the excerpts!
How has your educational and professional experiences been helping you in your entrepreneurial journey?
I pursued BA(H) in Economics from Delhi University in 1997 and MBA in Finance & Strategy from International Management Institute in 1999. Soon after completing my MBA, I worked at the Business Advisory practice of Ernst & Young for five years, started and oversaw Copal Partners, and had brief stints at Pulsar Knowledge Center and Hewitt Associates. Later, I was a Partner with Grant Thornton India, advising clients in Strategy Formulation & Implementation, Business Planning & Reengineering, Industry Studies, Policy Formulation,
and other verticals. I also taught the business consulting course to second year students at IMI for three years and am a part of National Executive Committee for FICCI for the more than five years.
All through my consulting career, I have gained rich experiences in running an organization right from strategy, finance, management, marketing, technology and HR. My foundation in how consulting needs to be given, how to deal with different kinds of entrepreneurs and startups, and many other aspects, was solidified at Ernst & Young, which was also my first job.
We deliver significant value to our clients by providing not only the right quality and the right advice, but also help them implement it for the desired results
Walk us through your journey so far along with the challenges that you overcame.
Amidst behemoths in the management consulting domain, we faced the biggest challenge of validating our advisory services. Hence, we focused primarily on garnering clients and then on enhancing our brand value – with a rich roster of credentials, we can now boast of assisting a significant number of clients in our short span of five years. In addition, we have created our proprietary model for identifying and unlocking disruptive forces in any organization, The Disruption Wheel. We feel this is a key differentiator between Firestorm and all the other small to mid-sized consulting firms. Very soon, we will be unveiling around five additional unique proprietary models to tackle specific issues within the organization.
It's not easy setting-up a management consulting brand in this crowded yet open marketplace. With hard work, perseverance, and of course, blessings from many friends and colleagues, we have been able to reach this point of inflexion wherein we are seeing explosive growth happening within Firestorm.
Cast some light on your diverse services.
We provide our services in four
packages – Visioning, Planning, Actioning and Structuring. In the Visioning phase, we help in creating the vision/belief/intent for our client's business, ideation, brainstorming, validation, and realignment of vision if needed. In the Planning phase, we handhold clients in devising their business strategy, value proposition, disruption, viability, roadmap, go-to-market, and business plan (one-year tactical, three-year strategic & five-year directional plans). The Actioning phase involves interim management, project management, organizational effectiveness, profitability, growth acceleration, performance, new venture, and tracking & monitoring the right metrics. The final bucket is Structuring and it is all about creating the right organization structure, defining KRAs/KPIs, performance management systems and incentivizing techniques.

A team of five experts at Firestorm oversee the end-to-end operations behind these services, holding diverse experiences in management consulting, marketing, research and other backgrounds.

What are Firestorm's future plans? How do you and your team stay abreast to fulfill these plans?
Our main plans are to launch AI & ML based consulting and Analytics based advisory services for our clients in the near future. This is now going to be the new trend and based on our collective vast experience, we have already started creating the variables necessary for the decision matrix.

As part of the consulting process, our team reads a lot of different research papers, magazines, newspapers, industry expert reports & comments, blogs, and others, and assimilates the information into actionable intel, in order to provide the best advice to our clients.

Piyush Patodia, Managing Director
With over 21 years of management consulting experience, Piyush outclasses as a wellversed business leader who has advised a large number of clients including startups and mature organizations in conceptualizing their future strategy and planning their next steps.

Quick Facts:

• Office: Gurgaon
• Solutions: Visioning, Planning, Actioning & Structuring