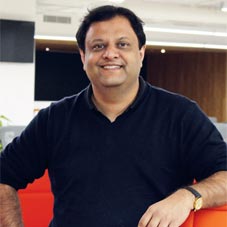 The burgeoning usage of internet across the world has enabled a swarm of entrepreneurs to establish their businesses virtually and also take it to newer heights. While a larger portion of these businesses enjoy incredible success through their endeavours, others still find it difficult to execute their business ideas effectively. Helping this vast bracket of young companies who want to realize their business ideas or scale-up their existing business is Gurgaon-based NorthSide, a leading strategy and execution company incorporated in 2017. NorthSide proactively helps its clients in building robust brands, developing differentiated products, and transforming business models.
In a short span of three years, NorthSide has helped clients across food and beverage (F&B), personal care, healthcare, nutrition edu-tech, and fin-tech realize their growth ambitions and out-perform.
Delve into the following snippets of an exclusive conversation between Vidur Vyas (Founder, NorthSide) and CEO Insights to learn more about the company and its idiosyncrasies.
What places your company an edge above your competitors in the market?
We are uniquely positioned in the management consulting industry with expertise in venture development. We provide our clients with the best knowledge and execution capability to help them build robust brands, develop differentiated products and build a business model that is effective and delivers to their growth ambitions. That means that not only do we provide our clients with sound strategy and a well developed operating plan, but we also stay on to ensure that the plan laid out actually delivers the results outlined.
Most of our clients are those who have great business ideas and want to give life to those ideas. Our typical projects provide end to end expertise – from finding consumer insights that help them position their brand with the right target audience to helping clients develop products through our R&D partners and our technical expertise to
scaling up their business via e-commerce and traditional sales and distribution systems.
In sum, we are a one-stop partners that can help clients develop their venture.
Brief us on your consulting approach.
Our team has over 20+ years of real battle experience working in various companies with leading brands. With that experience, we have a practitioners' approach to consulting with a view to formulate business, marketing as well as growth strategies, and execute until tangible results are achieved.
We deploy a mix of traditional tools and technologies that are available in India as well as globally into our services
We fully integrate with our client's team to create a strong relationship and follow a four-step approach – formulate strategy and seek buy-in, develop an operating plan, execute proof of concept, and then execute a long-term plan to ensure tangible results. This way, our clients receive the advantage of a complete knowledge transfer and learnings in execution of business plans which they can reapply in their further business endeavours. In doing so, we also ensure that we not only help our clients with determining 'what' to do in the future, but also firm up 'how' they can achieve the goals and visions set out.
What are the diverse technologies or tools that you deploy while offering your services?
All our systems and the way we execute our clients' business plans are always in accordance with their requirements. We deploy a mix of traditional tools and technologies that are available in India as well as globally into our services.
Walk us through your team of experts.
We have a diverse team with over 20+ years of experience working in leadership positions across leading companies.
Gaurav Mehta has over 22 years of experience and was formerly the head of insights, analytics and digital media, for PepsiCo India. He was also category director for Global snack brands at PepsiCo India. He has deep experience in brand positioning, communication architecture and developing benefit in segmentation models, that help drive growth.
Bhavna Pande, an excellent creative professional with 20+ years in advertising with experience working on many leading brands including Maggi, Lays, KitKat and many others. Bhavna has been credited with leading creative work across categories.

I was formerly the Chief marketing officer, PepsiCo India Foods, Senior Director Global Nutrition Group and Beverage Innovation at PepsiCo India Region and VP marketing at hike. I also have consulting experience with Accenture and from time to time work as an external advisor to Bain Company for their CPG practice.

In addition, we also have a strong partnership with Urjita Food Business consultants, founded by Dr. TSR Murali, who was the formerly executive director of R&D for PepsiCo India Food & Beverage, head of R&D at Mother Dairy.

For e-commerce and traditional GTM systems we have a strong team to help companies set up and scale up operations.

How has your company's journey been so far?
During the first few months in 2017, we faced few challenges in building our client base and brand recognition. Post that, we have had a fantastic journey with huge traction. We have delivered an average growth of 2.5 X for our clients and have an average engagement period of 18 months, which shows the trust clients have on our work.

Even during the recent Covid-19 lockdown, we innovated and continued to deliver work for our clients by reaching consumers using technology and delivering growth for our clients.

Cast some light on your future plans.
Our aim is to help young companies start-up and scale-up by continuously improving our services and providing our clients with the best in class. Equally, seeing how well our engagements have been, we are planning to set-up a Venture Development Company, that can help incubate and nurture new products and ideas, while continually benefitting from the core brand and business building inputs of the core consulting business.

Vidur Vyas
Gaurav Mehta
Bhavna Pande
• Office: WeWorks, Cyber Hub, Gurgaon
• Solutions: Building Robust Brands, Developing Differentiated Products. Transforming Business Models via use of e-commerce and franchise models