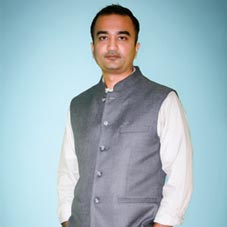 Wayne Dyer said "When you change the way you look at things, the things you look at change."
The companies always strive to serve their customers in the best possible way as well as provide a healthy growth environment for their employees. However, at times the firms do need to change the way they operate and deliver services. In the process of hitting refresh or at times to manage their most important manoeuvres, the firms do reach out for external help in the form of Management Consultants.
SidekickEDGE is one such management consulting firm, which has been engaged by many healthcare organizations to successfully guide in-house critical transformation and change management initiatives.
CEO Insights Interviews Manav Chaudhary (Director), the key person of SidekickEDGE.
Tell us the major facets & achievements in your professional journey so far.
Most of the engagements now are focused on working with CXOs to understand their top priority pain points, guide the leadership in the identification of top failures or gaps through evidence-based decision-making practice and lead the change with operational or execution teams for the most relevant initiatives. Success to me comes when the teams cross the finish line with me but are trained well to take the change forward independently. Most of the work has come through recommendations which suggests that I might be doing a thing or two right with each of my engagements. The experiences I cherish the most from recent past include the design-develop-deployment-transform of Bangladesh's first investor led Primary Care chain, leading operations transformation for a global Teleradiology firm, design develop-deployment of a Healthcare research collaboration platform (SaaS version) being used by teams at PGIMER, Chandigarh, UNICEF, WHO, CDC Atlanta etc, launching an MTE (Manage To Engage) learning
program for mid management capacity boost across a rapidly growing firm, improving operations across hospitals and theme based healthcare programs using structured approaches of Lean Six Sigma – it includes my first project in healthcare for the largest Emergency Department on the West coast in Canada.
SidekickEDGE has led numerous transformational projects across home-health care, hospitals, primary care and technology-driven start-ups in healthcare space. The learnings of almost two decades has helped in developing a more realistic perspective to succeed and smartly deal with local nuisances within each firm.
Building resilient capabilities to continuously surpass the expectations and beat the competition is the result of incremental change on each day at the firm
A Management consultant helps organizations solve problems, improve business performance, create value and maximize growth. They identify solutions for business troubles and make suggestions for changes to implement. How have you taken charge of your role in various situations in diverse organizations?
Though each engagement and client brings its own unique set of business challenges, what does not change is the fact that leaders in healthcare domain are mostly driven by a passion for service – helping patients and families throughout. Leveraging, the learning of globally proven and now well-established, the practice of Evidence Based Management makes my job easy early in each of the engagements as decisions are objective and the experience of over 20 years helps in the design of the solutions which will give results. Staying neutral and true to the change agenda has helped me broker some of the toughest battles between leadership and execution teams. Investing in client's teams and people has helped me in some critical change engagement projects with significant momentum taken forward by the teams after I wrap up the work. Of course, it comes with an investment of humungous proportion of daily or monthly or hours but as they say 'Job is fun when one is passionate and likes what they are doing'.
How do you ensure to update yourself with the latest industry trends and technologies so that you could always steer your organization towards the zenith?
My mantra for learning is simple. Know – Apply – Learn. Without application, there is no learning. For me, the learning cycle begins by knowing new methodologies and frameworks.

The nature of the job is such that I have to maintain a continuous supply of new concepts to understand and solving the issues. Besides reading, being mentored and guided by industry leaders, each engagement exposes me to unique practices applicable in the firm's settings – a wonderful teaching source to begin with.

For me, the long term learning comes through application of the theoretical knowledge. Getting to know why certain initiatives in the firms were successful or a failure in the recent past, applying the methodologies during analysis or solution design or change management helps in upgrading me continuously. I hit refresh with each of these learning cycles.

In your professional journey so far, which are the milestones that bestowed you utmost satisfaction - both as an individual and a Management Consultant?
As an individual, I came back to India without any local contacts in the healthcare market. But having successfully finished over two dozen projects with extremely satisfied firms and teams, in last five years, does help in pushing the envelope. In between all the travel, chasing the timelines or new clients, getting the right combination of people-process-technology-data, what keeps me going is the satisfaction that all this effort creates a positive impact for real humans - patients (and their family) and the wonderful people serving the patients across organizations.

Manav Chaudhary, Director
Manav Chaudhary has completed his MBA from The University of British Columbia (UBC), Canada and engineering from Punjab Engineering College (PEC), Chandigarh. Over past two decades, Manav has supported numerous key initiatives across firms globally and held full time positions with Fraser Health Authority, IBM GBS Canada, Sierra Systems and TCS. He has also taught at IIHMR and is the country lead at Canada India Network Society. Currently he is serving as Global Healthcare Advisor and Director at SidekickEDGE.

Office: Chandigarh - New Delhi