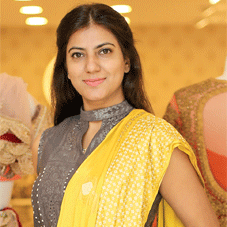 Relating to the everyday problem faced by today's youngsters which can be briefly summed up as having a wardrobe full of clothes yet nothing to wear, AanchalSaini took an innovative step to introduce fashion at the doorstep without spending loads of money on it. A lawyer turned entrepreneur, Aanchal founded RENT IT BAE in 2016 as a luxury fashion rental service offering ethnic, western and accessories from designer labels and brands on rent at a fraction of cost.
She acquired Flyrobe in 2019. Flyrobe is India's first and largest fashion rental company and she has been steering the business towards profitability with scale since then. Ensuring growth via an omni-channel strategy across both online and off line mode, Aanchal has been stimulating a Pan India expansion of Flyrobe by building an innovative and reliable fashion rental business.
Engaging in an exclusive interaction with the team of CEO Insights, AanchalSaini shares her journey as a new-age lawyer cum entrepreneur whose inclination towards fashion played a pivotal role in introducing the largest podium for rental outfits in India as Flyrobe.
When you started your professional journey, did you ever imagine that you would be an entrepreneur? As a female leader, what has been the most significant barrier in your career?
When I started my career as a lawyer, I always strived to be a leading lawyer of the country but somehow, I pivoted. I have always believed that when you build a business, you're building an asset, but when you build a career in law, you're only building a person. I cannot encash my brain after 20-30 years as a lawyer, but as a business person, I can encash my business which was a major reason for my pivot.
In case of barriers, I think every leader more or less faces them during the commencement of their journey as entrepreneurs irrespective of their gender. The major hurdle I faced when I started the business that there was no precedent to look up to and we had to build everything from scratch. Unlike a selling portal, we handle our rental operations differently as we have to ensure effective communication at multiple levels.
When an attire is booked for a specific date in future there are multiple operations to be performed starting from quality check, alterations, laundry, dry-cleaning and
more before handing them over to the customers. Similarly. after recovering them from customers, the attires go through reverse quality check and dry-cleaning before putting it back in the inventory for future order. Sometimes there are multiple orders of the same product during one season. So, it's a very unique and diverse supply chain. To ensure the effective workflow of our processes, it took us a while to design everything as a rental fashion and attire company.
Brief us about the spectrum of apparel & other products that you're offering for rental. What are the marketing and distribution strategies that you have adopted to dominate the market?
Catering for both men and women, we host a wide range of products including sherwanis, tuxedos and suits for men; and bridal attires, wedding dress, lehengas, gowns, anarkalis, sarees, drape sarees for women. As a company we have experimented with renting a variety of accessories like sunglasses, watches, luxury handbags, and so on and have our learnings in place. But for now, we stuck to the occasion wear category to scale. Our products are generally designed and developed for occasional purposes such as functions and marriages, as we don't do for an everyday category.
With flyrobe, we have always felt the first mover advantage as the brand was the first to rent out fashion in India
With Flyrobe, we have always felt the first-mover advantage as the brand was the first to rent out fashion in India. We have invested heavily in brand building and skilling, as a result of which we are completely ruling the market in terms of being the first and the largest player. Currently, Flyrobe is synonymous with fashion rentals in India. We have more than 1 million users at this moment, along with six to seven lakh followers on our social media. Our community which comprise of renters is continuously growing owing to our collaborations with marketing influencers and different ways of off line and online marketing.
What are the opportunities that you foresee in the current fashion market of India and as a CEO, how are you leveraging this to the benefit of the firm?
Being in this business for six years, we've seen people changing their mindset and moving from buying to rentals. Millennials these days prefer to rent a product according to their convenience instead of spending their savings buying it. Today nobody wants to hoard things, and just like any other possessions such as houses and cars, fashion is the next big sector to witness the turn of the rental business. Fashion changes faster
and to keep up with the changing trends, nobody wants to stuff their wardrobes with apparels of the bygone era. And not just fashion with time our shape, taste and preference also change, which is another factor catalyzing the rental fashion domain.

As mindful consumption is a concept now, we are witnessing a remarkable upsurge in the demands for rental fashion. As an omnichannel business thriving online as well as off line, we have a presence across 30 plus cities online and physically we are located in 3 cities & growing. We have started to work on a franchise model. After seeing success of our first franchise store opened last year in March in Bangalore, we are ready for expansion via the franchise route in different tier-1, tier-2 and metro cities.

Highlight the achievements that Flyrobe has attained since its inception? What methodologies have you incorporated to take your business to next level?
This omnichannel strategy is working well for us and with a presence across 30 plus cities, we are completely ruling the market. With every city becoming the first one to have a luxury rental store, the franchise is the way forward for us. So, we're very excited to open more doors to stores for different cities. Additionally, our C2C model is growing faster than expected, which is when the consumer can make money off their closet by renting their designer products via Flyrobe. In 2019, before COVID, if a user was giving out their designer product, it was minimum a year old, but in the last few months, we've been getting freshly bought/days-old products as people don't want to hoard it but want to make money out of it.

This is something very exciting for us as we have on boarded a lot of curators via this model and a lot of people have started earning money through us. And I think that there are unlimited supplies because we are open to the entire country. As it's a heavily burning business, we're trying to steer the business towards profitability. We have a lot of influencers working with Flyrobe and catering to the marketing domain we have initiated a B2B business segment as well. Here we provide for photoshoots, videos, serials and so on. We have recently collaborated with EktaKapoor and Alt Balaji's their wardrobe partner for The Married Woman series.

AanchalSaini, CEO Aanchal has worked as a lawyer for seven years after completing her studies from Amity law school. As a founding member of Delhi International Arbitration Center, which was set up by Sheila Dikshit govt. and Delhi High Court, she headed the Legal Wing and led the place with zero matters to over 10,000 matters. Apart from the field of arbitration, civil litigation and matrimonial were also her forte. Before venturing into the fashion industry as an entrepreneur she has worked in the Delhi High Court, Consumer courts, civil and other courts of Delhi.