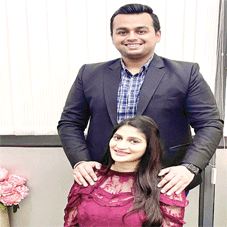 Catering to the needs of its customers by giving them all the information regarding what to wear, how to wear and how is it adding value to their bodies, Lueur Lingerie was established in 2019 with a vision of educating women regarding their breast health and the significance of lingerie.
Engaging in an exclusive conversation with CEO Insights, Kunal Mohan Sharma and Sandhya Sharma, Founders Lueur Lingerie highlight the prominence of the premium Lingerie brand created by them as a distinctive initiative to unveil the importance of women undergarments.
1. Brief us about Lueur Lingerie's journey so far along with the major challenges that you faced and overcame.
The biggest challenge of all was women not being vocal about breasts and lingerie. We overcame this challenge by firstly creating a questionnaire for our customers and running it through our social media and sent it to all our friends and family. Lueur Lingerie was started with set strategies and goals, one of which was creating a product purely Made in India.
At this stage, one of the major challenges faced was finding the right manufacturers to produce a product with optimum quality and an affordable price range. To overcome this challenge, we ensured we have the entire first-hand knowledge regarding our products and we conducted well-planned market research that
enabled us to know our preferences and filter out people and choose the right people for Lueur.
Another major challenge faced by us, which was faced by the entire world, was the Covid-19 pandemic. To overcome this challenge, we patiently waited for the lockdown to get done with and in the meantime planned and executed all the digital media and website development work.
2. Explain in brief about your range of products with key emphasis on your flag-ship product.
Our products come in various fabrics, bra categories and styles. We have all kinds of product categories like T-Shirt, Push-Up, Padded and Non-Padded, Wired and Wire-free, Bralette and are further working several more categories like Athleisure, Sports and Bikini Sets. Made of quality fabrics like Cotton, Spacer, Nylon and Polyamide, the USP of our brand is our premium quality fabric and suitable fit. We are not only providing a great quality product but also in an affordable price range. We also have introduced Cotton Polyamide panties in our product range whose fabric is so soft that it would feel as if it's not there.
There is no limit to what a woman can achieve, we just want to be a part of their beautiful journey
Our flagship product is our Majestic Seamless Padded Bra which is designed to provide all-day sup-port to your breasts. The highlight of this product is a breathable, super comfortable and smooth fabric that gives you a feeling of comfort and happiness. Its main quality is the seamless cups which are made of a single piece of foam and can be worn under any cloth. This is surely a profitable investment!
3. Are you coming up with any upgradations to enhance your company's portfolio?
We are planning to bring new fabrics and different types of bra categories and accessories to enhance our company's portfolio. The new anti-microbial and anti-bacterial fabric is the future of lingerie as we believe now that awareness is spreading well across generations, people would purchase lingerie as per necessary variants responsible for choosing the correct lingerie for them. We are also planning to introduce soft GSM cotton camisoles to our brand which would be very comfortable for every women.
Apart from the product development, we also have a 'Fit Test' feature on our website to help our customers understand their fit as per Lueur standards. Featuring various other questions regarding the Breast Shape, Strap, Hook, Eye and finally Cups, these questions help us to understand the preferences of each customer and also their corresponding fit. We aim to bring more sizes in our portfolio and to be inclusive and truly create a shopping destination for every women.

4. What methodologies have you incorporated to take the business to the next level?
We have managed to build a great sense of trust and faith in our customers regarding being a one-stop solution for all their queries and questions. Our social media handles are entirely focused on giving out all the possible information regarding lingerie. We pick one breast or lingerie issue per week and create con-tent as per the topic. We have a 'Thankful Thursday' section on our social media every week where we try to cater to a problem and give a suitable solution for the same. We also run interactive polls on our Instagram handles every week to understand the requirement of our followers.

We have kept an option open for our followers to message us directly if they have any added queries. Apart from these, we are also introducing a weekly Blog section on our website which would also talk about major challenges or issues faced by women daily. This blog would also feature an all-time Bra Expert column where people can ask questions anonymously. We wish to empower women through our brand as we believe only an 'Empowered Woman, Empowers other Women'.

Kunal Mohan Sharma, Co-Founder
Kunal Mohan Sharma has an 8-year experience of working as a builder and real estate agent. These experiences taught him essential skills of Communication, Public Relations and the ability to successfully build a professional network.

Sandhya Sharma, Co-Founder
Sandhya completed her Master's in Business Administration and Telecom Management with a specialization in Marketing. Her keen interest in Digital Marketing, Branding and Product Development enabled her to work on a few business start-ups. Her first brainchild was developing an ERP software for school management which would shift the entire manual process of school management on an Online platform.