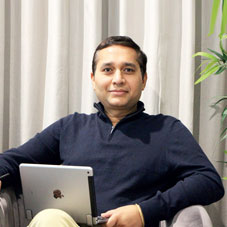 Digital transformation not only helps an organization survive going forward, it also allows them to stay abreast of changing client needs. It enables businesses to compete more effectively in an economic environment that is continually changing as a result of technological advancements. In this post pandemic period, no wonder we are witnessing most companies shifting towards the digital sphere. To offer Custom Software Development and Digital Transformation Solutions to help the companies grow irrespective of the market demand and behavior changes, Gaurav Priya established NRG Phoenix. Gaurav is a highly motivated, results oriented, and customer focused entrepreneur with 13+ years of IT leadership experience and a track record of providing world class solutions, services, and business outcomes.
In an exclusive interview with CEOInsights, Gaurav discussed the motivating aspects that led him to start his company and the challenges he overcame in order to succeed in the industry.
What was the idea behind the establishment of the firm? Also, what motivates & drives you today as an entrepreneur?
With NRG Phoenix, I could relate to assorted feelings that a woman goes through from the time she conceives and delivers a baby to taking care of the baby at every stage of life afterwards. I was always waiting for a chance and the appropriate time to take my dream step after I moved to Australia while switching jobs between IT companies for initial years. It's never simple to give up something you've been doing for a long time and jump to the other side of the table. But I was adamant. I began my research both primary and secondary as a
means of securing (starting) a career as an entrepreneur in Australia. I used to be cooped up in my home office for hours at a time, creating my business strategy, allocating finances for at least the next six months, for all important tasks, and of course, praying to God. At the same moment,I was both excited and terrified. My wife backed me up completely and encouraged me.She had been instructing me to strike the iron when it was hot. NRG Phoenix was born as a result of my efforts and vision, and the concept was to 'land and expand' I had already landed and now it was the time for me to expand.
NRG Phoenix was born as a result of my vision and efforts, and the concept was to 'land and expand', I had already landed and now it is the time for me to expand
What are the qualities that made you reach this level and what is your success mantra?
I knew I had to be an entrepreneur from the beginning. That was the way I always thought and planned, and consistency isn't rocket science. It's all about dedication. First and foremost, you must make a promise to your self. 'Calm is a super power', I thought to myself as I believe that when you are relaxed, you think positively. As a result, when you are calm, you can plan effectively. Your strategy will be skewed if you do not do so. My feelings could never influence my decisions. I realized that perseverance, hard effort, attentiveness,diligence, and tenacity are all required to get to your life's aim.
NRG Phoenix is a trusted IT partner in Digital Transformation Solutions, Artificial Intelligence & IoT solutions. How do you execute its vision and how does your company stand unique in the Australian IT industry? What is your USP?
It all starts with the vision and mission of my organization. I always intend to start any conversation with a prospect with the goal of selling him 'peace of mind'. Although IT may or may not be their primary business, I make certain that my IT
solution assists customers in aligning their businesses with their competition so that they do not fall behind. Customers prefer us because of our 'various costing offerings and multiple interaction strategies'.

How would you describe the current IT market in Australia? What strategies do you follow to overcome the challenges imposed by the pandemic?
In the IT industry, Australia has a lot of untapped potential. The Australian market is expanding at an exponential rate, and the day is not far off when all of the world's IT companies will be looking to Australia as the most lucrative market for their products.

People in Australia, like everyone else are in 'wait and watch' mode during this Pandemic. I am convinced that is the best time for me to help, assist, and support small & midsize businesses by keeping my profit margin as low as possible. Currently, my strategy is to go for volume and I am confident that my willingness to help will enable many businesses to survive.When Covid takes a long sabbatical or goes away, this will undoubtedly assist me in reaching out to those businesses for further IT jobs, and I will also use the opportunity for my brand's promotion.

In your professional journey so far, which are the milestones that bestowed you with utmost satisfaction both as an individual and as a CEO?
I'd always been content to be dissatisfied, yearning for more. Meeting my company's first quarter target was the first milestone that convinced me that I could accomplish it. The second time was when I completed the first huge job successfully and the client wore a big smile on his face, which gave me an unrivalled sense of fulfilment. The third and the biggest one was to give over the offer letters to the young technical guys looking for work in India.

Gaurav Priya, CEO, NRG Phoenix
Gaurav is equipped with 13+ years of IT leadership experience and is delivering outstanding solutions, services, and business outcomes through NRG Phoenix.

Location:Brisbane, Australia