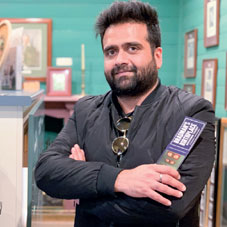 When it comes to finding a purpose in life, nothing is more powerful than being inspired by your own motivation. An entrepreneur's vision is the engine that pushes them through challenges, to achieve their purpose and change the way things are done. Jay Ruparel is one such entrepreneur who turned his love for travelling into his entrepreneurial venture realizing the multifarious opportunities in the industry. He holds tremendous capacity to visualize the requirements of the market and works with an aim of benefiting people and enhancing their travel experience. He is a role model for many who wish to follow their passion and build an enterprise out of it. Below is an excerpt of the CEO Insights' exclusive interview with him.
What is the inspiration behind you becoming an entrepreneur?
I graduated in Mass Media from Mumbai University and have also completed a specialization in Brand Management from London School of Business. I started my career working with well known media organizations such as MTV Viacom18 and Sony Pictures. One day, a phone call from an ex colleague made me realize what I was missing!He asked me to curate an international corporate tour for 24 people. My immediate reaction was 'I am a filmmaker, not a tour operator'. But my counter argument didn't last a moment, and I happily established 'Ant On the Globe' overnight my first venture in the tourism industry. Though it wasn't an intentional change in my career, the venture achieved great success, leading to a large volume of
business almost immediately.
Take us through the idea behind Citycards Global.
Having spent a few years in Australia, I realized the positive growth trajectory of inbound tourism and saw a lacuna for an all in one solution, for tourists who literally want to experience everything a destination has to offer. This led to the incorporation of City cards Global, a company that operates city specific cards providing access to a range of diverse attractions.
For any entrepreneur, professional milestones are no less thanpersonal ones, because they take that much more grit and determination to achieve
As an entrepreneur, I seek opportunity areas and plug them with ideal solutions. I wanted to do some thing meaningful for society and to help the local tourism industry. This need to bring a change in the community gave rise to Citycards Global.
What is your success mantra?
I have over 10 years of experience in the tourism industry. Listening to people recount their travel stories with smiles on their faces inspires me to help people travel more whole heartedly and live the best that the world has to offer in terms of leisure experiences. My vision is to rebuild the whole ecosystem with convenience and technology right at the center of it. My success mantra is my genuine love for travel coupled with my business acumen of spotting opportunities to do things differently.
What are the unique propositions led by Citycards Global in the Australian Market?
Citycards Global aims to promote destination experiences in the world's most visited cities. We don't just provide contact less access to multiple attractions, but also
generate footfalls for local businesses, thus boosting the economy. Our mobile app works even without internet access, making it a convenient choice for short term visitors. We are a people friendly organization that develops products to make lives simpler. This sets City cards Global apart from the rest in the industry.

How are you dealing with the downfall of the tourism industry during this pandemic?
The tourism industry is severely affected amid global travel restrictions. But we at Citycards Global have taken this as an opportunity to rebuild ourselves. We are focusing on making our products even better by adding a bunch of innovative features, building alliances with vendors and expanding to new markets.

What are the milestones that you have achieved both in your personal life as well as professional career?
For any entrepreneur,professional milestones are no less than personal ones, because they take that much more grit and determination to achieve. Running 'Citycards Global' and 'Ant On The Globe' across continents, while ensuring profitability and growth is an amazing milestone. Each customer that leaves us a positive review is a milestone as well. Being able to provide innovative solutions that disrupt the heavy weights of the industry is a milestone I'm quite proud of too.

What are the opportunities that you foresee in the market for Citycards Global?
We will soon be expanding our services to more Australian cities, while also exploring markets like New Zealand, Europe and South East Asia. We are further working on building a larger team both locally and offshore to evolve our products with more customer centric features and strengthen our sales network.

Jay Ruparel, Founder & Director, Citycards Global, Australia
A passionate entrepreneur who has travelled to over 70 countries so far, Jay is currently providing disruptive solutions to the tourism industry.