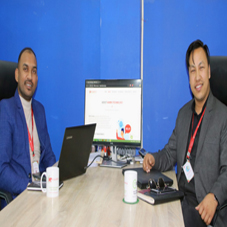 As per Management Information System report of March last year released by Nepal Telecommunication Authority, around 60 percent of the country's population uses internet. It is a good sign for the country to go cashless, especially when its two neighboring countries (India and China) are championing the space globally. Working on the mission to put Nepal on the digital payment/cashless payment mode, Sanjay Mahaseth (Founder & CBO) and Bishnu Maharjan (Counder & CEO) incepted Hamro Technology in 2016 in Kathmandu.
With the mission to being a leading digital technology solution provider, Hamro is leading the space in terms of quality, value offered, customer service, talent development and consistent growth. Today, the company offers end-toend digital solutions in Nepal, enabling the country to adapt cashless/digital payment methods. Speaking with CEO Insights, Sanjay delved deep into the company's expertise and future plans.
What led to the inception of Hamro Technology?
Nepal is in the crawling stages with many gaps yet to be filled and many advances yet to be made in Payment & Digital solutions space. India and China have majority of their payments handled digitally through digital payment services, which will directly influence Nepalese market. Hence, I and Bishnu decided to incept Hamro Technology in 2016. With the strategy of down to top approach, we are dedicated in providing our seamless services.
What are the various services you offer, and what makes you unique in this space?
We act as a one-stop-solution provider to our clients. We offer digital banking solutions, along with hardware & network services, cloud services, security consulting, multi-
channel financial service and helping in customer on boarding. Hamro offers a shared platform with 24x7 business support. We provide the lowest cost of ownership despite offering some of the most innovative solutions in the space.

With continuous integration, low cost strategy and seamless services for digital devices, we believe in offering transparency in service and pricing. From revenue sharing model, cashback options as per specific services to network & security consulting for running the system smoothly, our benefits to customers galore.

How do you ensure quality and innovation in all your offerings?
We have a QA team comprising of specialized experts to check quality and updates. On the other hand, we follow guidelines and compliances of the Nepal Rastra Bank. We also implement innovative services; for example, we are very soon launching cardless ATM service for withdrawal, which will boost mobile payments in coming years.

What are some of the challenges/pain points that clients come to you with, and how do you help them overcome these challenges?
Our challenges are four-fold, and we encounter them accordingly. The biggest challenge still is the lack of knowledge of digital payments and technology. We have to train & regularly follow them up. Financial being the next pain point, which is a major concern especially for startups and even customers. Hence, we developed a revenue earning and sharing model to deal with the crisis.

Doing payments digitally is very enticing, but customers are always concerned with the security features. Hence, we follow all compliances necessary to meet the security concerns, like regular monitoring, security patch updates, latest technology implementation, network level security devices and third party consultancy. Nepal being an emerging nation, it still struggles with low literacy rate, which is quite an issue in making digital the primary mode of payments. Hence, we provide 24x7 support via Viber and Internal Communication channels.

Tell us about your team of experts who device such cutting-edge solutions?
Definitely working on this payment industry is not an easy task. We have a team of 24 energetic
youngsters besides the two co-founders – I and Bishnu. I hold a BBA and have nine years of experience in fintech/ techno sales, and Bishnu holds BIM & MBA degrees. He has 12 years of experience in fintech/techno sales. Our project managers have 10+ years of experience in this payment industry. Hamro's team comprises of experienced Android, Flutter, Java and iOS developers who are very dedicated on delivering the best they can.
We follow all compliances necessary to meet the security concerns, like regular monitoring, security patch updates, latest technology implementation, network level security devices and third party consultancy
What are your future plans?
We are dedicated to help our partners, customers and end users to become strategically empowered to address volatile business landscape, especially in banking and financial sector. We will be investing in next-generation digital banking to enhance business operations and deliver desired outcomes. Our full dedication is on digital solutions, our skill, and experience to understand the business gaps and develop a technology solution to meet ongoing requirements for providing business services, our skills and experience.
Key Management:
Bishnu Maharjan, Founder & CEO
A 12 years experienced professional, Bishnu cofounded Hamro Technology along with Sanjay to change the payments landscape in Nepal.
Sanjay Mahaseth, Founder & CBO
Holding nine years of industry experience, Sanjay is the frontrunner in growing Hamro Technology to becoming one of the pioneers in the industry.
Quick Facts:
Established:
2015
Office:
Kathmandu
Offerings:
Mobile Banking, SMS Banking, Tablet Banking, Internet Banking, Merchant Digitization, MultiChannel Financial Services and ATM Banking