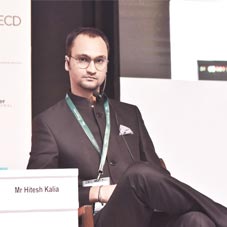 Compliance Officers are the spine of every business. They enable organizations to stand stronger and survive the internal and market atrocities. A befitting risk management strategy and effective compliance policy can help an enterprise experience ground-breaking stability and success in a risk-prone environment. When it comes to the precious metal processing industry, the threat of financial crimes, frauds, abuses, and more are prevalent. As an elixir to such business risks at MMTC-PAMP India, Hitesh Kalia - Chief Risk & Compliance Officer, is steering down the issues and promoting business success. Despite a world of challenges confronting the company in the precious metal business, he is making fair plans for its growth.
Hitesh, a steward of governance transformed his role beyond a CCO and is more known as a culture curator, a cross-functional risk officer, enabler, and a second line of defence for the organization. CEO Insights engages in an exclusive interview with this determinant CCO to explore the endeavours in his journey.
Tell us about your educational and professional journey.
I am a commerce graduate from the Panjab University, Chandigarh, and completed my Chartered Accountancy in 2011. Soon after that, I started my career as an Audit Executive with prominent international firms like Ernst & Young, where I handled audits for various listed and unlisted companies in manufacturing, financial, and service sectors. Over the period, I familiarized myself with the emerging opportunities in the field of Risk Management and joined MMTC-PAMP as a Manager; Risk and Compliance in 2015 while continuing my diploma from the Institute of Risk Management, London.
How has your diverse experience in con- ducting compliance & risk
assessments, implementing ERM strategy, monitoring internal controls, and more helped MMTC PAMP India?
The initial stages of my career at EY gave me a good starting platform, where I learned a great deal of discipline, work ethics, and resilience. I was fortunate to have worked with various senior partners. The interactions enabled me to come across many complex problems an organization could face and types of solutions used to solve them. Most importantly, it helped me understand how cultural expectation is set by the Board of Directors and how it dilutes down once it goes down in the hierarchy of a company. It also taught me how lack of ethics, integrity, and social responsibility can affect the compliance culture of an organization.
I was lucky enough to have taught good governance principles at the beginning of my career by my mentors at MMTC-PAMP. I joined MMTCPAMP to contribute to building a governance structure that enabled transparent and timely reporting to the Board.
I take extreme pride and satisfaction in the fact that a lot of critical compliance function activities are now being independently handled by my team members
Walk us through your life at MMTC-PAMP. What bestowed the utmost satisfaction?
I began the journey as a Manager – Internal Audit to build a strong Third Line of Defence for the company. Afterward, I gave up my role as Internal Auditor to an external Internal Auditor and started focusing on the Risk and Compliance Function, i.e., the Second line of Defense per se. I believe during this period, I learned all aspects of Risk Identification, Risk Assessment & Mitigation techniques, and the value of reporting.
The biggest challenge was to build a unified compliance framework for the organization, as the compliance structure in our country is one of the most complex in the world considering the varying number of regional and central regulations. Most importantly, I have been able to contribute in creating a positive culture where compliance is no longer seen as a burden but as
an enabler to run a sustainable and efficient business.

I take extreme pride and satisfaction in the fact that a lot of critical compliance function activities are now being independently handled by my team members. They stand by the strong principles of ethics, integrity, and transparency while upholding the organizational culture in their work. As a CCO, I have been satisfied in handling a various set of complex problems, which have come my way.

What are some of the latest technologies deployed in the management of regulatory compliances to benefit organizations?
The market demands cannot be met solely with traditional manual processes and people-based approaches. Using an automated solution will help to save time & cost to increase profitability. Many technical solutions are available, which can help you in assessing the applicability of compliances to your business with periodical updates. They can also help in maintaining accountability by creating a centralized structure of defining responsibilities. This way, data from various sources are consolidated into a single warehouse to help generate a report as per schedule for the disposal to the Board of Directors. Creating a complex set of technology without a monitoring mechanism will not be beneficial to the organization.

How has been the support & inspiration from your family in your journey so far?
I come from a family where intellectual freedom is given to make flexible choices in life. My family always wanted me to become a Chartered Accountant so they have always supported me during my academics. My subsequent career choices made me travel to various client locations across the globe which meant spending less time at home, but they were always supportive.

In terms of inspiration, they have taught me to work with 'Integrity' and 'Courage', both elements are important and these principles have helped me throughout my career.

Hitesh Kalia, Chief Risk & Compliance Officer
Hobbies: Reading, Cycling, Painting
Favorite Author: Paulo Coelho, Nassim Nicholas Taleb, Robin Sharma
Favorite Destination: Anne Frank House in Amsterdam, Louvre Museum in Paris, White haven beach in Australia