Jaimin Kothari: Using Years Of Industry Experience To Thrive In Even The Most Daunting Business Scenarios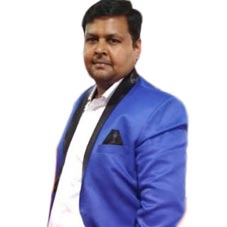 The ability to constantly learn and improve yourself is a crucial factor in order to be equipped with the right skill sets needed to thrive in the modern world. As a professional in the modern-day corporate realm, you should be able to learn and adapt to new circumstances on a daily basis to not just be successful in the industry but also to not crumble under the immense work pressure. Thriving in these challenging times is Jaimin Kothari who is the CCO (Chief Compliance Officer) of R&D Multiples. He has been leveraging his growth in the industry through his passion to learn and deliver about new & innovative ways and his ability to get things done regardless of the situation he is in.
To get to know more about him and his professional journey so far, the CEO Insights engages in an in-depth conversation with Jaimin.
Give us a brief detail about your educational and professional background prior to joining R&D Multiples?
I have completed myB.Com in Accounts & Auditing, and I am also a LL. B (Gold Medallist) in labour laws. I have completed my Master of Business Administration with dual Specialization in HR & Marketing. I have also done DNIIT & I am the Lead / Internal Auditor of Management Systems in ISO 9001:2015, EMS - 14001:2015 & ISO - 45001:2018. I have worked with many MNC's from different industry verticals such as those engaged into Manufacturing sector's such as Like : Alkem Laboratories Ltd, one of the finest pharma giant in today's environment, where i was selected just after completing my M.B.A project, where i have learned and implemented the HR tactics.
At alkem house i was being made the Project Leader while implementing SAP - across the entire Alkemgroup, the most challenging task was to enroll data of more than 7000 to 8000 employees. Other organizations to
name a few like: TimeTechnoplastLtd, Supreme Treves Pvt.Ltd (Indo-France collaboration) etc : It has always been challenging to keep yourself engaged in this challenging corporate environment to prove your capabilities.
In your journey so far, which are the milestones that bestowed your utmost satisfaction - both as an individual and as a CCO?
As an individual - the matter of my utmost satisfaction was when I accomplished my Law & Management degree. The next milestone was achieved when I was designated as a CCO at R & D Multiples, a role that needs dedication, hard work & one has to remain always on your toes to accomplish the task effectively & efficiently. There were many areas of management concern that needed attention. Here the role of as compliance person is very challenging, as we rightly say HR has no boundaries, hence problem solving, grievance resolving & developing a proper system that can be evaluated over a period of time, which delivers concrete results & output is actually a milestone achieved from my point of view.
My family has always supported me on whatever desire I had to accomplish in my life, my mom has always given me that support & a friendly warmth whenever & wherever I was in a great need of it, also my better half, my soul mate, who has always proved me right in all my decisions & has stood by me like a wall in all the up's & down's of my life, a best friend whom I cherish a lot.
Hence it would not have been possible without the support of the "Board Members"
Family plays an important role in every professional's life. How has been the support & inspiration from your family in your journey so far?
I come from a background of a freedom Struggler, my grandfather was a freedom fighter, who has
worked & fought on the front foot with our beloved Bapu (Pujya Mohandas Karamchand Gandhiji) and we follow his path of Honesty, Integrity & Hard work. I have always followed the footsteps of my father, being at the age of 65 he is still on track & works almost 09 to 10 hrs a day, he is my hero, my inspiration, my friend, philosopher & guide.

My family has always supported me on whatever desire I had to accomplish in my life, my mom has always given me that support as a friendly warmth whenever & wherever I was in a great need of it. Then of course, my better half, my soul mate, who has always proved me right in all my decisions & has stood by me like a wall in all the up's & down's of my life, a best friend whom I cherish a lot, and I cannot forget mentioning here my champ, my little master blaster, and our 24*7 energy booster pack.

Are you engaged in any sort of mentorship programs outside your organization? And, how do you update yourself with the latest industry trends and technologies?
Apart from the organizational activities, I am also associated with organizations & NGO's as a part of Corporate Social Responsibility. I am the Vice President of JCI India (JCI - Pardi Chapter) which is a Global NGO, i'm District Secretary - Valsad-for National Corruption Council & Human Welfare Organization which a (GOI) NGO, and Member - International Human Rights & Crime Control Council to name a few. Also i'm member of #sevabhavi again an NGO.

Here at JCI - we regularly conduct different training as per the UNSDG - goal 2030 & many community development projects such as Slum area development etc.

It gives me an immense pleasure in mentioning here that i have won - O/S New JC member of the Zone award - 2020 for the year round training & projects completed.

Jaimin Kothari, CCO, R&D Multiples
Apart from the normal business expertise and experience, he also has knowledge in attending various courses & he has cleared the different types of audits such as the FDA of the US, WHO – GENEVA, and ANVISA BRASIL to name a few. Jaimin also has knowledge about C & C++ Programming, DBMS/ RDBMS, SQL, ORACLE, and JAVA.

Favourite travel destinations: Switzerland, Manali, Kerala, Denmark, Mauritius