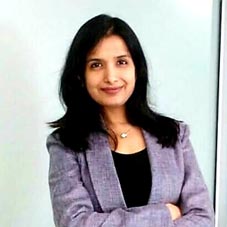 Compliance function is one of the most important facets of the organisation. Owing to the fact that regulatory landscape across the sectors has become more complex and exhaustive it's crucial to have a skilled and qualified Chief Compliance Officer (CCO) in your organization.
Nehal Shah is an exemplary professional and an accomplished CCO that has been helping the company's that she has served over the years to achieve positive compliance culture by continuously imparting knowledge on ever evolving laws, regulations and best practices in various areas viz. regulatory, legal, corporate secretarial, audit, AML and Risk Management. Her industry expertise and knowledge along with the wisdom to manage complex issues have been a cornerstone behind her sustainable success.
In an exclusive interview with CEO Insights, Nehal Shah talks in-depth about her professional journey and how she has been able to guide organisations on creating the right compliance control framework.
Give us a brief detail about your educational and professional background?
After graduating BCOM, I had chosen to pursue CS course owing to the fact that it offers great depth in corporate laws, securities laws and corporate governance matter. To specialize further, I have also done Post Graduation in Securities Laws and I have also done LLB. Prior to joining YES Asset Management, I have worked for multiple reputed firms including Aditya Birla Group, Deustche Bank Group and Fidelity India where I got an excellent exposure to various projects such as M & A, Right Issue, JVs, setting of subsidiaries as well as divestment in addition to corporate secretarial activities. As I moved my career from diversified sector to financial service sector, I gained extensive experience in regulatory and compliance matters. Over a period of time, I have gained 360-degree exposure of working in local as well as global conglomerate and across various sectors with specialisation in financial service sector.
As Company Secretary / Compliance professional, it's important for us to work in strong partnership with business and understand where they are heading and what their strategies and new initiatives are. At the same time, it's critical for us to continue to inculcate the compliance culture in the organization. One has to keep fair balance with their core role and try not to lose focus from overall business vision/strategies.
Properly planned and executed compliance management system doesn't stop the business from doing the business but it ensures that the business grows in a sustainable manner without risking the company's reputation
In my current organisation, I head legal & secretarial function in addition to heading compliance function. I was also overseeing the risk management function of the company till recently. With over a decade of experience in heading the compliance function in Financial Service Sector, I have created a strong track record on regulatory front.
What kind of role have you been playing in the growth of the organisations?
I have been successful in creating a culture of good practices in compliance as well as building upon strategies to serve as a bridge for smooth communication between the management and the stakeholders. I have also created a niche in managing the various facets of compliance management which has helped the organization to operate in a much more efficient manner. Our compliance management system helps the company to operate in all the different phases of the business. I believe that a properly planned and executed compliance management system doesn't stop the business from doing the business but it ensures that the business grows in a sustainable manner without risking the company's reputation. So, by upholding the company's integrity and the stakeholders' trust, our compliance management system allows the company to achieve sustainable success in the long run.
What are the milestones that you achieved in your career? Also, how do you ensure that you guide the upcoming compliance management professionals in the right direction?
I have taken up multiple roles in the organisation that I have served in order to create strong control environment in the organisation. Apart from being the CS and Chief Compliance Officer, I have also worked on internal audit and the various legal sides of the business. Owning to my extensive exposure to regulatory matters, I have developed effective relationships with regulators. I have handled multiple portfolios in an efficient manner and I have also won various awards owing to the quality of my services and contributions. I`m also visiting faculties at Compliance Academy, ICSI and NISM on security laws, this has helped in imparting knowledge on compliance functions and related matters with the upcoming generation.

In the current fast-moving corporate realm, how do you ensure that you find time for yourself? Also, what would be your message to the younger generation?
On a personal front, it`s is important for us to spend time with our own self and introspect where we are heading in life as quality of our being is far more important than anything else. Practicing yoga and meditation helps me to connect to my inner being. Over the weekend, I enjoy investing my time in reading, exercise and meeting like-minded people.

As far as the younger generation is concerned, exposure to various seminars, training and research in compliance activities such as licensing, setting of policies and process, drafting offer documents, product approvals from regulators, regulatory audit & inspection etc. would help them to broaden their horizon.

In order to create talent pool in compliance function, it`s also very important to be a part of various forum in order to create awareness and impart knowledge and training on role, responsibilities and scope of compliance function, how to deal with regulators, how to handle audit etc. amongst young professional. This will ensure the right talent pool is available in the industry for compliance function. One also has to be a continuous learner to get updated with latest industry trends and practices. Reading case laws/judgements has also given me lots of insights on mind-set of regulators.

Nehal Shah, CCO, Yes Asset Management
She has got over a Fifteen years of industry expertise and experience and this coupled with her passion for the profession have helped her to develop into a unique entity in the industry. Her extensive reading and her drive to constantly upgrade herself has been a primary reason behind her sustained success in the industry.