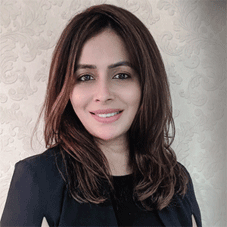 Owing to the rising investment in healthcare infrastructure development and boost of premium healthcare facilities, the demand for authentic healthcare products has risen significantly. A leading pharmaceutical company, ICPA Health Products showcases a combination of skills and resources that provides an ideal platform for delivering strong growth in today's rapidly changing healthcare environment. With an international presence in over 20 countries, the firm intends to develop innovative healthcare products that improve the quality of life by preventing and curing diseases. As an eminent leader in Oral Healthcare, ICPA Health Products enjoys a franchise of about 70% of Dental Surgeons along with a significant number of ENTs & Oncologists in the subcontinent with specialized products.
Engaging in an exclusive interaction with CEO Insights, Abha Damani, Director of ICPA Health Products highlights the distinctiveness of the brand as one of the premium healthcare products providers of the country.
What was the idea behind the establishment of ICPA Health Products?
ICPA was established with the intention of creating a Company that offers high quality research based products to serve the growing needs of the people of our country. The approach was to create high quality focused brands in niche segments. We felt that in the oral healthcare products segment, not only were there opportunities but we would be able to stand out amongst the doctors and the consumers. Patient Safety & Customer Satisfaction have always been our priority.
What are the challenges you encountered by you during your journey as the director of ICPA Health Products?
When my father started the company in 1972, the healthcare sector was dominated by big multinationals in India. There was very little awareness about dental care, as people thought tooth
extraction to be the only solution for any dental problem. Nobody had really thought of preserving the tooth and working on oral hygiene. People were yet to understand the benefits of using a mouthwash as they were happy with the saltwater gargles. So, the initial challenge was creating the need for our products that would be not only be accepted by the consumers but will also be fiercely sought by them.
So, my father started educating the consumers and the doctors that such products are available in the market now and can be provided to them. We tried to reach out to as many doctors and consumers as we could to create awareness and to offer products that patients could always trust.
When I joined the company, we were well established and our products were well acknowledged by the dental fraternity. Since we wanted to get into new international markets and the pharmaceutical production norms were getting more stringent, we gradually initiated our new manufacturing facility.
Determined to make healthcare and better quality of life available for all, we have set high standards for our products, processes and our services
We expanded our manufacturing facility and modernized it to meet International Standards of production and documentation, training the team for the requirements of tomorrow. Basically, we prepared ourselves for the needs of the growing market that we wanted to reach. I am glad to say that with Innovation, Professional Execution, Passion and Ethics we have driven the Company to High Standards of Performance.
Brief us about various products offered by ICPA Health Products along with their unique benefits.
ICPA Health Products product portfolio includes prescription medicines and healthcare products. ICPA prescription medicines range across therapeutic areas such as Oral, Dermatology, Pediatric, ENT, Oncology, Infection control and Herbal. Amongst our leading products is a range of Toothpaste for Hypersensitivity and Sensitivity including RAThermoseal and Thermoseal.
Hexidine mouth wash is a Gold Standard anti-plaque, antimicrobial,
anti-viral mouth wash. It's one of the few mouth washes in the world with no alcohol and is widely used by Dentists, GP's, ENT's and Oncologists.

Our range of Toothpaste and Brushes for Kids - Kids Dyny and Bunny are very popular amongst children. We have an entire range of Geriatric products Denture Adhesive Cleaners and Tablets and various home care products like Toothbrushes, Interdental Brushes, Dental Floss, Whitening Tooth Paste and Tatar Control Tooth Paste. Besides these, we have a range of anti hemorrhoids, dermal products across emollients, anesthetics and entire disinfectant range.

Is there any recent innovation coming up in your company? What is the future road map set for your center?
Determined to make healthcare and better quality of life available for all, we have set high standards for our products, processes and our services. We are committed to working in collaboration with the entire society and ensure a better quality of life. We are focused on introducing research based products of International Standards.

Apart from having EU GMP, TGA, WHO GMP, and ISO Certifications, we are also accredited by various international bodies. We will be growing both organically and inorganically for reaching out to more consumers in India as well as internationally.

Currently available across more than 20 countries, we have been able to create good brand positioning and standing for our products even in the International markets. We are working on this entirely new line of products in Dental, Dermatology & ENT products which will be launched into the market soon.

AbhaDamani, Director
AbhaDamani has a Masters' degree in Finance and Economics. She is also a Cost Accountant. Inspired by her father who subsequently started ICPA Health products in 1972 after his few brief stints of working at various pharmaceutical companies, Abha soon joined her father in his dream venture; driven by his noble intention of ensuring better healthcare to the world. Under her able guidance ICPA Health Products has emerged as a 49-year-old company that has been helping families live a healthy and good quality life. Based out of Mumbai, ICPA operates throughout India and exports to various markets in Europe, Australia and many countries in Asia and the Middle East.