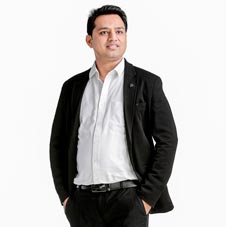 The growing adoption curve of digital payments hit me hard as a tangible revolution when Hashim bhai, who sells fruits and vegetables on his cart in our neighborhood as long as I can remember, recently started accepting digital payments. He truly represents a paradigm shift subject to almost all the segments of society. According to data from the Bank for International Settlements (BIS), digital transactions in India increased by 55 percent last year, compared with 48 percent in China and 23 percent in Indonesia. As we continue to reap the harvest of 2016's demonetization, the corporate realm is at the forefront, leveraging it through reinforcing Prepaid Financial Services (PFS) with more advanced prepaid expense cards and digital wallets as a solution to recurring payments like employee incentives and benefits. While it provides the employers with an opportunity to cut costs on processing payroll, users get the funds on a card rather than having to cash a Cheque or a Coupon. Providing a single doorway to all these benefits has been the game changer for iMoney Wallet Pvt. Ltd. to grow from being a mere gift card reselling company to a leading Digital Payments, Prepaid Cards, Cashback and Analytics company in just three years. We are talking about a stellar startup that has already completed 6.2 million transactions this year, catering to both B2B and B2C markets.
"The ease of use & transparency is the key. An interface with instant technology of functionalities gives us a headstart. In addition, our e-wallet that encompasses basic VAS services that ensure something for everyone across our clientele, ensures the momentum and customer loyalty, which is further backed-up with powerful cashbacks, rewards, and instant-payments," asserts Atul Verma, Founder & Director, iMoney Wallet. "Today, we have POS and e-POS outlets in every nook and corner of our country. Hence, integrating our cards with expense management platforms and in turn giving corporates the complete advantage of virtual and physical cards which can be used in those outlets is also our strong suit. Our solution is the fastest go-to market platform available for the B2B and Corporate realm," he adds. No wonder iMoney, in record time, has been able to establish co-branded partnership of cards with leading banks, acquire PPI licensing for issuing its own branded cards, and provide white-label solutions in the e-wallet and M-business segments. It's a sure bet that the company holds a full-fledged FinTech future.
A Lucrative Market
The burgeoning market has always been a boon to iMoney's plans. The PFS market is currently driving along a huge growth curve, being projected to grow four-fold by 2023 with a CAGR of 36.5 percent. It's interesting the way iMoney taps into this opportunity and makes the most out of it, powered by its robust expertise in distribution, which stems from its know-how in the telecom domain and experience in rural & urban penetration. In other words, the company's reselling endeavors in the initial period have taught its team the do's and don'ts of this industry. This gives the company a priceless edge on marketing and encrusting its footprint over different markets.
Integrating our cards with expense management platforms and in turn giving corporates the complete advantage of virtual and physical cards which can be used in those outlets is also our strong suit
iMoney further artistically amalgamates this experience with its skills in technology integration, ensuring swift services, high uptime, and strong security. A strong testament is the fact that its payment solutions are PCI-DSS certified. It additionally ensures regular CISA reports and banks on stringent tools like VAPT. Furthermore, the company works on multi-tier platforms, which enable it to adapt into the sophisticated requirements of multiple clients and service providers. The credit goes to a strong team of tech experts who are well-versed with diversified technological domains. "Our existing resources are from ITeS, Telecom, Banking, Hospitality, and E-Governance sectors, and are not limited to just a single domain. We look for diversified experience in candidates when it comes to the selection process, as we always look forward to cross functioning and multitasking, always keeping them along the learning & growth curve," adds Atul.
The Yellow Brick Road to Success
Winding back the pages, iMoney came into existence in 2017 when Atul joined hands with two of his buddies, Ankush Julka (Co-Founder & CEO) and Ashish Jindal (Co-Founder). The Young Turks boast of more than 50 years of cumulative experience in the domain. As a reseller, the company hosted Rs.56 crore worth of transactions in the initial year before transforming itself as a technology company in 2018. The year ended with iMoney clocking transactions worth Rs.882 crore. In 2019, it recorded a whopping Rs.1594 crore worth transactions. "The migration from reselling business to co-branding tie-ups with different banks was a tedious task, involving a lot of brainstorming and planning. Today, we have carved our niche and are well-known among the leading banks in the prepaid industry. Learning quickly from the decisions
that went wrong was an important aspect of this success," adjoins Ashish.

iMoney has built a prestigious client ecosystem, which primarily focuses on B2B and incorporates some of the nationally leading partners from the FMCG and Telecom segments, in addition to an entire gamut of corporate organizations that use its programs for expense & reward management. Going forward, the company plans to grow and diversify further across the payment industry in 360 degree. "With the acquittal of E-Meditek (through PPI licensing), we plan to double our transactional volume by the end of 2021. In addition, multiple payment products and services are also on the line of development, wherein we plan to add-on various services on the payments front. We have the best of technology partners and the complete BCP/DR plans in place. While growing further, we are also determined to keep the startup-DNA intact and perform with agility and innovations," concludes Ankush.

"The migration from reselling business to successfully building co-branding tie-ups with different banks was a tedious task, involving a lot of brainstorming and planning"

Atul Verma, Founder & Director
Atul possesses over two decades of experience in entrepreneurship, management, business planning, financial analysis, software engineering, operations, and decision analysis. He has mastered the ability to quickly understand entrepreneurs' businesses and craft the most suitable solutions.

Ankush Julka, Co-Founder & CEO
Ankush has over 20 years of diversified domain experience in executing high-end Telecom operations across India in the field of Technology, Marketing, Customer Care and Regulatory Affairs. A tech-entrepreneur, he is passionate about converting strategies/ideas to product/services, and in turn a positive change.

Ashish Jindal, Co-Founder
With over 15+ years of experience, Ashish is a strategist possessing rich experience in Telecom, Infra Projects and Card Banking. An opportunist who is passionate about converting innovations into actions, he is a go-getter with interpersonal skills.

iMoney in Spotlight:
• En route to making a digital transformation in India
• Strengths involve Digital Payments, Prepaid Cards, Cashbacks and Analytics in the B2B and B2C Markets
• Has a robust network of channel partners and corporate/business houses across India
• Already completed 6.2 million transactions this year
• Recorded a whopping Rs.1594 crore worth transactions in 2019
Quick Facts:
Year of Establishment: 2017
Office: Delhi
Offerings:
• Gift Card
• GPR Reloadable Card
• Corporate Card
• Brand Vouchers
• Affiliate Marketing
• Payment Gateway