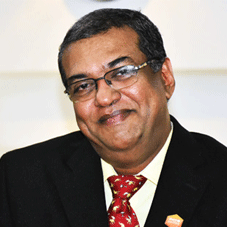 An industry veteran with over three decades of experience in providing technology solutions to varying industries such as publishing, travel, and oil & gas to name a few, he has proven expertise in PHP, MySQL and more. Armed with certifications such as AWS SysOps Administrator Associate and AWS Solutions Architect Associate, Jiju is continuing on the path of learning and gaining deeper expertise. In an in-depth interview with CEO Insights, he speaks about the various projects that he has worked on over the years and his guiding philosophy as a technocrat.
Take us through your professional journey that led you to becoming the CTO at IVL.
It was during my first year of pursuing higher studies when I realized that studying languages in the theoretical format was not satisfying me. I then moved to IETE to obtain a Diploma, which I received upon writing 16 papers. Post that I set up a computer assembly shop in 1987 and began my career as a professional coder with the first project in dBase. I then gravitated towards the publishing industry and worked in Alfajr UAE with the National Pink Pages and Oil and Gas Directory. The next few years saw me working in computer assembling, software clinic, and trouble shooting. It was after 1998 that I was introduced to Linux
system administration and by 2000 was into supporting cyber cafes to use Linux on servers.
In 2000, a few of my friends approached me and we founded Saturn, a web applications company in Kollam district of Kerala. The journey was not devoid of challenges and we eventually shifted to Trivandrum in 2003. The company has flourished since then as we picked up some major projects from various publishing companies. In 2018 an opportunity knocked on our door and we merged with IVL.
Armed with certifications, Jiju is continuing on the path of learning and gaining deeper expertise
Your expansive professional journey has led you through several phases of ups and downs. What have been some of the critical milestones and achievements that have impacted you the most?
I have been working as a CTO since 2006 and owing to my hectic schedule I could not find the time to do certifications. When I moved to IVL, I made sure to work on this and thus achieved AWS SysOps Administrator Associate and AWS Solutions Architect Associate certifications in spite of not having ample time to prepare for it. I have been an early adopter of AWS which helped me clear these certifications and I was also able to motivate other people in my team to attempt for these certifications as well.
Another one of my major achievements has been the opportunity to design, develop, deploy and maintain Virtual Queue, a major project for Kerala Police for Sabrimala. For the same, I created a PHP MF framework with a single 4.5Kb file, the MF that provides users highly scalable object oriented framework in PHP to think, write and deploy web applications. The add ons and plugins provide a method for reusable extensions making the system rich.
In terms of leveraging cutting edge technology, I have enabled the adoption of virtualization technologies such as VMware, Virtual Box and Jenkins, a Continuous Integration Tool during my tenure at IVL. Also, the company was spending close to six lakh for backup software, which I was able to save by implementing free and
open source projects through community distributions.

As an industry veteran how do you ensure that you nourish the ecosystem and impart your knowledge to others in the industry?
I have always believed that people in the privileged position must give back. I have thus started a blog which provides tips on PHP to local users. Another one of my initiatives to give back to the community has been Open PHP My Profiler, a project that I started as a research project while we were handling a news portal which was part of Asianet Group. When we took over the project, the site was being run on Wordplus, an open source application. In order to optimize it and do some profiling, I built an application based on PHP and MySQL which I offered as an open source offering to the community through my blog. It is aimed to run query profiling on a PHP-MySQL application without changing the architecture too much.

Apart from these projects, I have been an active member of multiple user groups such as AWS user group Trivandrum, Bangalore, and Kochi. At most of these meet ups, I am the keynote speaker and I enjoy sharing my experience and knowledge with others in the community. Additionally, I have a strong presence in Stack Overflow and GitHub.

The family forms the bedrock of any person's life. What is your relationship with your family and how do you ensure a healthy word life balance?
I have been very fortunate to have found a life partner who takes care of our family and allows me to chase my passion whole heartedly. Without her support, my current successes would not have been possible. I always ensure that irrespective of the situations, we have one meal of the day together. We also go away for holidays whenever possible and I leave behind all my work and gadgets on those days.

KEY MANAGEMENT
Jiju Thomas Mathew, CTO
An industry veteran with over three decades of varied experience in Linux Operating System, PHP scripting language and other technology frameworks, Jiju has been striving hard to sharpen his expertise over the years. Functioning with a zest for technologies, he has been instrumental in implementing cutting edge technologies at IVL and thus improving efficiency while minimizing costs.