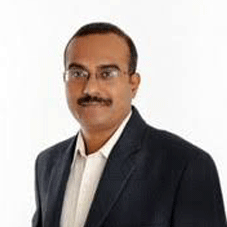 In an exclusive conversation with the CEO Insights, Mahesh talks about his approach and his journey at NextWealth so far.
Delineate on your educational & professional background prior to joining NextWealth.
I graduated from NITK Surathkal and completed Executive General Management Program at IIM Bangalore. Since then, for the past 23 years, I have been working in the corporate world, handling various roles both at the senior management and entrepreneurial levels. Having worked with behemoths like British Telecom, Fidelity Investments, Bharti Infotel, BT Global Services, and many others, I gained experience in areas like e-Commerce, Digital Publishing, Investment Banking, and others apart from existing knowledge in Networking, Telecom & Information Security.
All these stints offered opportunities to solve unique challenges and gather a great exposure across multiple domains contributing towards Digital Transformation. Many of these were trailblazing initiatives at the time. I also did an entrepreneurial stint at my venture in e-Commerce and Digital Publishing, which was featured as one of the 25 Hot Startups back then.
What are the various responsibilities that you hold at NextWealth?
NextWealth is a for-profit social
entrepreneurship venture with a mission to create IT jobs in Tier-2/3 cities. Today we have six delivery centers with nearly 2000 people focused on delivering cloud-based Data Enrichment and Customer Interaction services. The company encourages its people to harness the might of IT Infrastructure and thus contribute to the local economy. Here, I work as a thought leader responsible for structuring and managing the IT Infrastructure, which acts as an enabler to execute diverse projects across our delivery centers.
We identify the most optimal and right fit solution for our customers, while supporting them in their long-term goals
Our model is to bring work into smaller towns which means we have to take care of the information security, confidentially & compliance levels in a dynamically changing threat landscape. Furthermore, since we deploy cloud based technologies/on-premise tools, we have to be always on guard real-time to ensure a good customer/agent experience with consistent quality across all the centers. Lastly, we identify the most optimal and right fit solution for our customers, while supporting them in their long-term goals. Since all our centers are located in Tier-II cities, we stay conscious of our costs and so create an optimal CAPEX and leverage the maximum of OPEX.
On the other hand, we, at NextWealth, align ourselves with our business goals in adherence to global standards in an on-going manner. We sit together, brainstorm and decide the best solution which is later presented to the company's board and discuss with them. We also deploy our own tools wherein clients can monitor their SLAs and specific performance metrics. Besides, we have our own internal workforce systems enabled for employees to efficiently deliver delightful services to our esteemed clients. We have created a consistent IT experience across our delivery centers, it translates to a single seamless delivery experience to our clients even if a single project is delivered out of multiple centers as a part of client requirements.
How do you bring the best of data privacy across your services?
Today, most IT companies are adopting innovative and technology enabled services rather than conventional services. Hence, we are looking at building robust platforms and workflows in adherence to predefined standards across networking, telecom and
information security areas. For data protection, we conform to ISMS, GDPR & HIPAA guidelines as well as ISO 27001 standards across our data centers, while one of them is PCI DSS enabled, nothing stops us from providing the enablement to every delivery center if there are client requirements. In fact, this process includes classifying, identifying and securing data with utmost care, which includes encryption of data, monitoring it internally & externally, and also storing it with proper protection and access control. We also make sure our people are regularly trained on the trends in Data Science/Enrichment. We understand the handling of PII (Personally Identifiable Information) and CHD (Card Holder Data) very well and have been delivering services at the required compliance levels.

One of our biggest milestones is implementing PCI DSS from the scratch across a green field environment for our client in just 36 working days, which otherwise typically takes 90-180 days. Today, we take pride in being the go- to company for Data Science/Enrichment and Customer Interaction services, with exemplary client testimonials, highest priority on quality, and integrated value-based systems. Our data privacy initiatives are driven from the board level to ensure the highest integrity of data is provided to our esteemed clients.

How do you manage to strike the perfect work life balance, while staying abreast of the industry?
I consider work as worship, while it's a challenge to balance, I always try to spend quality time with family to the best possibility. Such quality times always encourage me to add more fuel to my learning. To stay abreast, I attend a lot of webinars, read books & articles and connect to market research knowledge bases apart from writing on the current and upcoming trends on Information Security areas. Learning and application of the acquired knowledge never stops!

Key Management:
Mahesh Kumar Tallam, CTO
A result oriented leader with a strong passion to excel, Mahesh is extensively focused on building and bolstering adept teams at NextWealth, besides helping them unearth their maximum potential.

Hobbies: Reading, listening to music, being with nature being spiritually connected via meditation & metaphysics

Favourite Cuisines: South Indian, North Indian & Italian, while maintaining overall well being

Favourite Destinations: Beaches, hill stations & international locations but mostly happy with myself