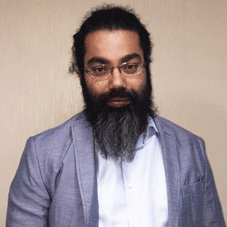 Today, every company including startups is undoubtedly transforming into a technology company that is conforming to the intricacies of digital disruption. Well, technology has always stood extremely crucial in the growth of these companies, especially in enhancing their existing digital enabled offerings. Clearly to keep this technology adoption an ongoing custom among companies, they ought to seamlessly scout and deploy well versed and experienced professionals who are capable of achieving it effectively. Nonetheless, it is the CTO who is chiefly responsible for the overall technology success of a company's business who takes it to newer dimensions across the digital space.
Nirvan Biswas, the CTO of National Bulk Handling Corporation (NBHC), is an exemplar of a proficient leader with such diverse experiences in the field of Information Technology. He has been well acclaimed in the strategic planning and implementation of technologies at NBHC since the beginning of his stint, thereby augmenting the firm's operational efficiency and mitigating its risks.
Here are the intriguing excerpts of an exclusive interaction between Nirvan and CEO Insights, where he talks in length about his career as well as personal life.
Walk us through the nuances of your professional journey so far.
It has been an exciting journey spanning more than 21 years! Post graduating in Computer Science from IIT Bombay, I went on to execute core software activities at Tata Infotech(currently TCS). Later, I undertook various roles like Manager Business Development & Technology at Boston Consulting Head Mobile & Information Systems at Rediff.com, Director Technology & Business Development at Cellcast, CTO & Digital Business Head at Midday Multimedia, and many more.
It was indeed a variegated yet interesting mix of roles & responsibilities, focused on the innovation and development of these businesses. Be it in getting the first VPN, creating the first cryptographic algorithm or setting up the mobile system, there were numerous milestones in my career.
Be it in getting the first VPN, creating the first cryptographic algorithm or setting-up the mobile system, there were numerous milestones in my career
In my current role at NBHC, I've overseen a quite complex transformation right from capturing the data to analyzing it for assisted decision making to further creating the API layer across different core & non core systems. Recently, we have come up with a data link platform across the open source framework Hadoop wherein we capture around 6-7 TB of data every month, store and analyze it and eventually provide insights to the end users. Besides we also deploy other open source softwares like Highrise, Spark and Redash across our operations.
Could you explain more about the growth that NBHC has witnessed under your leadership?
NBHC silhouettes among the key players in the agri warehousing domain with more than 2,900 warehouses across India to deal with post harvest agri commodities. The growth has been absolutely phenomenal so far! Be it the shift to core ERP for all transactions from paper & Excel sheets, building the team from one to 35 people or cutting down the transaction time from eight ten days to just two four hours; NBHC has embraced the true pith of digital transformation. With digitization being the key, every supervisor today has a Samsung tablet with 30+ inbuilt apps that are used for all operations, right from marking attendance to doing any transaction(inward/outward) on the warehouse.
Further, all the data be it structured, unstructured or semi structured, are analyzed and insights are being provided to the main users. We also have an end of day application where users ought to enter all data in terms of check & balances through the tablet. Based on the
supervisor's workflow, these checks & balances are analyzed and essential insights are provided to the users. Apart from this, we deal with data analytics and run our own algorithms to make predictions while taking major decisions for instance, the number of warehouses we want to hire in the future. Besides, we are also working on a system that can detect when the supervisor doesn't take necessary action on the deteriorated commodities in a certain warehouse. In this case, we will send an email/SMS to the respective bank branch and borrower about the situation and also inform the fumigation department. This way, we are striving to achieve a remarkable operational efficiency lower TAT and reduced cost cutting in our business!

Brief us on how you keep your self updated with the industry trends.
Firstly, I'm a part of various forums and groups which in turn provide me latest updates on technologies and trends in the industry. Also I ensure to spend at least three hours in some kind of coding even today.

What plans do you have on mind for the future of NBHC?
We want to transform our enterprise journey into a customer centric one where we can provide our customers a 360-degree view with transactions, photos real time feeds, quality updates fumigation reports and many other details.

Key Management:
Nirvan Biswas, CTO
With over 21 years of experience across variegated technologies and business frameworks, Nirvan demarcates as a great thinker, extremely capable individual and above all a proficient business leader.

Awards:
•IT Genius Award in the Category of Artificial Intelligence at CIO Crown 2019
•Big 25 NBFC Award by Trescon Global
•Honorary Award in Recognition of Exemplary Technology Initiatives & Innovation(World AI Show)
•Listed among the Winners of CIO Power List 2019
•ETCIO Award in Enterprise Technology
•CIO 100 Special Award(AI Wizard) 2018

Hobbies: Coding, Playing Tennis and Playing Sarod & Base Guitar
Favourite Mobile Apps: Netflix, Cleartrip & Zomato
Favourite Travel Destinations: Uttarakhand & Himalayas