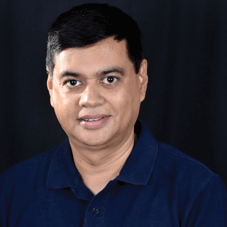 With the advent of globalisation and the internet era, typewriters made way for computers and localized businesses made way for multinational enterprises with clients spread across multiple geographies. This has compelled companies to adopt a broad globalization business strategy while localizing their content. The largest gainer in this scenario has been the translation industry, especially in a growing country like India. With over 556 million internet users dispersed across the nation, Indian netizens are today actively seeking content in their local languages.
While the Indian language market is picking up rapidly and holds immense potential, yet Indian languages & related issues are significantly more complex than any other country. Rajeevlochan Phadke, President & CTO, LinguaSol a language tech company and a bonafied language technology expert had identified this challenge along with the growingrequirement for indigenous solutions longback. He thus conceptualized a novel idea for application localization and implemented it in the form of Image Point in 2002. Gradually, Rajeev drove the company to become the de-facto standard and most preferred vendor for language localization in India. ImagePoint was consequently acquired by LinguaNext and was rechristened LinguaSol following its acquisition by FidelTech. The company that helps globalize websites, localize applications and translate documents has won three US Patents, and boasts of a kitty full of loyal clients. The CEO Insights team caught up with Rajeev to decode the makings of a language tech market leader.
From being a young market entrant in 2002 to cementing its position as a market leader in 2019, LinguaSol has covered quite a journey under your guidance. How has your role in the company evolved over the years? Also, what have been some of the biggest wins for the company so far?
LinguaSol is my brainchild and I conceptualized, designed and carried out coding for the initial products while simultaneously handling sales functions. Gradually I got partners on board to handle marketing and sales functions. For the past five years I have been
focusing on product management, architecture and engineering R & D. I also oversee presales and deliveries in order to understand exact customer requirements and predict their future needs.
LinguaSol's product architecture depends on the implementation technology of target products, therefore it is critical for us to understand and track technology changes closely
Over the years, we have hit various milestones, but our most coveted win has been creating and retaining market monopoly since the very beginning, while also retaining most of our customers, some of whom have been with us for over a decade. The team has been successful in converting large customers such as State Bank of India as initial customer, with contract value more than five times the company's turnover. LinguaSol was also the first company in Asia to be granted the invitation only Endorsed Business Solution (EBS) Partnership by SAP Global.
What does LinguaSol's product portfolio offer to businesses?
Our product allows for translation of User Interface of any software(screens & reports) without the need to change the source code or database, including translation of fixed and variable contents. It can work efficiently for products built with legacy technologies/methodologies and the latest platforms such as Desktop Applications(SAP & Microsoft Dynamics),Enterprise Web Applications( Finacle, TCS BaNCS, PeopleSoft & Siebel) and customer facing web applications as well as mobile applications. We also ensure extremely high degree of architecture and code quality since LinguaSol products are deployed as add ons to enterprise application and are deployed at large scale in critical environment.
As CTO, what are the key drivers that you deploy to ensure high quality output for each project?
LinguaSol's product architecture depends on the implementation technology of target products, therefore it is critical for us to understand and track technology changes closely in order to update our products ahead of curve. We have continuously widened our product offerings to work with changing technologies, starting with DOS and upto latest Web Application. In order to ensure proper delivery and support, we focus on architectural correctness, possess indepth knowledge of technologies used, maintain high
degree of coding discipline and follow brutal testing/QA criteria.

As you navigated through the entrepreneurial journey, what factors helped you give your best in your personal as well as professional life? Also, how important has it been to ensure a balanced work life situation?
When I quit my well paying position at C-DAC, my wife stood by me as a pillar of support and also adopted a frugal lifestyle during the lean period. Over the years, I decided to limit my activities to Engineering & Product Management, and brought in a sales team in order to limit my travelling. This approach has resulted in better productivity thereby allowing me to focus only on key aspects of the company while spending adequate quality time with the family, especially during the childhood days of my son and daughter.

Moreover, I have devised development methodologies and discipline within my team, which allows everybody to have a good work life balance. That's why we have been able to retain the core engineering team for such a long period the junior most member has been with us for eight years and the senior most for 12 years.

In your opinion what is in store for the Indian translation industry in the years to come? How is LinguaSol gearing up to meet the demands of the future?
The translation eco-system in India is still evolving and currently there are a handful of players in this area which leaves the doors open for big opportunities. However, given the width of technologies required for such solutions, one must either choose a niche segment or spend enough time to gather required experience.

We are looking to leverage Natural Language Processing (NLP) and AI to make translations "more readable" and "more searchable". Our team is working towards creating the very first repository for terminology base for Indian languages and gearing up to handle the impending increase in demand for translation of websites and B2C software into Indian languages.

KEY MANAGEMENT
Rajeevlochan Phadke, President & CTO
An Engineering Graduate from Indore with an M.Tech from IIT, Mumbai in Controls (Electrical Department), Rajeev has led LinguaSol to become a market leader. His areas of technical prowess include system programming, windows internals, web architecture, document format internals, high performance algorithms, natural language processing, heuristic & AI based language solutions and techno linguistic deep dive for Indian languages.

Offices: Pune, Bangalore, Delhi & Tokyo