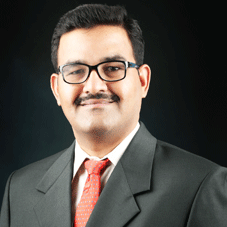 "Stone Age. Bronze Age. Iron Age. We define entire epics of humanity by the technology they use." Netflix's CEO Reed Hastings aesthetically elucidates his sentiments on the importance of technology leadership. It's no secret that despite the abundant talent available in the country, Indian IT services segment is flooded with foreign solutions and Indian born leaders who spearhead the 'India fication' of foreign IT solutions. Our country deserves better. Breaking new grounds in the IT industry by concocting an indigenous revolution through award winning network solutions is Ramakrishnan Govindhan, Co-Founder & CTO, Nubewell Networks.
Nubewell is a tech startup that's best-known for designing and developing innovative Cloud Gen hardware with award winning UI to run WAN OP/SSL-VA/SSL-i Network functions with high throughput at flexi prices. Completely based out of its Bangalore office, Ramakrishnan along with his expert team has built an indigenous technology called Tri-O-Core a next-gen hardware architecture that allows up to 80Gbps of network traffic acceleration and 40Gbps of SSL throughput. On top of that, his team has also programmed an enterprise platform with an attractive UI. We are talking about a solution that bagged one of the largest ISPs in India as Nubewell's first customer right after the first presentation. To further explore this interesting anecdote, CEO Insights engages in an exclusiveinterview with Ramakrishnan.
It's a herculean challenge to launch a successful product in a populous IT market like India. What's the motivation behind taking on this challenge and how challenging was the journey so far?
More than 90 percent of the internet traffic today is encrypted. But annoyingly, the intruders & hackers
still find a way. The public & private organizations are forced to earmark too much money to secure their network. Having been in the industry for the last two decades, we (Ramakrishnan & team mates) knew that we could mitigate this predicament. Hence, we built a comprehensive solution, which can compete with and win against any other solution in the industry.
In a segment where almost every solution has a western origin, the biggest challenge was making people understand what our offer is
The IT market is a synonym of challenge. In a segment where almost every solution has a western origin, the biggest challenge was making people understand what our offer is. We received a good amount of appreciation from and visibility through Amrita TBI. Thanks to the union government, we were also awarded by the Startup India initiative through its India Innovation Growth Program (IIGP). We were also recognized and awarded by the Karnataka government, in addition to a work order from them.
What's the story of Tri-O-Core?
Tri-O-Core is a scalable complete platform that comes in the size of a pizza box. It all began with a thought having three separate processors for three different predominant functions. Tri-O-Core implicates that three processors embedded in a single appliance. One processor will manage the complete solution, including the tasks like providing the command line interface, doing big data analytics, and doing backend work. The second processor's job is to only focus on security, and block intruders, while the third one is dedicated to encryption and decryption. Embedding them together makes our technology, and writing a program on top of that was the toughest part. It took more than 21 months to develop the product.
How do you impact the growth of organizations?
Besides Tri-O-Core, we have two more customizable product lines – SMART WAN Optimization and SMART SSL Visibility. Our Smart WAN optimization solution improves WAN performance, reduces bandwidth, and enables wire-speed data processing. We are the first
one to take a traffic up to 60 GB per second and compress & optimize it to just 10GB per second, and we have a homegrown compression engine to do that. This way, the customer saves up to 50GB bandwidth. You do the math.

On the other hand, SMART SSL Visibility solution renders help mostly to large enterprises from segments like Telecom, ISP, and government & defense organizations. For instance, in the case of ISPs, the government has recently introduced a strict internet policy. Even though blocking access to a website is not the hardest of tasks, blocking certain content like terrorism-related is. The need for decryption & encryption makes it really costly. Our Smart SSL Visibility solution provides high throughput SSL/TLS decryption (and re-encryption), secures network traffic by enabling you to monitor & block the traffic for malware, intrusions, and data leaks.

To build a robust product like Tri-O-Core, it must have taken a lot of Sundays. How do you manage the work life balance?
When I came out from Cisco after 10-year tenure, a solid team of friends(colleagues) came out with me. Each of them had at least 12 years of experience.Thus, when I started, I knew the strength of my team. Above all, my college buddy & partner, Ganesan Muthiah (Co-Founder & CEO, Nubewell Networks) allowed me to completely focus on building the product by taking care of all the other aspects of building an organization.

We started our operations from the ground floor of my home in BTM Layout (Bangalore). You can imagine the level of family support it took, especially from my wife Vidya, who is my best friend and source of encouragement. Even though now we have moved to a brand new office, support from my family is still the same. I believe that quality time spent with family sharpens you at work and I always encourage my team members to do that.

Key Management:
Ramakrishnan Govindhan, Co-Founder & CTO
An engineering graduate from Madras University Ramakrishnan possess nearly two decades of experience in the IT industry, spanning across organizations like Cisco and EMC both in India and the US.

Office: Bangalore