Ranganathan Balashanmugam: An Inquisitive Technologist Harnessing the Best of Problem-People-Process Model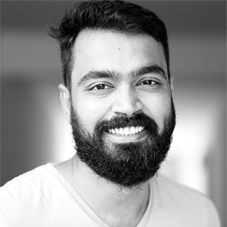 Regardless of their stream of specialization, engineers have always been creative problem-solvers. In fact, every discipline in engineering presents an array of tools & techniques required to solve any sort of problem. Yet, not many people possess the knack to choose an interesting problem statement as well as the right tool to solve it. This was not the case with Ranganathan Balashanmugam (Founder & CTO, Everest Engineering). During his Civil Engineering days, Ranganathan was greatly immersed in his project, while he also proactively attended many tech conferences and devoured technology books.
The interesting aspect was that he started applying his learnings in diverse technologies across all his college projects. This was when he actually realized that solving real world, multi-dimensional problems requires deploying one's learnings as the right tool. Today, Ranganathan's brain child Everest Engineering is operating in tune with this philosophyand building effective solutions for its customers including startups, non-profits, and enterprises, by being their true partner.
Delve into the following excerpts of an exclusive conversation of Ranganathan with CEO Insights to know more about his skills and strategies that are driving his firm to the zenith.
Brief us on the various lessons that helped you in successfully establishing Everest Engineering.
Despite graduating as a Civil Engineer, my strong penchant for Computer Science got me placed in an IT firm. For a span of 12 years, I worked as a developer and also orated at some eminent conferences, for instance, ApacheCon. One of the biggest milestones in my professional journey was being engaged in technical development at Microsoft for two years. Post this, I was also
engaged in management at Aconex, wherein I was heading their Indian offices and managing 200+ people. Yet the most enlightening time of my journey was when I pursued entrepreneurship. Back in 2011, I established my first firm CartiFi, which was a unique e-Commerce market place. What I mostly learnt out of this six month pursuit was that it is extremely important to not just focus on the technologies, but scale your company accordingly. Even my second firm Help Compass, a SaaS provider, wasn't a big success. On the bright side, these two failures were more like stepping stones to my new success Everest Engineering! We, at Everest Engineering, take great pride in acquiring a phenomenal growth as well as 60-member team within a period of just 10 months since inception.
We never stick to one technology but experiment on new ones to unveil pragmatic yet agile solutions for our customers' problems.
What is your current role at Everest Engineering? Also, share us about the unique strategies that you follow to take your company to newer heights.
Currently being the CTO of Everest Engineering, I spearhead the hiring and onboarding process of people, while scaling the culture appropriately. This is because I strongly believe that a leader ought to scout the right parade of people and just leap on to it. Fortunately, I have procured an amazing parade of top-notch scalable and distributed development teams at EverestEngineering. Here, the core model we follow is Problem-People-Process i.e. we firstly pick-up an interesting problem statement, hire the right people to solve it, and devise a process that can rightly collaborate the first two entities.
What I learnt from my experiences is that you can't take up a customer's problem and right away apply the technology to solve it even before understanding it. Hence, we firstly follow the concept of 'Inception', wherein we organize a one week design workshop to deeply comprehend the customer's problem statement and demonstrate the possible technologies that can resolve it. While the customers from technology background readily
grasp our ideas, we elucidate the rest that a wrong technology is hard to maintain and time taking. We also convince this bracket with our old successful cases where the right technology paid-off!

What is your current take on technologies at EverestEngineering?
We are striving to automate all latest technologies at one place and maintain it effectively, while learning about new fangled language stacks. Our recent conference at Hyderabad on Microservices, a rapidly expanding architecture, adds to our wall of fame! By large, our sole motto is to change the world through the might of software engineering.

Do you mentor and empower people?
Absolutely! I have been doing this from past three years. Every year, I pick five people, mentor them, and ensure that they always keep soaring ahead in their career.

How do you strike the perfect work-life balance?
By planning everything in advance! I always ensure to allocate some quality time for family. At times when things go not per plan, I delegate my works to the right people. Moreover, I'm delighted to have an extremely supportive family, including my father Balashanmugam, mother Meena, wife Jyotsna, and kids Nila & Nithya.

Key Management:
Ranganathan Balashanmugam, Founder & CTO
With 14+ years of professional experience, Ranganathan outclasses as a team smith extremely passionate about building & debugging teams, exploring technologies, and creating amazing products.

Hobbies: Trekking & Watching Movies
Favourite Food: Biryani

Favourite Travel Destinations:
All Hill Stations

For the Budding CTOs:
"Firstly, understand why you want to become a CTO, because only then it will make sense in the long run. Secondly, success doesn't happen overnight. The more you wait and stay committed to your passion, the better the output you receive. Thirdly, don't give up and always keep going. Initially, it might seem hard, but eventually when you learn to fall, rise and keep working, it will transform into a beautiful pursuit"