Jitendra Jadhav: Achieving More Prolific Commercial Success By Implementing Calculative Assumptions And Pragmatic Approach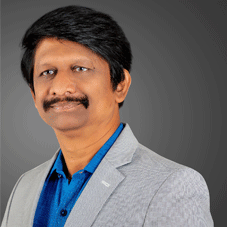 Experiencing profound changes for years with mergers and acquisitions gradually dominating the industry, currently, the demographic trends show the growing importance of the pharmaceutical industry. As generic drugs continue to enter the market, the governments and health insurance companies are exerting growing price pressure on the industry and at the same time business complexity is increasing due to operations in emerging markets as well as legal, regulatory and supply-chain related challenges. The commercial department in the pharmaceutical industry represents more than 50% of the total costs and plays important role in driving innovations, achieving marketing success, controlling costs and risks and managing volatile raw materials supply markets.
Leveraging his experience and expertise within the pharmaceutical industry, Jitendra Jadhav has been introducing trendsetting renovations at Shalina Healthcare - a market leader in making quality healthcare products affordable & available across Africa. Owing to his calculative assumptions and pragmatic approach to achieving more prolific commercial success, Jitendra has bestowed with the chairman's award by earlier organization as the best performer which has only been awarded to a few.
Engaging in a distinctive interaction with the team of CEO Insights, Jitendra Jadhav narrates about his experience while voyaging as one of the top-notch CCOs of the country.
Give us a brief detail about your educational and professional background along with your skillsets and strengths which have helped you in implementing and monitoring the overall business marketing strategy for Shalina Healthcare.
After completing my graduation in Science, I did Masters in packaging from the Indian Institute of Packaging. Ours was the first batch of 20 students and first-ever course in Packaging in Asia. I have also done postgraduation in Management from Mumbai University and Materials management from Indian Institute of Materials Management. As I was in the first batch of packaging professionals, getting a breakthrough was a cakewalk.
My initial association was with Clariant in their Dyes and pigment division and then with Pidilite after which I joined Wockhardt and my career in pharma space commenced. It has been an exciting journey in the pharmaceutical industry spanning more than 25 years as changing business environment of pharma companies from local to global assisted me in developing an excellent skillset of global sourcing. This also helped in the identification of competitive sources across the globe and establish long-term partnerships with them.
As a commercial person, I have never considered myself as only a cost-cutting person as it gives temporary gain and always believed in having a win-win supplier relationship management. It is imperative to focus on innovation in sourcing and procurement and developing strategic partnerships with suppliers involving them in the early product development phase. In the pharmaceutical industry quality of the product is of prime importance as it directly affects the life of a patient and I have always believed in sourcing quality products from suppliers who follow the best quality systems.
What responsibilities have you been performing at Shalina Laboratories? How has your journey been at this organization so far?
Shalina Healthcare is a privately owned company and has been operating in Africa for more than thirty years. We are headquartered
in Dubai and have operating offices in Nigeria, Zambia, The Democratic Republic of Congo, Angola, Ghana, Kenya, Central African Republic, India and China. Shalina's reputation as a quality healthcare provider in Africa has been well accepted by the medical community, who has no hesitation in prescribing Shalina products to their patients. We work closely with the local communities to help people live longer and healthier lives.
I joined Shalina 3 years back and this short journey has been quite exhilarating. At Shalina commercial department is not seen merely as a support function but, a strategic, integral part of the business. Initially, I was handling the commercial function pertaining to Indian operations, now I am the accomplished commercial lead in Shalina. I am heading China operations in addition to commercial functions in India and also local sourcing activities that are being done across the countries in Africa.
In pharmaceutical industry quality of product is of prime importance as it directly affects the life of a patient
As a CCO what are the strategies/methods you put forward to align your organization with your vision and mission and how do you generate great value to your organization?
The commercial function is fully aligned with our company's mission to provide quality, affordable and all-time availability of products to the markets. China and India both Combinely supply 80 to 85 percent of the generic formulations to the whole world.
Shalina was well aware of the competitiveness offered by China so they had set up a China sourcing office way back in 2004. In India, we have our own plant which manufactures ointments, tablets, capsules and lotions, 10 loan licensing units and 30 Third-party vendors. Depending upon the commercial viability we switch our sourcing strategy between India and China.
What strategies do you follow to overcome various challenges of customers and meet their requirements and how did you make space for yourself in the industry?
Shalina Healthcare manufactures and commercializes a diverse range of generic products. Our product portfolio caters to a wide range of therapeutic areas including analgesics, dermatology, anti-malarial, gastrointestinal, anti-infectives and nutraceuticals.
Many of our brands like Epiderm, Betasol and Ibucap hold leading positions in their respective sub-therapeutic classes. With a portfolio of >250 Products across 12 therapeutic categories, we remain committed to providing affordable pharmaceutical products of global quality standards to all patients across Africa.
Counterfeit drugs are the main concern which we encounter in the African market. These are illegal and pose serious health risks across Africa and the world. It is estimated by the World Health Organization (WHO) that there are close to 100 000 deaths in Africa annually as a result of complications related to counterfeit medicines for common, treatable diseases. For the African continent, that means that you have a one in three chance of being at risk of serious or fatal harm when using any kind of medicine.
Shalina takes the problem of counterfeit medicines extremely seriously and is actively working with authorities in several countries to stamp out this problem and legislate to increase the penalties for repeat offenders. Other strategies, like regular pack innovations and evolving mobile authentication systems are increasingly offering a measurable impact on safety. Ultimately, it is through communication and market vigilance – along with comprehensive awareness and education – that we can make Africa a safer environment for generations to come while still providing safe, affordable medicines that are accessible to all.
What were the initial challenges that taught you the basic functions of organization?
The initial phase was quite tough and I have had a lot of failures, but instead of getting dejected I learned from these mistakes and ensured that they are not repeated. I have also learned a lot by reading books, I am a great fan of Robin Sharma and have read most of his books. I owe my success to Brahmavidya teachings, their basic principle is that our entire life depends on breathing and thinking. My daily practice of 2 hours of breathing exercises and meditation as per the Brahmavidya teachings has helped me to handle any adverse situation, to focus on critical issues and improve my intuitive skills to take the right decision at right time.

In your professional journey so far, which are the milestones that bestowed you with utmost satisfaction - both as an individual and a CCO?
I was steering the commercial function as a part of integration of operations of acquired companies while working in my earlier company. I ensured that the procurement cost of all these acquired companies was reduced by 12 to 15% which helped in turning around these companies by strategic negotiation and developing reliable competitive alternate suppliers in a span of 12 to 18 months.

Moreover when my earlier company was going through financial turbulence 10 years back and was having issues in paying creditors. It was during this time my relationship with suppliers helped in ensuring that the materials were supplied on time without affecting the sales of the company. It was based on my assurance the suppliers extended their credit terms by 9 months to one year.

How do you ensure to update yourself with the latest trends and technologies across marketing industry so that you could always steer your organization towards the zenith?
I love connecting with people and being a commercial person I come in contact with many domestic and international suppliers. They are the best source of providing all the information of new technology and the emerging trends in the industry. They also provide market intelligence, ideas about the new products and new pack designs.

I am also part of various groups of commercial and packaging professional in pharma industry which keeps be abreast with the latest trends in the industry.

"To achieve greater heights in this industry, companies have to perform well. We did so at shalina healthcare"

To steer your organization towards the zenith, what are your plans for the future?
Being an 100% export oriented company, Shalina doesn't have any domestic market as such and it does most of its exports for African countries. In the future, we have a vision of making Shalina a $1 billion company by 2030. Currently, our plans are to promote organic as well as inorganic growth, while working on our base products to improvise them and we also would be launching at least 100 new products every year. So naturally, the commercial department will get to play a major role in achieving the vision of company.

Jitendra Jadhav
A seasoned purchasing professional with over 25 years of rich experience in all aspects of global procurement and supply-chain process in the pharma industry Jitendra is an effective leader with a strong record in generating substantial cost economies in the purchase through effective negotiations and strategic partnering with vendors.

A proficient sourcing professional with skills and accomplishments in the area of global strategic sourcing, contract negotiations, vendor management and strategic alliance, Jitendra is also an effective communicator and leader possessing strong interpersonal, managerial and decision-making skills with experience in managing cross-functional teams towards the best possible outcomes. His core competencies lie in global sourcing, complex negotiations with an emphasis on reaching sustainable agreement, vendor relationship management, price & cost analysis and risk mitigation strategies.