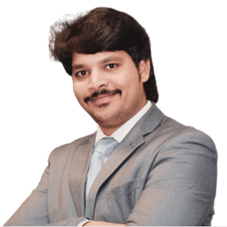 Today, health is wealth as the world is facing the Covid-19 pandemic. During the pandemic, everyone realized the significance of health fitments and other essential equipment required to maintain good health. Hence, there is a sudden demand for medical devices, Diagnostic kits as the awareness of one's health is increased. However, companies manufacturing such devices are relatively less, fortunately, we have Sensa Core which specializes in manufacturing and delivers a wide range of In-Vitro diagnostic (IVD) analyzers, point of care devices (POCT), reagents & consumables that are at par with global standards. Pavan Chandra, Commercial Director with his leadership qualities is operating and achieving some of the toughest tasks to rise the company standards.
In an exclusive interview with CEO INSIGHTS, Pavan Chandra talks more about his professional journey and what helped him to strive for sustained success in the industry.
Give us a brief detail about your educational background and professional background and how has it helped you in your journey so far?
I have completed my Master's in Business Administration along with Honours in hardware engineering and networking. My career began as a junior-level engineer where I worked on midrange mainframe networking operations. In the year 2010, I made a change that is from networking professional, I reconstructed my job designation as a business professional.
Although it was a sudden switch, I believe that change was the best move, I could have possibly made as it opened up new opportunities for me, it gave me a new sense, new purpose, and a strong desire to achieve something. I firmly believe that my educational and professional background has prepared me well for this position and it has led me towards a stable and successful career.
What were the initial challenges that taught you the basic lessons of managing diversified functions of large organizations? how did you manage to achieve the success that you had in the later phase?
We mainly work in the In-vitro diagnostic industry, where the majority of supplies are imported. The entire industry, I think that is 75 to 80% of the industry was import-dependent, and at that time, when we are trying to create products or devices. Every device needs the industrial ecosystem. Unfortunately, there was no ecosystem, when we ventured into IVD manufacturing. For example, if we required a motor or valve, we had to depend on Japanese suppliers or Chinese suppliers, this was the predominant challenge. We are trying to overcome this challenge through some foreign alliances and some combinations of domestic & foreign alliances. Some of the components that demands precise tooling, we
acquire from other countries and the plastics are produced in India with some strategic alliances.
The other challenge was despite of manufacturing good quality products which are at par with major global standards; we didn't have the luxury of a national insurance system where citizens can afford high-quality medical devices at a moderate/premium price. We saw this as an opportunity; we revisited the bill of materials of all the products and set a goal that we should manufacture a quality product at an affordable price. That was one of the crucial moment and the prime reason for the successful journey of Sensa Core.
What are the roles and responsibilities you have been applying for? What are short/long-term goals that you have implemented and executed for the company?
I'm responsible for the A-Z commercial activities of the organization. My core area is the identification of the new opportunities and encouraging the launch of potential products and services, which are based on the current market trends, and anticipating the future market developments with the market intelligence approach.
We cater to two different segments one being the laboratory diagnostics which demand Electrolyte & Blood Gas Analyzers and the other being home healthcare segment which requires the glucose meter & Strips
I take care of the negotiation, management, reviewing of the existing contracts of distributors, customers, Vendors and clients. We do collaborate, coordinate and train with the business operation team/s. We have developed a decent set of marketing team, procurement team and customer support team. The short-term goal was we wanted to introduce non-existing Indian products to the Indian diagnostic market. As a result, we have successfully commercialized four-five diversified products which cater to three segments in the domestic In-vitro Diagnostic market. While the long-term goal was, we wanted to export products for 100 different countries and to some level, we have achieved it as our products were successfully commercialized 45 different countries as of now.
How has the commercial structure in the medical industry changed after COVID-19 and as a CCO, what are your strategies to take the business to the next level?
COVID-19 crisis is a massive shock not only to the medical industry but to the global industry as well. The short-term implications of the pandemic are very much evident as there was a sudden spike in the raw material, there were limitations in several aspects like the logistics, travel restrictions, export-import obligations.
However, the long-term consequences of the pandemic are yet to be analyzed as we are still facing a pandemic. But on a positive note, we have seen two things, one is the improvement in the home healthcare segment where the people are willing to test the BP, sugar, cholesterol, people have
become more health-conscious. Unlike in the past, this pandemic has created awareness in the people where they want to get their diagnostics before going to the doctor. We cater to two different segments one being the laboratory diagnostics which demand Electrolyte & Blood Gas Analyzers and the other being home healthcare segment which requires the glucose meter & Strips.

The major steps implemented are we ramped up our production capacity, we are realigning our raw material procurement plans as the procurement become a major challenge concerning the imports. Hence, we are indigenizing the majority of the import to minimize the dependency as we suffered a lot during the initial stage of the pandemic.

Fortunately, with some decent alliances, we were able to successfully indigenize some of the projects which can reduce the import dependency of our company as well as it can create an ecosystem which other manufacturers can utilize.
In your professional journey so far, which are the milestones that bestowed you with utmost satisfaction - both as an individual and a CCO?
There is one such milestone which can be marked with the golden letters in my career. When we started exporting products to other countries, we felt that we needed to export an In-Vitro Diagnostic medical device to China as everything in India is overshadowed by Chinese products.

Consequently, we started working on manufacturing a quality product that can be exported to any corner of the globe and we achieved it as the first batch of our blood gas analyzers have made their way to China. That was the bestowed moment where I felt both as an individual and a CCO utmost satisfaction, even the entire team was satisfied and overjoyed. This moment is the utmost satisfying moment, personally as well as professionally.

What are the awards and recognitions that are close to you personally? What are the major facets of your professional journey as well as Sensa core's journey?
Some of the major facets in my professional journey are when I was awarded as Game Changer of the year, best employee of the year, taking over as commercial director at Sensa Core. But, I always feel that my top notch pride moments are the successful introduction of made-in-India products to 45 countries across four continents.

I feel that the success of the manufacturing industry will lead to the success of the country. We can estimate that every once a year the sales generated by Sensa core, reduce the imports at a ratio of 1:3 which means when Sensa Core reaches 500cr it will reduce the import dependency by 1500cr. This 1500cr can be used for new socio-economic impacts and attaining self-reliance. Therefore, every manufacturing industry should stand up to the expectation that can change the course of the country.

Pavan Chandra Nagoor, Commercial Director, Sensa Core Medical Instrumentation
• A small Bio: Stop Wishing & Start Doing
• Hobby: Traveling, Meditating, Exploring Some Cultural & Heritage Related Things
• Favorite Cuisine: Indian food
• Favorite Book: Hit Refresh
• Travel Destination: Dubai