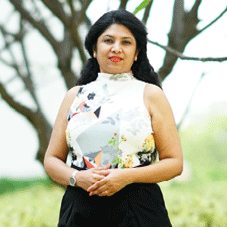 What is it about industries that has changed? Evidently everything! Along the past 30 years, the way businesses run has changed dramatically, driven by digital innovation. Today companies work in unprecedented ways by combining digital prowess, human ingenuity, and strategic intent, however, the secret of company's success lies in great leadership. A great leader plays a central role and being the developer & innovator of operations & functions leads the with greater vision. Convincingly, Kalpana Srilalitha (Co-Founder & Director, Datakue Services) perfectly fits in that kind of leadership bracket.
Her professional adroitness invariably accords the industry & businesses with a far-fetched vision that could lead to substantial growth, yielding whopping revenue. Kalpana is an ISB Hyderabad management educated and also carries two other qualifications that are technical and a master's degree in Computer Science and Advertising & PR Professionally, she started off as a visual design dominance expert in software for the manufacturing sector. Leading a business as its owner for a remarkable period of 17 years, currently she is heading her second venture Datakue Services (since 2014), a software products and allied services company.
Being the Co-Founder she traversed through various roles, beginning with operations management to Chairman and Director Sales. Building an organization culture with the long-term goal of earning good-will and great reputation is like a penance. However, carrying the vision of the organization at the same time contributing towards operational excellence for better profitability is just the tip of the iceberg.
The biggest responsibility was taking the organization to the next phase from startup. It was all the more demanding. Heading Sales since Jan 2020 with the mission to put the organization on a rapid growth track, she is diligently performing her part. Resultantly, the company is all set to spread its wings and fly on in the new financial year working under regular norms coping with pandemic side-effects.
Here, in an exclusive interview of Kalpana Srilalitha with CEO Insights. Get to know this astute personality who has impacted hundreds of SMEs in the past 24 years from the person itself.
How has your journey with Datakue
Services been so far? Mention some of the milestones that bestowed you with utmost satisfaction?
I am a third generation entrepreneur. However, there was no passing on the baton moment or ceremony as I am the first IT entrepreneur with formal business education from the family. My predecessors though educated, were mere signatories. I knew what I want to become, but was unaware of how to. Despite my education from premier institutions and doing business while abroad, the challenge existed from myself to me. But, I knew I had to brave the world and since I was open to embracing change so far the journey has been meta morphing professionally and Datakue Services has been a significant piece of this revering journey.
I knew i had to brave the world and since i was open to embracing change, the journey has been metamorphosing professionally
The experience of meeting thousands of women & men alike as NGOs' volunteer added to the score of understanding people at a young age. This gave me the confidence to manage diversity. I was fortunate to have chosen four wonderful mentors who inspired me in transforming various aspects of my life & work. I am an organized and a systematic person by nature. With the conceptive guidance from my mentors, I became more process oriented, learned and managed diversified functions of a business smoothly as I moved on.
Talking about milestones is to look for a fish in the ocean. Every timely delivery of our commitment to the customers is the most satisfying milestone. It's addictive personally & professionally. Learning to say NO and applying it appropriately without any form of damage to the stakeholders is first of the most difficult decision cum moment. Here is where, my mentors groomed me in identifying when, where, why, and how to say a NO. People management is the toughest. Identifying non-performers is easy, but finding out the root-cause, almost rehab them and specially groom them to become average performers is the demanding part. Hire & fire has its own consequences that may leave unfavorable impact on the organization. As time passes by, though we learn to manage, one cannot wilt from being a visionary. It's like a walk on the thin ice.
Brief us on the excellence of Datakue Services?
Service organizations are meant to fulfill intangible requirements. While innovation, disruption, pricing, and others are the usual reasons of many business models, oftentimes we tend to productize the offering to standardize the internal process & prepare for growth and scale-up. Our Bangalore-based, Datakue Services delivers commitment with
indigenous, persistent, and robust software products & services that accords customers with power status.

While having B2B operations software products development that impacts in enhancing productivity and efficiency as its one of the core focus areas, it also provides allied services in key areas such as Branding & Marketing (Imagekue), Designing & Printing (Graphikue), PR Consulting (Markue), and others. This ISO 9001:2015 certified company, spear-headed by accomplished leaders from Technology, Marketing, and Finance backgrounds is in an accelerated growth mode since its inception.

What are some of the new age challenges confronted by this market and how do you safeguard your clients/customers from these flaring challenges? Does your approach contribute towards trendsetting?
There are three levels of challenges. Firstly, not all customers understand the difference between free, freemium, open-source, and custom software. Secondly, they need to have the understanding of the software's technology and features as it needs regular upgrade. Thirdly, certain unguided mishandling of the software during the development phase may almost take away our efforts at ransom.

For a service organization, the leaders are the products. Hence, the way we conduct ourselves and serve our customers, determines the longevity of the relationship, no matter the kind of challenges that may crop up. Our experience so far has been such that our customers directly share their challenges and ask us if we could help. We strive to create that trust and confidence in our customers by believing that they definitely have a point that is better suited to their business. The kind of approach we undertake nudges towards building the win-win scenario than trendsetting. However, it's jaunting and thrilling at the same time. But staying abreast by reading, attending several business conferences, and taking cues from certain unconventional sources, helps me in keeping upto the challenges effectively.

What is the future roadmap set ahead?
Our growth has been as planned so far. We see a lot of opportunities and new possibilities coping with the COVID-19. We are now ready to leap forward. Our mission is to onboard 200 team members by 2023. With the endeavor to developing good-will from every single transaction, we are looking forward to a greater future.

Kalpana Srilalitha, Co-Founder & Director Sales, Datakue Services
A visual design dominance expert in the manufacturing industry software, kalpana's work has impacted hundreds of smes in the past 24 years and she has been privileged to have won numerous industry awards since time. Currently, she is leading datakue services as its co-founder and director for sales.
Location : Bangalore