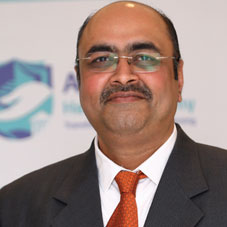 In today's ever-evolving healthcare landscape, the role of healthcare leaders has become more crucial than ever. To achieve operational excellence, healthcare professionals must not only possess technical expertise and business acumen but also demonstrate self-leadership and distinct competencies. The ability to make strategic and critical decisions in guiding teams through challenges has become a necessity in this complex environment. Consequently, specialized training in healthcare management has become an indispensable requirement for those aspiring to lead and succeed in the field. Aster Health Academy is a modern-day healthcare edtech company focused on professional education for both clinical and non-clinical functions. Against the backdrop of a global healthcare brand, the Academy draws from the Aster resource pool along with other industry veterans and healthcare specialists to contribute to the learning and development of the next generations. Aster Health Academy has forged the right partnerships for both content and delivery to ensure an industry first experience in the domains of online and blended learning.
The Academy, with its diverse team of academic and management experts, is carving out a niche in professional education for the healthcare industry.Kannan Srinivas, Director at the Academy and a Cornell graduate, shares his two cents on the sunrise industry. Let's hear it from him.
Could you give a brief account of your professional background and experiences? What is the motivation that fuels your daily routines?
I have extensive experience in education and publishing. Prior to joining Aster and assisting in the establishment of the Academy business, I held key positions at Medvarsity (healthcare ed-tech major), HCL Talentcare (technology major), and leading global publishing powerhouse, Pearson. I was involved in developing corporate growth and strategy, launching key product lines, and maintaining successful operations
and supply chains across countries, all while keeping a close eye on the economics.
Every days challenges and chances inspire me. The industry's shifting technology landscape keeps me on my toes, continuously looking for new ways to adapt and succeed.
You possess about twenty-three years of experience. How has been your path to success and what is your success mantra?
Throughout my 23-year career, I have presented information from conception to completion and have worked on both sides of the table. This has been made possible by a mix of hard work, ongoing learning, adaptability, and an emphasis on developing meaningful relationships. Continuous learning, embracing obstacles, creating relationships, tenacity, resilience, and balancing work and life are some significant characteristics that have contributed to my professional development trajectory.
My approach is built on creating a collaborative & inclusive environment that allows my team members to attain their maximum potential
My success mantra is based on a growth attitude, adaptability, and a desire to make a good difference in both my professional and personal lives.
Could you tell us about the unique experiences Cornell University New York offers and what did you learn from the campus beyond academics?
Cornell provides an abundance of unique experiences that extend beyond academics. The platform encourages personal development, cultural interchange, and leadership development. Cornell University's emphasis on diversity and inclusiveness, as well as the holistic education imparted to students, have had a significant impact on my personal and professional development. The student environment was active and multicultural, exposing me to people from all backgrounds who brought diverse thoughts and viewpoints, extending my worldview and refining collaboration abilities. The holistic approach to education included personal development, leadership development, cultural understanding, and fostering creativity. Cornell's lessons have shaped my principles, outlook, and overall success.
Tell us about your leadership approach. What are the guidelines
or methodologies you follow to lead your team?
My approach is built on creating a collaborative and inclusive environment that allows my team members to attain their maximum potential. I emphasize on the significance of effective communication in setting expectations, objectives, and goals, as well as promoting conversation among team members. I am committed to empowering team members and delegating work, enabling them to make decisions. I encourage my staff to take ownership of their work and improve both personally and professionally. I am also responsible for creating a vision for my team, in which I describe the overarching goals, ensuring that everyone understands the purpose and impact of the projects. I also value collaboration and diversity since they allow for the exchange of distinct perspectives. Finally, as a leader, it is critical for me to recognize and celebrate my team members' accomplishments, as well as provide feedback for future growth and encouragement.

What is the future destination you are heading towards?
The goal for the coming years is to build an internationally recognized corporate academic institution dedicated to satisfying internal and external learning and development demands in healthcare, harnessing both internal and external resources to nurture the next generation of executives, and being the go-to education provider for healthcare-focused professionals worldwide.

In light of your strong experience within the industry, what advice would you give to budding industry leaders?
Never be afraid to make errors and learn from them as you face challenges and opportunities that await you. Remember that the objective is not to be faultless or to prevent all mistakes. Instead, concentrate on creating new errors while avoiding repeating old ones. Each blunder is another chance to gain fresh viewpoints, learn vital lessons, and enhance your capacity for decision-making.

Kannan Srinivas, Director, Aster Health Academy
Kannan Srinivas comes with rich experience in the fields of education and publishing. Having gained experience at top organizations like Medvarsity, HCL and Pearson, he brings invaluable experience and a unique perspective. Beyond his professional expertise and experiences, he is also interested in reading and traveling and tries to strike a balance between his professional and personal life to explore his interests and spend time with loved ones.