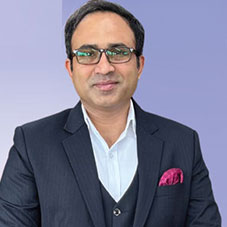 Trading in goods and services is the lifeblood of a Nation's economy, and the maritime sector plays a critical role. Under the inspirational leadership of Madhvendra Singh, the Gujarat Maritime Cluster (GMC) is building a dedicated, single-location ecosystem of maritime industry players and service providers. GMC is a leading maritime cluster dedicated to fostering excellence, innovation, and sustainable practices within the maritime industry.
Madhvendra Singh served as a senior officer in the Indian Navy for over 20 years and after an illustrious and decorated Naval career, served in the Ministry of External Affairs, Government of India handling full spectrum Diplomatic work with Gulf Countries, and was also the treaty negotiator for Government of India. He completed B.Tech. in Electrical, Electronics, and Communication Engineering from Naval College of Engineering, and the M.Tech in Radio Frequency Design & Technology from the prestigious Indian Institute of Technology, Delhi, specializing in Underwater Signal Processing. Madhvendra Singh completed MBA in Management & Operations from Jamnalal Bajaj Institute of Management Studies, Mumbai. He is also a globally renowed International Arbitrator and has been adjudicating Commercial, Construction, Investment, and Maritime Disputes. He is currently the Founder CEO of Gujarat Maritime Cluster, which is quickly gaining popularity by upholding the trust of its stakeholders, and becoming the preferred global hub of international maritime trade. Madhvendra Singh engaged in an exclusive interaction with CEO Insight, let's hear from him.
What drives you as a new-age leader?
My drive is a combination of three things, and the first is knowing the potential for growth that our country holds in the future, and the resultant economic development and prosperity it can bring to our people. I am a people's person, and all that I care about is mutual respect, and collective prosperity. This awareness inspires me to create opportunities for employment and inspire all stakeholders to work together and realise the strength of collective growth. The second thing that inspires me is the tenacity of our government and its willingness to adapt to the evolving economic and social environment to make systems more efficient, remove policy bottlenecks and cultivate innovative ideas by providing a robust infrastructure and efficient processes in a sustainable manner. Third thing is my self-belief. I have been an ambitious optimist all my life. My dad once remarked that 'he is a chronic case of unbounded optimism'. The bigger the challenges, the more resilient I am. I believe that every crisis holds an opportunity for the intrepid.
Could you tell me about your leadership approach? What are the guidelines or methodologies you follow to lead your team?
I believe that as a leader, you must always lead by example, and not just by giving orders. A lesson I learnt in the Navy is that, a troop with a clear mission, and a justified reason to achieve it, is a formidable force to reckon with. Although, Military Leadership commands unflinching loyalty and you lead from the front, the corporate leadership is very different. Corporate leadership is
about consensus. In corporate, you lead from behind, by taking everyone together. A transparent and corruption free environment where everyone feels relevant, supported with good ambience, inspires the team to contribute more meaningfully. I always say that, it's not the words that people remember, it is the feeling that is ever lasting.
Collective growth is the key to prosperity
How would you define Gujarat Maritime Cluster as an organization and its position in the market?
Historically maritime clusters are the gateways for economic prosperity in countries like, USA, UK, Singapore, China, Hong Kong, Dubai, and more. As our Hon'ble Prime Minister Narendra Modi remarked, Gujarat Maritime Cluster is a new institution for the new emerging India. GMC is working on maritime trade, related infrastructure, and capacity building. It will strengthen the association between the Government, the Industry, and Academia, and provide value addition to the ecosystem. Uniquely, this Cluster is located in GIFT City to utilise the efficient policy and process frameworks of the International Financial Services Centre (IFSC) which is like a high speed and incentivized highway for entry and exit of foreign exchange. Frameworks for ship leasing and the opportunities for shipping finance, ship management, brokering, and other such related services are effectively providing great ease of doing business. We have also started a dedicated maritime disputes resolution centre, the Gujarat International Maritime Arbitration Centre (GIMAC), which provides convenient rules and hi-tech enabled world class infrastructure for efficient resolution of maritime disputes. In essence, GMC works like an ODK bank, which stands for Opportunities, Data, and Knowledge. GMC is also expected to provide banks with both the necessary manpower and the opportunities to participate in global shipping.
What are the fundamental factors that you take into consideration while developing corporate growth strategies?
When developing corporate growth strategies, we incorporate several fundamental factors to ensure effective planning and successful implementation. First thing we are doing is building a dedicated Cluster complex within GIFT SEZ, that will provide commercial office space and bring all the relevant stakeholders in one single location. We are also developing a maritime research, innovation, and startup support centre. We have developed many capacity building programs, and are working out useful collaborations so that stakeholders can benefit. We have developed a long term perspective plan and well defined short term missions to achieve those. I have always believed that every decision of a CEO must pass the 'photo-frame test'. The four sides of this frame being the Vision, the Mission, the Objective, and the Strategy. Every decision that passes this test is well aligned for success. Another important consideration for the future CEOs must also be the ESG imperatives. The environmental consciousness, social responsibility, and responsible & accountable corporate governance are essential for making successful enterprises.
How are you consistently maintaining the organization's efforts in attracting and providing a synergetic collaboration among stakeholders? How are you fostering a learning culture among your workforce towards the same?
Consistent communication and meaningful interactions are important pillars of corporate connect. We ensure that our mission, values, and goals are
effectively communicated to all stake holders. We have established a shared vision that inspires collaboration and highlights the mutual benefits of working together towards a common purpose. We actively engage our stakeholders via regular meetings, forums, workshops, podcasts, online interactions, seminars, learning programs, and professional and social events. We hold round table discussions with relevant stakeholders for learning the challenges and find solutions in a collective manner. We are also curating special programs like Shipping Finance and Supply Chain Management with institutions like GMU, IIM Ahmedabad, ISB, IIM Udaipur, IIT Gandhinagar, and more, and have collaborations with international reputed organisations for sharing best practices and market intelligence. We are also actively looking at the development of space sector for the maritime industry, and making provisions to support such technologies.

What is the future destination you're heading toward for the next five years? What advice would you like to give to the upcoming leaders?
We have actively started our operations in January this year and already have garnered the confidence of hundreds of partners. We have been able to facilitate very critical amendments to the SEZ act, the IFSCA framework, and the regulations of DG Shipping. DG Shipping is likely to open their registered office within the Cluster very soon. The IR Class is also likely to open their office in the cluster soon, and the customs authority are already here. Very soon we will have a dedicated cluster complex where all stakeholders like shipowners, ship managers, cash buyers, brokers, financial institutions, alternate funds, law firms, dedicated arbitration centers, international arbitration institutions, international consultancy firms, banks, insurance companies, P&I club, universities, training academies, and other service providers, and more, will be located in single location. The maritime research, innovation, and startup support centre will also facilitate development of new technologies in the industry that will help bring down the overall cost of logistics, provide realtime asset visibility and resource availability, support paperless trade, provide market intelligence, satellite based realtime tracking, and provide essential forensic and other services.

Leaders must be honest, transparent, optimistic, and allow for collective growth, while making strategic decisions for growth and success of the organisation. They must wholeheartedly act on one thing at a time because, you cannot angle for fish, while shooting sparrows at the same time. Clarity of thought, flexibility to adapt, well defined vision aligned with the public policy of India, one eye in the future, quick decision-making ability, and meaningful collaborations are essential for success of any organisation.

Madhvendra Singh, CEO, Gujarat Maritime Cluster
Madhvendra Singh is the Founder CEO of the first Commercial Maritime Cluster in India, and he has been associated with organizations like the IORA, QMUL, CIArb, London, KMI, South Korea, the IIHL Italy, LMAA London, MARC Mauritius, NESA Centre for Strategic Studies, NMF, MP-IDSA, ORF, NYA, NWC, Naval War College etc. to name a few.

Quick facts:
•Hobbies: Golf, Swimming, Scuba Diving, Reading, and Writing
•Favorite Cuisine: Italian, and Continental
•Favorite Book: The Psychology of Money by Morgan Housel
•Favorite Travel Destination:
Maldives, London, Europe