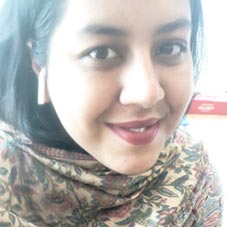 The primary mission of a Chief Marketing Officer is to promote growth and increase sales by developing a comprehensive marketing plan that encourages brand recognition and helps to gain a competitive advantage for the organization. CMOs must be exceptional leaders and assume the customer's voice throughout the company to achieve their own goals and effectively shape the public profile of their companies. CEO Insights interviewed Kavya Dutta, Chief Marketing Officer at Koppr, she enlightened us with the challenges she encountered in the personal and professional journey.
As we know, the barriers to progress for women are many in our society. As a women CMO, how crucial has your industry experience been in shaping your professional journey?
I don't remember my journey being simple, as a woman, professionally, and I very well know the challenge of trying to prove yourself continuously in male-dominant companies. For a woman who believes in change, I like to think that the world presents itself differently, frankly, my interactions in such conditions have been complicated. I was fired from my job because they did not feel comfortable supporting a woman, but on the other hand, I have also known businesses who welcome female leaders, such as Koppr, who are not afraid to trust skills and experiences while holding gender aside when it comes to professional positions. For women like me, I work to build opportunities and a world where we no longer have to discuss 'women' leaders but can be recognized as 'leaders' together.
What were the initial challenges
that taught you the basic lessons of managing the marketing & advertising functions of large organizations? Also, how did you manage to achieve the success that you had in the later phase?
I had the privilege of being an entrepreneur for almost a decade before beginning my corporate journey while I was still studying, which was presented to me by a very dear friend.
Entrepreneurship teaches you lessons from an existing business that could be tough, ground-level realities and management skills, and it teaches you failure, rejection, and disappointment. If you encounter failure, get up, dust yourself, and keep going- the lessons that allow you to hustle for achievement and my advice for young professionals or beginners is, Success calls for Agility and Patience. Having struggled tremendously in my path to success, what motivated me to get here was a 'never-say-die' mentality. I was still looking forward to how and what I could do to make this loss an asset, which I believe is tremendously tough but exceedingly rewarding.
I work to build opportunities and a world where we no longer have to discuss 'women' leaders but can be recognized as 'leaders' together.
How do you ensure to update yourself with the latest trends and technologies across the marketing & advertising industry so that you could always steer your organization towards the zenith?
I am an avid reader. Having said before about being solution-oriented, I keep reading, listening to podcasts on-the-go, about the industry. Also, I love indulging in short coffee conversations with a couple of friends from various industries who are leading companies in their respective fields, so I happen to get my feedback from them. There is no greater learning than learning from the mistakes of each other and I am a
huge believer in sharing experiences and listening to the knowledge of my peers with a new idea or any innovative CX concepts that they are doing or results achieved.

In your professional journey so far, which are the milestones that bestowed you utmost satisfaction - both as an individual and a CMO?
Personally, not allowing failures to dictate the career path gives me utmost satisfaction, this is an important factor for me, and I had a vision to where I wanted to be in order to succeed in my career. Quite early in life, I experienced failures, continued my journey with a motto of not giving up on any reasons to break down, instead motivated myself at every step to build the 'Career' I have today- this will always be a milestone for me. Professionally, my vision for self is– 'I have promises to keep and miles to go before I sleep'.

Managing a company involves a lot of stress, skill, and time. How do you manage to balance between your personal & professional life?
I believe that every kind of profession or passion requires time, in this aspect, I consider myself lucky, in terms of managing time and also, fulfilling personal duties. Working for a company like Koppr, I feel privileged to be a part of a team that rather encourages us to spend time with family or friends. I think this type of work culture is necessary today and organizations should also equally encourage personal time-offs to benefit their employees so that they can rejuvenate and come back motivated.

Kavya Dutta, CMO, Koppr
Kavya Dutta, a software engineer by education but has been in marketing for almost a decade now, had her start-up very early, since when she was in college. Kavya graduated from the Narsee Monjee Institute and worked as Senior Marketing Manager, Digital Marketing Lead and more, in companies like ByteDance and others before her current position. Kavya is the co-founder of a media and training organization known as, Creators Team Works and also a Council Member for a New York based marketplace for Industry Leaders.
Location: Mumbai