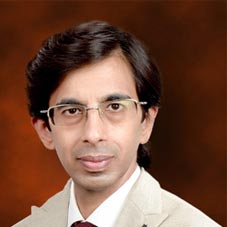 Sachin Narang, the Chief Marketing Officer of Khemani Group, is a passionate marketer who enjoys the dynamic process of building and strengthening brands. He is a Management Graduate from Prestige Institute of Management & Research (Devi Ahilya University, Indore) and did PGDBA in Marketing and Finance from ICFAI Business School.
With Agility, Accountability, and Authenticity at the core of his leadership style, he worked with some of the best companies like Hindustan Unilever Ltd and United Spirits Limited (now, Diageo India) apart from OTC start-up Brihans Natural Products, one of the leading tobacco products company Desai Brothers Ltd, and growing beverage company-Globus Spirits Ltd. Currently, leading marketing and sales at Khemani Group as the CMO.
In more than two decades of his professional journey, Sachin built marketing strategies tailored for each of the markets and consumer segments to acquire and engage customers and consumers to deliver brand metrics. He has been delivering strategies that ensure online-offline linkages for better ROI and higher engagement. He orchestrated cross-functional teams to deliver four innovations and five renovations. He repositioned five mega brands to meet customers changing aspirations for luxury goods. With handson experience in sales, he could build strategies that led to the profitable growth of brands. He used various researches like Neuro, Touchpoints study, and U&A to use science to aid in decision-making and building and strengthening the brand growth model. Interestingly, he built the Diageo Marketing Code for India for all brands to ensure that the brands are marketed the right way, every time. Recognizing Sachin's contributions, CEO Insights engages an exclusive interview with him.
What initial challenges taught you the lessons of managing the marketing functions of large organizations?
Every big organization uses tools and frameworks to arrive at marketing strategies and plans to build brand differentiation and drive
advocacy. Before using these tools, it is crucial to understand the reason for its existence and its reliability. Many large organizations go for a 'one shoe fits all' strategy for all their markets thinking that success in one market is a guarantee for the other. And, most of these organizations fail when it comes to the Indian consumer as we have different needs and expressions. These differ geographically, culturally, and socio-economically.
I am working towards getting the organization future-ready to take great leaps to surprise everyone and deliver greater shareholder value
I have learnt a lot from Hindustan Unilever Ltd, where they used tailor-made strategies for each state and each channel cluster. I have used this framework during my tenure at United Spirits Ltd, Globus Spirits Ltd, and even today at Khemani Group. We have an over-arching strategy for the portfolio and then break it down by each market at a granular level to fine-tune or change to get great results. During the process, we involve the local sales team so that there is a complete buy-in from the key stakeholders right from the word go.
Another thing is that there is not always enough data on the table to make decisions. Thus, one has to couple the available information with own understanding of the market and gut to take decisions and move on. Yes, one could face challenges on the way, but that can be handled by recognizing the need and adapting or changing the strategy for achieving the goal.
Enlighten us about the various products & services that you offer at Khemani Group. Also, explain about the unique benefits that customers can avail from these services.
Khemani group is synonymous to delivering superb quality products for India and export markets. We don't leave a stone unturned and in fact, go out of our way at times to meet our delivery expectations. Be it our ENA, spirits brands, beer brands or even DDGS. We have won many awards and accolades from various fraternities nationally and internationally for the work that we do. We have been also accredited with ISO certification for distilleries and brewery. Our valued customers have continued to partner us and bestowed confidence in us for last so many decades is a true testimony of our efforts.
In your professional journey at
Khemani, which are the milestones that bestowed you with utmost satisfaction?
As I started my journey as CMO with Khemani Group to build and strengthen the portfolio of brands both in beer and spirits divisions, in a short time, I got the roadmap ready and successfully launched two brands- TAG Beer and Royal Mile Rare Whisky. Both these brands are doing great in local and export markets. TAG is now available in Oman, Bahrain, Australia, Norway, Singapore, Malaysia, and Hong Kong. Royal Mile too is available in UAE. Besides, led the relaunch of the flagship brand- Royal's Special Whisky- to make it aspirational for the TG, which led to continuous market share gains. Have also built the right sales capabilities for ensuring successful brand launches for today and tomorrow.

What plans do you have in mind for the Khemani Group?
In line with the vision of becoming the most trusted and valued company in the alcobev sector in India, I have designed strategic building blocks that would propel the company to grow. Amongst these are strengthening the current set of brands, launching new brands to delight consumers, expanding to new markets and frontiers, and introducing new packaging formats to meet the demands. I am working towards getting the organization future-ready to take great leaps to surprise everyone and deliver greater shareholder value.

How has been the support & inspiration from your family in your journey so far?
God has been kind to me by blessing with such a supportive family who stood by me no matter what. My father taught me leadership traits and I learnt to be a disciplined human from my mother. My life partner started a business to follow her passion while taking care of our lovely daughters. My kids aged 13 and 9 are also understanding and supportive in my journey.

Sachin Narang, Chief Marketing Officer, KHEMANI GROUP
Key Milestones
• Developed and launched successfully 4 consumer brands to pluck need gap and provide ladder for premiumisation.
• Re-launched and repositioned 5 mainstream brands and a luxury brand to make it aspirational and meet the changing needs of consumers.
• Built and delivered strong digital strategy for brands that led to healthy acquisition and engagement resulting in increase in TOM and MS.
• Added substantially to EBITDA by improving sales performance and market share of brands.
• Built capabilities for delivering value to the organization.