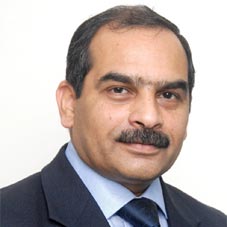 Beyond practitioners of traditional marketing, today's CMOs are enablers of business success. They are experts in strategies, analytics, client acquisition, retention, and more. A particularly fine example of a successful, modern-day Chief Marketing Officer is Sameer Saxena, of Legrand. His skills are spread across managerial responsibilities from Building & managing talented teams, Mentoring and helping with their career expectations, Setting strategic goals, Motivating employees to perform well, Communicating inspiring ideas, and Delegating tasks to other employees.
He propagates a fine balance between strategy and execution and delegation. One of the key skills that helped him immensely is to have a longterm strategy and also to zoom in fast. CEO Insights engages an exclusive conversation to know more about his endeavors, leadership style that is driving success for the brand he is part of.
What do you consider the biggest challenges for a CMO these days? How do you work with your executive team to get the most out of the marketing function?
Managing a talented team is my strength, but this is also a challenge to keep the talent engaged by giving them challenging assignments that build their career paths and gives them satisfaction. To be honest, it goes beyond normal increments and promotions. It's important to listen & empathize and practice inclusive leadership.
To provide the team with a realistic check of the organization, to create a space of competitive advantage,
and not follow the past trends of the industry.
In your marketing approach, how do you balance inbound and outbound marketing? What do you think of the art and science of marketing, and where do your strengths lie within that?
Both inbound & outbound marketing are given equal emphasis. Both the art & science of marketing lie in making the customer experience better and eventually delighting them. My core strength lies in driving customer-centricity through relations that are fruitful and lasting.
How do you approach branding a company, its products, and services? As a CMO what strategies and tactics would you put in place to help drive revenue?
Everything starts with trust. You need to earn your customers' (in our business – end customers, users, business partners & influencers) trust with quality & understanding. Fly vision paired with compassion & resilience is what would drive a good product to a good business model.
Sameer feels extremely satisfied to see his team members excelling in career and also growing as good human beings
Given the changes in today's rapidly evolving marketplace, what are the key changes taking place in the industry? What systematic approach are you using to monitor these changes?
Everything is digital-first now more than ever. We were already geared for it. Most of our marketing efforts are skewed towards being online and in the moment where the customer is already looking for information, & is willing to make an interaction.
Agility is the heart of customer-centricity and we are always on the lookout for newer ways to interact with our customers & bettering their experience with us.
Which are the milestones that
bestowed your utmost satisfaction?
To see my team members in good positions in their career and also develop as good human beings.

What plans do you have in mind for Legrand as its CMO?
Firstly, to be ahead of the curve in all the aspects (be it on tech, on CX, on disruption on change of business model, and more). This will make us a good brand, good market share, sustainable growth, giving more to the society and the stakeholders. At Legrand, we are looking to raise the bar of corporate social responsibility, eventually, leading to corporate social justice.

Sameer Saxena, Chief Marketing Officer, LEGRAND
Strategic thinker and innovator passionate about executing excellence

Travel Destination on the wish list: Latin America- Chile, Peru, Argentina, and Brazil.

Major Facets & Achievements of Professional Journey
I have immense experience with various industries in different roles, which has built the competency. In addition to the normal P&L responsibilities, a few projects that stand out are:
• Launch of Opel Astra leveraging the financing model for easing the consumer purchase with the banks. This was the first disruption in the purchase behavior of consumers.
• M&A integration during a post-buyout scenario, of a large Indian company by a European multinational. The organizational sensitivities far outweighed the business synergies, which brought out a new dimension in the project.
• Joining a mid-size Indian proprietary- driven company during the 2008 crisis and getting a hands-on experience of the importance of cash flows, which were much more pertinent during marketing strategies at that time.
• The back-end project of building customer support service for the APAC region.
• Building a digital marketing foundation for a B2B business model. This is an achievable reality now but to imagine this for a B2B brand a decade back was a challenge.