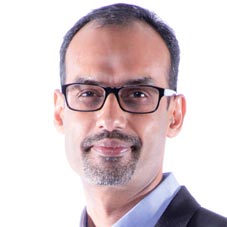 In a career spanning just under 25 years, Tarun Khanna has had an illustrious professional journey that has seen him lead cross-functional roles in Corporate Strategy, Business and Product Management, Sales, and Marketing. From spearheading the marketing function at two of the most prominent Automotive MNCs in India, at different stages of their set up and launch/relaunch, to defining a business transformation strategy for a 150 plus-year-old Indian business house -Tarun Khanna has managed to progressively add value to the brands while gaining new learnings and experiences.
At present, Tarun Khanna is involved in the capability building process at CNH Industrial India Pvt. Ltd. - a global leader in the capital goods sector with established industrial experience, offering a wide range of products, and having a worldwide presence. In an exclusive interaction with CEO Insights Magazine, the veteran business leader sheds some light on his innate ability to think of the big picture, as well as his multifaceted professional journey so far.
Excerpts from an interaction with Tarun Khanna, Chief Marketing Officer, CNH Industrial India Pvt. Ltd.:
What were the initial challenges that taught you the basic lessons of managing large organizations' marketing & advertising functions? Also, how did you manage to achieve the success that you had in the later phase?
The earliest learnings in marketing and advertising came through a combination of a customer-first approach and some good mentors and peers. A consumer research background ensured that I always tried to look at things from a customer's perspective. And having a strong mentor as a boss meant
that they backed you up and allowed you to grow and take risks. Success only taught me to do more and challenge the status quo and go for higher and better. My own experiences led me to treat people with respect and give them the authority and delegation to take the initiative and learn.
One Must Keep Themselves Updated On New Technologies And The Latest Trends And Stay Connected Through Peers' Networks In The Marketing And Advertising Industry And Alumnus Groups
The CMO of a company undertakes various roles, what different roles have you been undertaking at CNG Industrial? How has your journey been at this organization so far?
Since this involved the set-up of a Marketing function from scratch, the primary role has been as a Capability Builder. This has been done by bringing in the right competencies through talent acquisition and refocusing the approach and orientation of the available talent. New ways of working and challenging the status quo are crucial drivers of innovation, and that has been a focus area as well. It has been a challenge to introduce the marketing function as a focus area, and the journey has been both interesting and rewarding.
How has your vast experience across diversified fields helped you to chalk-out an efficient business module at CNH Industrial?
I have been lucky to have gained experience in a wide range of industries - from automotive to apparel, from media to engineering and capital goods. Working in a mix of Indian and multinational companies has made me adaptive and flexible to organizational structures and cultures. I have been in companies at their inception in India, to companies looking to transform their business strategy in the market, and at both growth and maturity stages of their lifecycle in the market.
The current challenge of working in the agriculture and construction
segments has helped me bring to the fore all the learnings from the perspective of customer understanding, sales channel management, product and brand strategy, working with cross-functional, cross-continent teams, and a varied mix of agencies and partners as well as the deployment of various facets of marketing - digital & social marketing, above the line & below the line, content marketing, strategic pricing, brand & product positioning, with varying weights as per the business requirement.

In your professional journey so far, which are the milestones that bestowed you with utmost satisfaction - both as an individual and a CMO?
One of the first milestones that will remain as a most cherished memory is probably my appointment as Marketing Head & GM at Ford in 2006 - 10 years out of B school and one of the youngest General Managers at Ford India during that time. Another milestone I remember clearly is the approval of the India portfolio strategy for Fiat Chrysler, which was a significant achievement for myself and the cross functional team I was working with at FCA India. And, more recently, the board approval for the acquisition of an EV start up at my last organization.

How do you ensure to update yourself with the latest trends and technologies across the marketing & advertising industry so that you could always steer your organization towards the zenith?
One must keep themselves updated on new technologies and the latest trends and stay connected through peers' networks in the marketing and advertising industry and alumnus groups. But at this stage of one's career, an essential source of learning new things are the younger people and team members who can always show you a new trick or a new way of doing things. I am a continuous learner, and as long as I am learning a new way of doing things or learning about a new category or business or functional area, I will never be bored with my work.

What future plans do you have in mind for CNH Industrial?
To make the marketing function a center of excellence for marketing processes and initiatives and a role model for other markets globally.