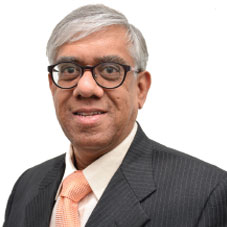 Leadership can be defined as an individual's or an organization's ability to direct people, teams, or organizations toward the achievement of goals and objectives. It serves an essential role in management by maximising efficiency and achieving strategic and organizational goals. Leaders inspire others, provide leadership, boost morale, improve the workplace atmosphere, and take action.
Kirit Kumar, Managing Director at Approved Group International has been one such leader with a demonstrated history of working in the insurance industry. He brings indepth experience in managing Forensic Investigation, Damage Assessment, Disaster Restoration, Business Continuity Management and Risk Mitigation. Strong business development professional with a Postgraduate Degree in Marketing Communication from the Singapore Institute of Marketing.
In an exclusive interview with CEO Insights Magazine, Kirit walks us through his professional life along with the unique traits of the company.
Throw some light on your professional background and experiences. What inspired you to venture into the forensic investigation sector?
Since graduation from the National University of Singapore, I have worked in the restoration of equipment damaged by fire, smoke, soot, water, and other hazards in Singapore. This venture resulted in regional expansion. AGI relocated their Global Head Office to Malaysia to lower OPEX for our clients, who happened to be the majority of insurers and loss adjusters. Forensics was added to our list of services after being requested by the same clients. Seeing a gap in the market, AGI (Approved Group International) evolved organically and vertically to provide forensic investigation, damage assessment, disaster restoration, and business continuity management. We have excelled in providing an international level of forensic investigation at a local cost to all of our clients.
You possess 35+ years of experience, how has been your path to success and what is your success mantra?
The road to achievement is always fantastic. Success is determined by one's attitude and actions toward obtaining it,as well as how one handles setbacks. AGI has always adhered to its mission of becoming
a global leader in rapid, effective, and individualised forensic investigation, damage assessment, and disaster restoration. Our clients appreciate the fact that, over the years, AGI has remained true to its vision while exceeding client expectations. That is my success mantra. 'If you want to succeed, you must be consistent'.
Inspiring others with positive attitude and actions
Define Approved Group International as an organization. What makes the company unique from the other competitors?
A 'tight knit' work culture is extensively promoted by AGI. We are an organisation that fully embodies this within our organisation through honed values and the company's purpose. We recognise ownership at all levels within the workplace and the necessity of this to create a corporate culture that thrives and is sustainable, ultimately leading to more innovation by choosing compassion and mindful effective communication with our frontliners and leadership teams. Our staffs are constantly discussing how to improve the site work, and our reports are technologically driven. We take pride in sharing the most effective way of interpreting the scene with our clients- with an outstanding client experience.
Could you give a brief account on the initiatives taken and programs organized by the company to make a positive social impact?
In our attempts to achieve zero net waste, AGI has undertaken many significant activities aimed at attaining complete sustainability and resource conservation. Among these are the following, sending debris, industrial and commercial waste from our disaster restoration and forensic investigation sites to specialized organizations for disposal, using bio-degradable gloves, going paperless, installing solar panels, and many more.
Our primary concept at AGI is education, and we provide various possibilities to potential students, including scholar ships, meaningful working and learning experiences, and internships, resulting in the increase of their academic skills. Our demonstrated social duty goes above and beyond, and our positive influence benefit seniors and parentless youngsters in terms of both monetary outcomes and awareness of life skills.
Tell us about your recent case study reflecting the success and also give a brief account on the company's long term and short term plans?
Every AGI case is unique, and no two cases are the same. We have gained great knowledge from these cases as a group, which will help shape our reactions to the next. It has always been and will always be about AGI offering incremental value to each and every client with whom we engage.
AGIs ambitions to reconfigure are currently evolving, with the company embracing a new age work culture that is largely influenced by the use of cutting-edge technology. This, in turn, is critical to our long term ambitions of utilising socially responsible means in the creation of new technological systems and equipment that can become some of the future's top stand alone brand names. For decades, we have created a platform for the team to make a difference in the lives of their clients, and as a result, the team has established themselves as market leaders in their field.

Tell us about your leadership approach, and the guidelines or methodologies you follow to lead your team?
It is critical to establish a motivating and clear goal for your company's management and co-workers. Simply assuming people enjoy working for your firm can result in costly losses. Companies want a dependable workforce, therefore invest your time and interests in educating your team members on topics other than fundamental values, the company's objective, and the company's vision for the future. However, treating your staffs as the 'complete' person that they are offers satisfaction and fulfilment.

Empowering your staff and their personal growth is critical to success and great time management. Involve them at every opportunity. Highly trained personnel will immerse themselves entirely, assuming 'autopilot mode', requiring only modest recalibration on a regular basis. At AGI, each team member's feedback is taken into account from the proposal stage all the way through to the final delivery. These open conversations and consulting venues promote peer-to-peer learning and support.

As a leader, what would be your advice to the entrepreneurs who are starting a new in this domain?
Embrace change and continue to study with grace and humility, broadening the depth and breadth of your knowledge. Allow your passions to shine through, and seek out mentors or leaders who inspire you. When it comes to your own business, always take the client's point of view and always cherish the clients you have, because they are your future. So make sure to keep them all.

Kirit Kumar, Managing Director, Approved Group International
Kirit is an experienced Managing Director with a demonstrated history of working in the insurance industry. Skilled in managing Forensic Investigation, Damage Assessment, Disaster Restoration, Business Continuity Management and Risk Mitigation. Strong business development professional with a Postgraduate Degree in Marketing Communication from Singapore Institute of Marketing. Master Restorer (IICRC–US) from Institute of Inspection, Cleaning and Restoration Certification.