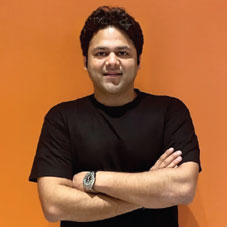 In the last two decades, both digitalization, as well as social media, have experienced an unprecedented rise in terms of awareness as well as influence. Even the traditional marketing process, which used to be through B2B or by word of mouth, has evolved into a more social media dependent tech marketing process. The rise in the tech marketing industry has made many startups and known brands join the race. Using his extensive experience in private equity and the legal sector, Raghav Narayan has been helping the leading marketing technology platform, Involve Asia in terms of fundraising, M&A and eventual listing as its Director of Investor Relations & Corporate Development. Under his able guidance, the firm already has earned three term sheets from some well-known global investors for its pre-IPO fundraising round and is even about to close a few more deals shortly.
In an exclusive interview with CEO Insights, Raghav shares his early experience and expertise, some of the major challenges he has faced so far and how he overcomes them, and much more.
Shed some light on your professional background and experience. How has been your journey so far with Involve Asia & what drives you today as an entrepreneur?
After my under graduation in Economics & Philosophy, I went on to get a law degree before moving to Malaysia to get my MBA at the Asia School of Business in collaboration with MIT Sloan Management. Before venturing into Private Equity, I practiced as an attorney in my hometown of Delhi, India for a couple of years and worked for Google in India and the US for three years. At Involve Asia, I am responsible for Fundraising, M& A, and eventual listing of the company. The journey with Involve has been fantastic, and I am pleased to let you know that we already have three term sheets from a few well-known global institutional investors for our pre-IPO fundraising round, and we should be closing a few deals that will be announced in due course.
I build on years of Private Equity experience, that help me identify investments where I can unlock value and perform turnarounds that facilitate integrations and consolidation. My legal training and entrepreneurial background supplement my business intuition and ensure my passion for change management, and strategic expansion never fades. The chance
to lead the process from conceptualization to execution in our quest to become the dominant regional performance based marketing technology company is what drives me.
Define Involve Asia as an organization & its position in the market.
Involve Asia is a marketing technology platform that helps brands measure, manage, and scale their partnership marketing efforts. With proprietary technology that uses multiple data sources to see exactly how each partnership is performing across any channel be it social media sites or digital video channels, brands have successfully used Involve Asia to boost their performance based marketing efforts with success.
Whether you are an emerging brand or a marketing partner looking to monetize your online presence, it's always worthwhile to invest the time in forming long-term partnerships. So don't be afraid to get in touch, we would love to get you Involved!
Unlike influencer marketing agencies, who also use our platform for their clients, Involve Asia is a technology platform solution that addresses the difficulties in direct account managed partnerships. Advertisers & brands are able to discover, recruit, onboard, and customize thousands of partnerships with a few clicks rather than engage with each partner individually. This means only one platform to work with, one billing entity, and most importantly, only one commercial relationship. This makes partnership marketing with Involve Asia an extremely scalable solution.
What are some of the major challenges you have encountered so far? How did you over come them & what did you learn from them?
With around 60 percent of our revenue previously coming from travel, the pandemic shook the world from a business perspective with the spending of our travel clients dropping to almost zero. However, being an agile technology platform, we were able to quickly pivot our business & tech solution to instead onboard advertisers who were major players in the e-Commerce industry looking for new ways of generating sales and those beginning to adopt e-Commerce and were looking for effective performance-driven marketing options, which effectively doubled our revenue in 2021. We are now targeting SMEs that drive 70 percent of SEAs' economy, with our Involve Track solution that enables them to take advantage of the partnership economy through Involve's
4,00,000+ strong network of marketing partners across South East Asia.

During the pandemic, a record number of people tried out our platform after losing their primary source of income. These weren't people with established followings or even an online persona yet and simply had not discovered how effective they could be online just yet. We were able to give them the tools and drive to do just that and many started using our platform and the numerous offers we had, to create a completely new source of revenue. Not only helping them through the pandemic, but actually giving them a completely new life.

Going forward, what are the changes in market behavior that you anticipate, & what are the opportunities that you foresee?
With how privacy is starting to close in on advertisers, we're going to be seeing a greater demand for more precise control of spending and attribution. Mass plat-forms will lose their ability to clearly define target audiences even within their closed ecosystems. Advertisers will need to start looking at approaching niche audience owners directly in reaction to this change. We will begin to see a shift from dependency on just mass platforms like Facebook, TikTok, and such towards the actual audience owners, that Involve provides access to.

In the light of your strong industry experience, what advice would you give to the budding entrepreneurs in this domain?
Don't fall into the trap of looking at the biggest audiences in order to get your brand out there. Start focusing on relevance. Look at which target groups would best receive your brand to maximize your advertising RoI. Performance Marketing Partnerships are a risk-free way of doing just this. Exponentially increasing brand awareness and sales as brands only pay based on their actual goals whether it's a view, install, or sale. Whether you are an emerging brand or a marketing partner looking to monetize your online presence, it's always worth while to invest the time in forming long term partnerships.

Raghav Narayan, Director- Investor Relations & Corporate Development, Involve Asia
Raghav is a deal maker with extensive experience in private equity & the legal sector. Before starting his private equity career, he used to practice as an attorney in Delhi and also worked for Google in India & the US. He is currently the Director of Investor Relations & Corporate Development at Involve Asia, helping the firm in terms of fundraising, M&A, listing, and strategic regional expansion.

•Favorite Cuisine:Indian & Italian
•Favorite Travel Destination: Langkawi in Malaysia, back home in Delhi when time permits
•Favorite book:Getting More by Staurt Diamond, Principles by Ray Dalio
•Hobbies:Venture investment, investment portfolio construction, reading & cooking