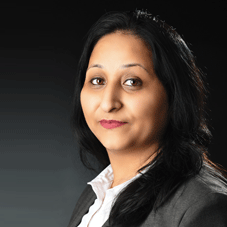 The retail industry across the globe is growing fast, and consumer spending is expected to double from 2019 to 2024. The retail market of India alone is set to grow to Rs. 27.95 lakh crore ($400 billion) in consumption by 2025. Global Retail analytics market is growing at 19.6 percent YoY. India is expected to become the world's third-largest consumer economy by 2025. Fuelling this growth further, Advanced data analytics is enabling brands & retailers to understand their consumers behaviours for growth and increased top line and bottom line. Stumbled on this goldmine while working on her pet project, Kirti Srivastava(Founder & CEO, GetPY.biz) successfully carved a niche for her brainchild GetPY, a rapidly growing Sales & Marketing Intelligence platform, by bridging the industry gaps such as niche technology cost, lack of simple end-to-end solution, and slower deployment pace.
Kick started her career as a software developer after earning her M.Tech degree at BITS Pilani, Kirti delved deeper into the product side and garnered complete software deployment experience from lead generation, deployment and testing to maintenance and support from various companies, including Oracle, Wipro and Cognizant. Her passion for building something of her own to solve a problem for retail industry drove her to work in her own venture GetPY. In the following excerpts of an exclusive interview with CEOInsights, Kirti divulges about the spark that lit her passion for entrepreneurship, GetPY's unique offerings, and more.
What inspired you to incept GetPY? How has been your journey so far?
It all started when my microwave oven stopped working within five days of purchase. As I was searching for the receipt that I tossed some where, the idea of building a product for sending digital receipt struck me. It started-out as a pet project that I was dabbling in during my free time.But as the project grew, I realized that the receipt contains a lot of information, including customer's name, phone number, purchase details, points redeemed, discount and so forth. Later, we
figured-out ways to enrich this data with inventory details and other existing data sources also. Analytics on top of this data enables retailers to take data driven, well informed decisions. Since this project turned-out to be so exciting and much bigger than I expected, I decided to quit my high paying job and chase my dream and passion.
I keep abreast of the emerging technologies & trends by following some great companies in news and participating in networking sessions, seminars and workshops
Our initial plan was to invest a year to build a robust product. Fortunately, we got our first customer within three months itself, as the customer with whom we were testing the prototype wanted to purchase the product. This provided us with a springboard that catapulted us to quickly reach the subsequent milestones like gaining our first overseas customer and winning several awards like Ajman University Innovation Challenge(2018) and Silicon Road Accelerator Award, which is quite a lot of achievement for a 26-month old startup like us.
What were the challenges that you encountered during your entrepreneurial journey and how did you overcome them?
Unlike my corporate days where the money would get credited automatically in the bank account every month, it was tough to get money post a successful sales closure. It wasn't easy at first. Learning every thing, from preparing a sales pitch, demo style, meeting delivery commitments, raising invoices with proper details, calculating taxes and other business nuances, all the while taking care of the product development, was a daunting task. However, having always worked in an organized manner, I enjoyed multi-tasking and learning something new every day. I have learnt much more in the past two years than I did over the past 18 years in the corporate world. Even now, I keep abreast of the emerging technologies & trends by following some great companies in news and participating in networking sessions, seminars and workshops.
Kindly brief us about the spectrum of products GetPYoffers.
PY Core is a data collector that captures data from not just the digital receipt, but from any source at the customer (retailer) site,
whereas PY Prime is an analytics engine that provides slicing & dicing of the entire data and helps enterprises (MSMEs can utilize its basic version) to drill-down to the lowest possible limit. PY Connect helps MSMEs to sort out high value customers and reach out to them via SMS, push Notification and eMail, aside from providing a business API that facilitates communication through WhatsApp. All these products work independently and are categorized & priced based on their target market segments and the issues they address.

Explain regarding your experiences with respect to pitching to VCs.
Having raised one VC round, I believe that the VCs are interested in knowing your strategy and clarity of thoughts on how you are going to multiply their investment to 10x or 100x. If you have the right answers, completed expenses and revenues maths (with ground work done), roadmap, and vision with clarity of execution, the process would be simple.

How do you strike the perfect balance between your personal & professional life?
It's all about prioritizing. Some times, personal life takes the back seat, and other times, work does. Keeping cool, delegation, exercising to stay healthy, meditation, allocating time for all your life priorities (as mentioned in Steven Kovey's book 'Seven habits of highly effective people'), reading for learning something new every day, and discipline are some ways to strike a balance without getting stressed.

Key Management:
Kirti Srivastava, CEO
Kirti is a motivational entrepreneur who translates her two decades of corporate experience to identify & bridge industry gaps.Besides mentoring women entrepreneurs in Stand-Up India program, she has also delivered speeches at renowned events & institutions such as IoT Show 8 and GSSS IT College of Engineering.

Favourites:
•Hobby: Writing poetry
•Cuisine: French cuisine

Advice for Budding Women Entrepreneurs:
Most women tend to complicate things. You don't have to be a superwoman. Don't hesitate to seek help! It's perfectly fine to delegate your tasks to focus on the core ones that require your personal attention whether it's at work or home.

Achievements:
•Winner of Ajman University Innovation Challenge(2018)
•Silicon Road Accelerator Award
•Winner of SoGal's Regional Pitch competition by Draper University