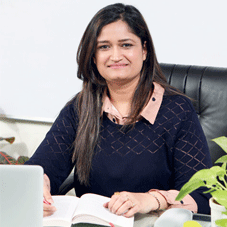 Warren Bennis, the American scholar, once said, "Leadership is a function of knowing yourself having a vision that is well communicated, building trust among colleagues and taking effective action to realize your own leadership potential". Ruchi Garg, CEO, Venuelook(an online marketplace), is one such entrepreneur blessed with the mindset & attitude of a 'Leader'. Her belief that teamwork is the key to success is what makes her stand apart from the crowd, and by following this belief she operates as a team player with determination. Ruchi is also a tech maestro, who is redefining technology and working on the space of online market place while contributing her best to the events industry.
Ruchi through her online platform 'Venue look' is helping users to find the best available options of venues for their events. Founded in 2014, Venuelook is a product of TENXT Solutions Private Limited, a product development, solutions, and services company. Today, Venuelook is leading the edge of the online marketplace and event booking segment with its world-class, efficient and effective services to resonate with the client's individual needs.
Through Venuelook, Ruchi wants to simplify the process of searching & booking venue for the venue seekers, and by doing this, she aims to bring a revolution in the unorganized and fragmented event industry. Being an inspirational trailblazer and an enthusiastic womanleader in the technology sector, Ruchi has become the leading exemplar for the whole nation. Ruchi has articulated her professional journey as well as her experience in an exclusive interaction with CEO Insights.
Cast some light on your background as well as the biggest inspiration to establish Venuelook.
Just after completing my bachelor's degree in computer science engineering, I started my career with
ST Microelectronics in early 1999. My responsibility there was to lead and build software products as a Product Manager. I worked there for almost seven years, and during this stint, I learned how to build a team train them, and prepare for the development environment. Also, I learned about CMM Level-5 processes along with many other things during my years with ST Micro electronics. But the establishment of Venuelook and switching from a corporate role to entrepreneurship has a different story.
Our primordial aim has always been to bridge the gap between banquet owners and people looking-out for venues to organize social and business events
I had a keen interest in planning and organizing events since my school days. Also, as a mother, I was very particular about venues and liked to explore different locations for my kid's birthday party. While doing so, I witnessed that the process of finalizing a venue was full of obstacles, such as visiting the site to decide whether it is suitable or not, haggling on price, commitment to the quality and value for service. Hence I decided to do some thing about it and in order to mitigate the complexity related to all kinds of events, I came-up with the idea of Venuelook. This is how I started my own venture in 2014 and today, Venue look is reckoned as a top tier online platform for discovering and booking events venues in India.
What are the various services that you offer and what do you consider as your strength?
Our primordial aim has always been to bridge the gap between banquet owners and people looking out for venues to organize social and business events. Venuelook helps venue seekers by assisting them to find and book the perfect venue for their events like weddings birthday parties, engagements, receptions, anniversaries, baby showers cocktail dinners and much more. We currently have 20,000+ venue profiles on Venue look and serve around 10,000+ events per month.
The backbone of Venuelook is our head strong team. We pride ourselves on having a diverse team
of experts, who value their work at Venue look and are happy as well as striving hard to grow with the company in the long term.

Tell us about your roles & responsibilities in your organization.
My responsibilities at Venuelook is to help my team identify and remove road blocks for all functions systematically through information, technology, and the right communication at the right times, as we strive to learn & relearn fast do better and grow faster. Also, my role is primarily to decide upon the next major mile stones for Venuelook and thereafter, for all our teams.

Some times I work closely with the functional team to experience that function's challenges identify gaps to bridge and then to see the impact of technology, process and data solutions. Apart from that understanding the strengths of everyone in our team and motivating them to dream think, act, and do better is another responsibility that I enjoy.

Family plays an important role in every person's life. How has your family supported you in your career so far? Also, how do you manage to balance between your personal & professional life?
Yes, I completely agree with that. I admit that Venue look started because my family believed in me, my dream and decided to support me in the journey. I am blessed to have professional and personal mentors within my close family and in the wonderful angels, who decided to power Venue look further.

Being a woman and a multitasker, I don't see any issue in balancing my personal & professional life. The kids have grown-up so they don't need much of my time and my hubby loves Venuelook as much as I do and also belongs to the IT sector. So thank fully our lifestyle matches.

Key Management:
Ruchi Garg, CEO
A computer science engineer as well as a great leader Ruchi is renowned for her expertise in building great products teams and businesses.

Office: Noida

Interests: Reading, writing, inspiring young generation

Favourite:
•Cuisines: Lebanese, Mexican, Indian, Italian & Chinese
•Destinations: Paris, Las Vegas Australia & Pangong Tso Lake