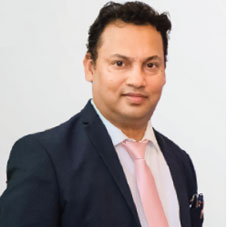 The industry growth of insurance based KPO services is expected to continue in the future, driven by the need for insurance companies to remain competitive in the global market. The increasing adoption of advanced technologies and the growing importance of compliance and risk management are also expected to drive the demand for KPO services. Currently, the insurance industry is facing a number of challenges such as increased competition, regulatory compliance, and the need to optimize costs. To address these challenges, many insurance companies are turning to KPO services as a means of improving their operational efficiency, reducing costs, and gaining access to specialized expertise and technology.
One of the trends in the insurance based KPO services is the increased adoption of digital technologies such as automation, artificial intelligence, and machine learning. Kishore Pokala is a leading entrepreneur with amassed experience as Operations Leader who co-founded Sure insure broker firm & Posh Workbytes. Posh Workbytes is an Insurance based KPO that assists in saving time and cash by rethinking one's mundane tasks. The administrative centre of Posh Workbytes is in Brisbane, Australia, and the staff members work from purpose-built, class-A premises situated in Delhi, India.
Kishore Pokala is an industry specialist with over 20 plus years of experience in the tourism and insurance business sector. He leads a qualified team aptly delivering unparalleled service and practical solutions to customers. He believes in an optimistic and determined approach towards achieving success as a leader.
Kishore engages in an exclusive interaction with the CEO Insights Magazine. Let's hear from him.
What are your professional background and experience like in a nutshell, and what inspiration energizes your day-to-day
schedules?
With my expertise and consistent perseverance in the travel sector, I discovered the uncharted prospect of the insurance business. My spouse's affluence as an insurance agent during the pandemic drove the opening of my general insurance brokerage. It reached milestone success with my understanding of the market, entrepreneurial spirit and connections harboured over two decades.
I view the world with an attitude of 'do your basics correctly with honesty & transparency', living by these true words of wisdom
I rely on my own drive and determination to guide my daily routine. I actively work to maintain focus and productivity through my day. My aspirations and goals drive my actions and shape my priorities. I view each obstacle as a chance to reaffirm my commitment to achieving success. I continuously push myself to stay motivated and keep moving forward.
How would you characterize Sure insure and Posh Work bytes as enterprises and their situations on the market?
My companies, Sureinsure and Posh Work bytes, are leading the way in providing exceptional service to customers in an insurance industry that is constantly changing. Sureinsure is a rapidly growing brokerage that has made significant investments in advanced technology such as AI and ML to deliver unparalleled service. Posh Work bytes offers a specialized service to the Australia market by providing staff that is specifically trained to support General Insurance Brokers, ensuring they receive top-notch assistance. Together, my two companies are dedicated to keeping pace with this evolving industry and ensuring that our customers' needs are fully met.
Tell us about your flagship offerings and what are the worth augmentations that clients can anticipate from your administrations.
Both the firms are qualified in delivering exhaustive services with the employment of tailored staff which tackle the necessities of the customers pragmatically. Sure insure offers far-reaching help, from a direct phone call consultation to insurance brokerage where we help people get their insurances sorted by providing the right advise and
help them find the best suitable solution for their general insurance requirements. Posh Work bytes are known for providing competent, market trained, and Tier-II ANZIIF-qualified staff for the Australian General Insurance market who devise solutions following customer demands.

How has your professional experience paved the path to your success? What is your success mantra?
The journey to success has many hurdles, yet it never shook my determination and optimism are rooted in my persona due to the exemplified reminder 'Be positive'. My world view is established on the foundation of 'do your basics correctly with honesty and transparency', and such positive mindset helped me in overcoming any obstacles and paved the way to success.

In light of your powerful experience within the business, what advice would you give to budding industry pioneers?
My word of wisdom to future industry leaders is to have faith in themselves and seize the movement by taking appropriate steps. Put forward ambitious goals, continuously aim to accomplish them and fasttracking the objectives augment the possibilities of a productive future. Smart work is crucial, but swift action is even more essential.

Kishore Pokala, CEO & Co-Founder, Posh Work bytes
Kishore is an experienced professional leader with a strong knowledge in the techfed insurance sector. He is also an active member of Rotary club.

Quick Facts:
·Hobbies:Playing cricket
·Favorite food:Hyderabadi Chicken Biryani
·Favorite Book:The Secret
·Favorite Travel Destination: Salzburg, Austria

Awards & Recognition:
Sureinsure Awards-
·2022 People's Choice Award for Advisr Insurance Broker Awards
·Finalist for QLD 2022 Top Insurance Broker
·Finalist for 2022 Fast Starter

Kishore Pokala Awards-
·Finalist for 2022 Thought Leader at Advisr Awards
·Awards in Athletics Track & Field Events & Cricket
·Youngest Branch Manager
.Top Sales Consultant(dozens of times)
·Blood donor­ Silver jubilee Donor