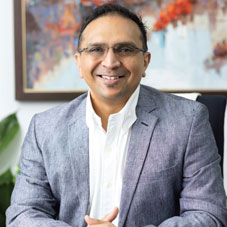 The healthcare industry has been growing rapidly, while a major trend contributing to this is the shift towards natural and highquality products as consumers become more conscious of the ingredients they use. An experienced leader knows that a great leader is someone who can accomplish any challenge in a wide range of conditions. To meet these changing demands of consumers, Nikhil Daftary is creating a premium international health brand that is accessible and provides customers with satisfaction, empowerment, and fulfillment.
An effective leader, Nikhil knows how to garner enthusiasm for the company while bringing out the best in their employees and levying a positive impact in the market. Having worked across different industries, namely, manufacturing, health, banking, consulting, mining, and health tech over the years Nikhil is currently holding the Managing Director position at SCoral Healthcare. His role extends from finance manager to divisional CFO and today, we see him as a managing director of a leading firm in healthcare. Let's learn more about him and his experience in this field through the CEO INSIGHTS interview snippets below:
Tell us about your educational back ground and work history.
In my 23 years of experience in the accounting and finance industry, I have worked to achieve operational optimization across business units and corporate services in both, domestic and foreign operations. I have also contributed to the creation of corporate visions and strategies. My greatest accomplishment to date is the launch of my own business brand, Moments Condoms, which produces its own line of male condoms.
You have two decades of experience. What is your mantra for
success, and how has it helped you along the way?
My journey to success is paved with ups and downs, but more importantly, it's full of wisdom and wonderful learning. My success mantra is to have big dreams because eventually, you will grow into them. I would say the biggest obstacle to success is the fear of acting or putting up a novel proposal. To make that jump, set lofty goals, take calculated risks, and dream big, one must have the confidence to do so.
The main aim of a leader is to align the employee's goals with the company's goals and maximize their potential for the benefit of both
How do you define Coral Healthcare as an organization and its position in the market? What is the unique proposition that your organization offers to clients? Also, take us through your quality assurance procedures
Coral Healthcare is a multinational enterprise dealing in condoms and related products since 2017 in Australia. The business is built around three central dimensions Pleasure, Protection, and Planning with the primary non-negotiable commitment to quality. We see ourselves as an enterprise with a heart and human connection where profit is important but not as important as making a difference. Our condom brand Moments Condoms (pillars Health, Empowerment, and Play) is one of the first brands to empower women to take control of their sexual health, we are trying to remove the stigma when women are judged for having a condom and we are also promoting all genders to be safe and have a good time.
Our products are manufactured in carefully managed ISO 9001 quality systems, and experienced quality assurance teams continually carry out various testing methods at every step of production to keep product quality in check. Our products are 'vegan' and 'non-GMO'. They do not contain gluten, parabens, spermicide, Nonoxynol-9, glycerine, or any animal products.
Could you tell us about your leadership approach? What are the guidelines or methodologies you follow as a leader?
My leadership approach is normally a mix of democratic and strategic. It involves transparent conversations, counts opinions, and values teamwork and collaboration, along with offering guidance and insight while striving to get the best out of people and situations. The main aim of a leader is to align the employee's goals with the company's goals and maximize their potential for the benefit of both. Our goals and visions are clear and it is the daily mantra that the team works on each day.

What changes in consumer behavior are you expecting in the future, and what are the opportunities that you foresee?
I see more people leaning towards educated choices and preferences and people are no longer brand conscious, they are willing to try new brands which are trustworthy and economically priced. Personally, I see a huge opportunity for SMEs to step in and tap into the market share where prior to COVID it was very difficult. Companies like us are willing to take risks and disrupt the market to provide top quality products at an affordable price.

What guidance do you offer to future leaders?
I would say focus on the skills you need before you need them, keep a pulse on the market and build a supportive community and hire the right people for the job.

Nikhil Daftary, Managing Director, Coral Health
He is a visionary leader and a result-oriented qualified CPA with strong accounting and finance knowledge, bringing over 15 years of experience in establishing operational optimization across business units and corporate services in both national and international operations. Recognized for talents in strategy development and providing corporate vision.

Quick Facts:
•Hobbies:Sports – Cricket & Soccer, Movies, Music, and Reading Books
•Favorite Cuisine: Mexican
•Favorite Book:Insanely Simple – The Obsession that Drives Apple's Success by Ken Segall
•Favorite Travel Destination: Maldives

Awards & Recognition:
•Winner of Micro business of the year at 8th Indian Executive club award, Coral healthcare is the winner of 2023 SME of the year award at IABCA.